Last updated on August 5th, 2023 at 08:55 pm
Popular for its rich tourism attractions, Cross River state is home to a lot of business opportunities for Nigerians and foreign investors. Even with just NGN50,000, there are business ideas you can start in Calabar, the state capital.
Other towns where you make money from your business ideas in Cross River state include Ikom, Ugep, Obudu, Ogoja, and Bekwarra among others.
Table of Contents
Apart from that, its rich cultural heritage, which catches the attention of tourists around the world, is also another investment opportunity entrepreneurs and business-minded individuals can tap into.
Let's discuss some of the businesses you can invest in that will fetch you high-return:
Travels Guide Business
Cross River is the largest state in the South-South geopolitical zone with a land area measuring 20,156km2, it occupies the 19th position in the land area ranking in Nigeria and with its beautiful attraction centers which can be found in almost all the 18 local government areas in the state, a travel guide is one of the lucrative businesses in Obudu, Bekwara, Ikom in Cross River.
Most of the tourists that visit the state need a reliable guide specialist, somebody they can trust and rely on. Anyone who has a perfect understanding of the terrain can start a travel guide business in Obudu, Ikom, Calabar, and other towns across the state.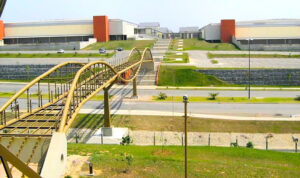 Car Hire Business
Where tourism thrives, car hire business flourishes, hence tourists or visitors to the state need car to take them around town and to their hotel room. You don't really need to be a billionaire to start a transportation or car hire business. With just a car, you can get started.
Restaurant and Bar
If you're good at preparing local Calabar delicacies like Abak Atama, Edikang-Ikong, Ekpang Nkukwo, Afia Efere Soup, Otong Soup, and Ekoki among others, you can set up a local restaurant to meet the needs of visiting tourists to the state.
One of the things tourists want to experience when they visit Cross River is to have a taste of the delicious local delicacies. You can start this business and make good money.
Local Makeup Artistry Business
Cross River boasts of artistry flamboyant annual festivals, some of them are Calabar festival, Cross River State Carnival Float which holds between December 26 to December 27 and Calabar Boat Regata among others.
Makeup is a flourishing business during the festive period in Calabar and its environs where yearly festivals are held.
Night Club Business
After the day's stress, Cross Riverians love to have fun. From Atimake-Yala to Ikom, from Obubra to Calabar, every part of the state is filled with fun at night, as such night club business is a lucrative business. To succeed in this business, you must an alternative source of power supply like solar power or have a standby generating set.
Hospitality Business
If you can provide a secured and exquisite hotels accommodation for tourists, business executives, and visitors to the state, the hospitality business in Calabar, Obudu, and other attractive towns in Cross River should be your choice.
To distinguish your business, set aside short let apartments within your home for people who want to spend a week or more outside their homes and in a secured environment where they can have access to first-class amenities.
You can recoup your investment if you can provide top-notch services for your lodgers.
Real Estate Business
Another huge investment opportunity in Cross River that is yet to be fully explored is real estate. There are several ways you can invest in Cross River property:
buy plots of land, build and resell to those who want to be homeowners in Calabar and its environs;
buy a plot of land (depending on your budget), keep the land, and sell when the value appreciates.
The first option is for big investors while the second is for a small business investor. Whichever one you choose, be wary of real estate mistakes you should avoid when investing in the sector.
Above all, you can never lose your investment in real estate if you buy the right property and choose the location rightly. Location is key to real estate investment.
Tourism Investment
Tourism is Cross River's biggest business opportunity and its comparative advantage lies in the tourism sector. A state surrounded by beautiful mountains and rain forest is a good place to spend time away from home.
For instance, the soaring plateaus of the mountain tops of Obanliku, Rain forests of Afi, Waterfalls are just a few places that welcome thousands of foreign and local visitors every year.
The father of them all are Obudu Cattle Ranch; Tinapa Business Resort, Calabar; Calabar Residency Museum; Calabar Drill Monkey Sanctuary among others
One of the things that makes Cross River tourism attractive is the fact that the state is accessible through water and air and rail.
Mining Business
If you want to invest in the mining of natural resources in Cross River, the state is home to more than five resources. They include uranium, salt, lead, barite, limestone, manganese, and lignite
Specifically, lignite is used for generating electricity, this is another business opportunity in the state in power generation.
Beauty Salon
A beauty salon is particularly lucrative in Calabar because of the concentration of students of higher institutions in the state capital.
Other locations where the beauty salon business is profitable because of higher institutions location are Obubra, Akamkpa, Obudu, and Akpabuyo, where Arthur Jarvis University is located. To add value to your beauty salon business, create a section for body massage.
Security Consultancy
Cross River is attractive to foreigners who visit the state for investment opportunities, opening the door of opportunity for security consultancy for tourists and business guide specialists in the state.
Pepper Soup Joint
Akwa Ibom and Cross River have a lot of cultural affiliation considering the fact that the former was carved out of the latter in 1987. As such, one of the stable businesses in the state is pepper soup joint with palm wine.
To attract customers, be explicitly open about the kind of meat you use. Because everybody doesn't eat dog meat.
Private Institution
Considering how large the state is in terms of land area, the number of private institutions is insufficient for aspiring undergraduates. But this investment is for a rich investor who is looking at a long-term investment.
Chocolate Manufacturing Factory
Cross River is the second-largest cocoa-producing state in Nigeria. Unfortunately, most of the production is exported Netherlands, Germany, Belgium, and other cocoa-importing countries around the world.
In chocolate production, cocoa beans are major raw materials. In September 2021, the state government launched its chocolate production factory in Ikom, however, that isn't enough to meet the market demands of the chocolate-consuming population in Nigeria. This is a business opportunity for an investor who wants to establish their factory closer to the source of raw materials.
Cocoa Export
For someone who doesn't have the money to establish a chocolate factory, embracing the cocoa bean exportation business is another way you can make money from Cross River.
Haulage Business
At least 10 out of 18 local government areas produce cocoa beans in Cross River thereby making demand for transportation of their produce to cities in high demand.
Other business opportunities in Cross River, you can explore are: Independent research, personal training consultancy, and investment consultancy
So…
Is Cross River a good state for investment?
Several indicators are used to gauge the investment worthiness of a state, for instance, security, power supply, and government policies are key to attracting investors.
In terms of security, it's difficult to get an accurate figure of the crime rate in Cross River, but the most recent data on crime statistics was released in June 2018 and covers 2017. which shows that out of the 134,663 cases that were reported to the police in Nigeria in 2017, Cross River state accounted for 2,163 of such cases, which translates to 1.61 percent, according to Africa Check in an analysis of Governor Ben Ayade's claim in 2019.
As such, we urge investors to take their personal safety seriously when investing in any part of the state. Although the Cross Rivrians are hospitable and are always ready to welcome foreign visitors to their land.
In terms of power supply, electricity is poor in the state just like most other states in Nigeria. To invest in Calabar, be ready to make provision for an alternative source of power supply.
Generally, in terms of ease of doing business in Nigeria, Cross River state was ranked No. 28 out of 36 states plus the FCT, scoring 4.94 points in a report that was released by the Presidential Enabling Business Environment Council (PEBEC) in conjunction with the National Economic Council (NEC) earlier in the year.
Conclusion
Business opportunities in Calabar and the entire Cross River are huge. We've covered some of the popular ones. In all, here is the list again:
Before investing in Cross River, remember it's important to also conduct independent research to appropriate determine where you would be able to recoup your investment.
Featured Image: