Last updated on December 31st, 2022 at 07:18 am
In Nigeria, there are certain cash crops that are next to crude oil, particularly because of their export value. Sesame seed is one of them. It is only behind cocoa in this range.
Also known as beniseed, it is ahead of other oilseed crops as far as oil content is concerned. In other words, the seed contains a higher oil content than others like it.
Additionally, its oil is not only utilized in the production of stuff like soaps and corned beef but is pretty rich in vitamins and pantothenic acid, good for the human body.
Overview of Sesame Seeds Plantation:
Botanical name: Sesamum indicum L.
Family: Pedaliaceae
Another name: beniseeds
Value: Protein-rich and its edible oil
Varieties: White and Brown
Major cultivators in Africa: 24 countries
Nigeria's ranking: Second largest producer in Africa (after Sudan)
Nigeria's Global ranking: Third largest (according to 2017 data)
Value chain: Most exported non-oil commodity with 36.39 per cent of agricultural exports.
Potential value if harnessed: NGN120 billion per annum (according to Agusto & Co Report 2019)
Due to its value and usefulness, sesame is prominent and is usually in demand on a global level.
In fact, its lucrative market has helped a lot of farmers economically and there are more than 20 reasons why you should go into beni-seeds business either as a supplier or farmer. Hence, there is a constant interest in understanding how sesame seed plantation works in Nigeria.
This article will explore and explain a lot of important details about sesame seeds. Let's get started.
Where Does Sesame Seed Grow in Nigeria?
There are more than 20 Nigerian States where sesame seeds is grown, they are
Taraba
Kaduna
Abuja
Yobe
Jigawa
Sokoto
Plateau
Niger
Nassarawa
Kogi
Kebbi
Katsina
Kano
Gombe
Borno
Benue
Bauchi
Adamawa
Additionally, it has been noted that Jigawa State is ahead of the pack, as the State can boast of having the highest area of production in the country as a whole.
Top producers in Africa
Nigeria's competitors in the farming of sesame seeds on the continent are:
Sudan,
Guinea,
Morocco,
Togo,
Gambia,
Cameroon,
Cote d'ivoire,
Angola,
Senegal,
Sierra Leone,
Ethiopia,
Benin,
Kenya,
Mozambique,
Mali,
Chad,
Egypt,
Central Africa Republic,
Somalia,
Burkina Faso,
Niger,
Uganda
On the global stage are:
Major importing countries
Major importers of Nigerians sesame seeds are:
Japan
China
Turkey,
Brazil
United Arab Emirates (UAE)
Vietnam
Poland,
The Netherlands
United Kingdom
Canada
Lebanon
France
Mexico
The data on countries that import the seeds means that you specifically target buyers from the above countries for a deal.
Is it Profitable?
Sesame farming is pretty profitable in Nigeria if engaged with the right knowledge. A lot of Sesame seed farmers usually export their produce aboard, which fetches them reasonable earnings.
Unlike some other types of agro products, there is a high demand for sesame in different places in the world, which means the farmers won't have issues with selling. The market is there and flourishing, due to the several benifits attached to sesame.
It has been noted that sesame farming can provide employment for many people, and this can be recommended.
It is a profitable business that has made many people become rich already. In fact, it is lucrative as we consider its oil, and for the fact that it is an international product.
Aside from the oil which can be extracted and used for important purposes, the shafts can also be utilized for animal feed.
The product is given priority in different places in Nigeria, but you don't even need to limit yourself to dealing with the Nigerian market as a farmer. Sesame is a prominent agro product here that is usually exported abroad.
Planting Season of Sesame Seeds in Nigeria
After looking for versatile land, you can simply plant your sesame seeds and ensure you carry out the necessary practices to ensure growth.
It expedient to have certain knowledge before even proceeding with this venture. You should be aware of the planting season, as you can't just plant the seed anytime you feel like.
Nevertheless, it is known that the general planting season for sesame seeds is between March and August.
Additionally, it should be noted that sesame seeds will do well when planted in loamy soil that has a pH of 5.5-6.7
Harvesting
It's recommended that sesame should be harvested when the capsules, say 45 per cent to 50 per cent, turn yellow in colour.
Experts at Indorama fertilizer advised that harvesting should be done when it's "ripe" so as to maximally reduce seed loss through shattering.
The process of harvesting is carried out by cutting the stems with sickles, thereafter, the "plants should be tied with a rope into bundles and positioned in an erect form on tarpaulin or mat for capsules to be fully dried."
How Long Does It Take To Grow?
Depending on different factors, your sesame should be set for harvesting between three to four months after planting. Usually, the plant is regularly at least 60cm tall (it can be over 100cm tall too). The fruit is held close to the stem, and when ripened, you see several small seeds coming out already.
Farming Process:
For optimal yield, it is advisable to plant specific seeds that have been popularly tested and recommended. Prominent ones are:
NCRIBEN O1M (530-6-10),
NCRIBEN-O2M Type 4,
NCRIBEN 0-31 (Goza-25),
R8
Yandev-55
Planting of sesame seeds can be done in ridges. You can utilize a mechanical planter to get this done, and you should be sure you know how to go about it. It is also important to see to it that planting is spaced in rows of 60 cm by 10 cm.
Actually, sesame is a strong crop that needs little farming support. Regarded popularly as a survivor crop, it can grow in places where no other crops grow. Hence, farmers can expect a good yield even without having sophisticated farming knowledge.
Recommended Fertilizer Sesame
First, you have to be careful when it comes to applying fertilizer to sesame. This is because, except if the soil is bad, you don't have to bother yourself adding much fertilizer to the plant
It can naturally grow in places that do not support the growth of other crops. Sesame seeds can grow in drought circumstances, or even when there's excessive rain. However, if you have to use fertilizer o support its rapid growth, you can use NPK fertilizer at planting – 3 bags should be great (15:15:15).
How Sesame Seed Farmer Can Make Millions From The Seeds
Sesame is a robust crop, and it is usually in demand on a global level. It is obvious that if one can produce much more, one will earn much more. The hindrance for many Nigerian farmers is usually land (they have limited land).
Hence, if farmers can have access to more land for beni-seeds farming, they can expect more yields and earn more money.
Uses of sesame seeds:
Oil extract is used for treating ulcers
Used in pharmaceutical products
Medically, it has been proven to improve hair health, according to organicfacts.net
It is one of the major ingredients of aerosols
It is applied on burns among local farmers
It also boost bone health
It is also used for other confectionery like soap, lubricants, and illuminants.
Challenges:
We've eloquently outlined how lucrative the sesame market is in Nigeria, the benefits do not come easy without some challenges. Some of the challenges and solutions are discussed below:
Limited land space
To solve the issue of limited land, the government can come in and offer adequate assistance (since there is still abundant government land just "wasting" away idly).
Also, private investors can play a role, leasing land to these sesame farmers.
Apart from that, its medicinal values make it a top-notch Nigeria's non-oil products farmers and a plus to Nigeria's foreign reserves.
Lack of modern tools
Additionally, many Nigerian farmers are still operating with crude tools, which means they have to spend lots of time tending particularly things, and won't be able to do some others.
If farmers can get access to farm inputs that could help them become more effective and efficient in this, they will do well and more.
Mechanization of farming activities should be emphasized. This should be brought into harvesting too since the crude method is still being used by many farmers making them lose many crops along the way.
For instance, how many sesame seed farmers in Nigeria can afford seed hulling machines? If they have access to modern machines, they will be able to have more yields, translating to even more money.
Transportation network
Also, if sesame seeds farmers in Nigeria want to start making millions, they should ensure they have in place a more efficient transportation system where they can easily move their products to the point of sale without spending too much.
Storage facilities
Farmers need good storage facilities to avoid panic sales. We should place emphasis on the need for adequate storage facilities.
Many farmers who are able to get good yields still ended up losing a lot after harvesting. This is because, the crop is quite sensitive, and if not properly stored, won't be able to withstand the strong environmental conditions.
For traders whose target is the international market, it's important that you obtain an export licence from Nigerian Export Promotion Council (NEPC)
How Much Is A Ton Of Sesame Seed In Nigeria?
Sesame seed comes in different varieties, with different prices. However, the white and brown types of Sesame seed are the most popular.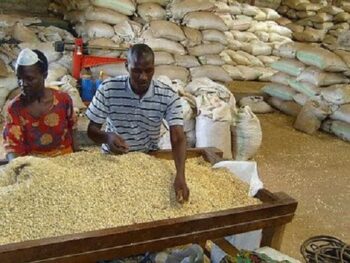 Local price Per Ton
The white sesame seed is between NGN650,000 to N700,000 per ton (if it's at least 95 per cent clean)
The brown type is between NGN500,000 to NGN570,000 per ton.
Per Kg
White: NGN700/kg
Brown: NGN600/kg
Global Price:
Japan
In Japan (which is one of Nigeria's major suppliers) a ton of sesame (white hulled seeds) is between $2,285.00 to $2,490.00
China
In China, white and black sesame seeds is between $0.80 to $1.40/ kg.
Note: There are more than 20 global marketplaces where you can find foreign buyers for your products
Major diseases
There are four major diseases associated with beniseed include:
Fungal
Nematodes
Bacterial
Viral disease
To have a less challenging farming season, you need to know how to control the diseases that are peculiar to sesame seeds so as to have a buoyant harvesting
| | |
| --- | --- |
| Diseases | Control |
| Fungal | The use of Benomyl, Thiram or Diotan at the rate of 2 kg/ha can put this disease at bay. To reduce the occurrence of bacterial disease it's recommended that you embark on early planting at the start of raining season to have a healthy crop. |
| Nematodes | Nematodes normally attack the root of the crops, to avoid this, it's recommended by experts that farmers should apply Furadan at the rate of 10-15 kg/ha to will subdue nematodes activities in the soil. |
| Viral disease | Field sanitation is the best control |
| Bacterial disease | Best cultural practices will control it |
Peculiar beniseeds diseases and control
Above all, the plantation must be weed-free from the day of planting to harvesting. Hand weeding or chemical weed control can be adopted depending on how large the cultivation is.
Conclusion
Sesame seeds plantation is a lucrative business in Nigeria because of its value. It's however advised that you mustn't only look at its economic benefits.
To earn handsomely well from sesame farming, you must be ready to face some of the challenges we highlighted above.
References:
Featured Image by businessday.ng
Akinfenwa, Gbenga (February 24, 2019). "How Nigeria can maximize potentials of sesame seeds". Guardian.ng. Retrieved December 12, 2021.
Staughton, John (June 24, 2021). "10 Nutritional benefits Of Sesame Seeds". Organicfacts.net. Retrieved January 6, 2022
Muktar, Fatima (March 30, 2021). "Nigeria's sesame market lucrative but weighed down by challenges". Premiumtimesng.com. Retrieved January 17, 2022
Indorama (PDF File). "Development of Sesame". indoramafertilizers.com. Retrieved February 2, 2022
Ayodeji, Hamid (September 13, 2019). "Report: Nigeria's Sesame Seed Export Value to Hit N120bn Annually". Thisdaylive.com. Retrieved February 2, 2022