Last updated on September 13th, 2023 at 10:40 am
What are the private jet charter companies in Nigeria?
Private jet companies in Nigeria are ExecuJet Aviation Nigeria (EJAN), Dornier Aviation Nigeria AIEP Ltd, Anap Business Jets Limited, West Link Airlines, SML Private Jets Charter, Aeronai Global Service, Stargate Jets, and Jet Flite Limited.
Table of Contents
In this article, we've compiled the list of top-rated best private jet charter services in Nigeria that are popular among the creme de la creme.
What is a private jet charter?
A private jet charter is when an individual or a corporate organisation exclusively rents an entire aircraft for personal use as opposed to purchasing individual seats on a public airline.
Why charter a private jet in Nigeria?
The rising insecurity, delayed flights by some commercial airlines, the quest to meet executive schedules, and political meetings and campaigns are some of the factors that have boosted the demand for private jet charter services among wealthy Nigerians.
If you're worth billions of dollars or naira, your security and privacy should be a top priority you don't want to joke with.
Although more than 30 super-rich Nigerians are known to have private jets in which they fly any time, they still need the services of private jet charter companies in Nigeria for maintenance.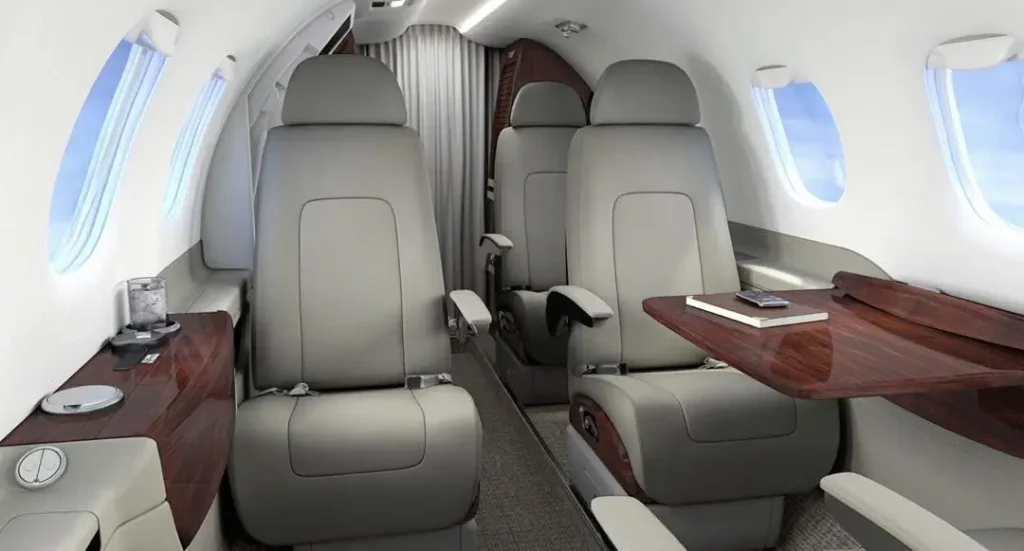 Services Provided By Private Jet Charter Firms
Similar to road transportation service providers, operators of private jet charters in Nigeria provide several services to meet the needs of those who can afford them, they are:
Aircraft charters to business professionals
Private jets Charter enables executives and senior management to fulfil strict schedules and often complete multiple meetings in different cities and countries.
Air Ambulance
Ever heard of a hospital in the sky? Imagine a patient who is on an emergency on a Lagos road.
If you're worth billions, you might not want to risk transporting your loved ones by road in Lagos due to the hectic snail-like traffic.
That's one of the reasons some private jet charter firms in Lagos and Abuja use aircraft to transport patients to hospitals within and outside the country.
They basically provide lifesaving treatment and medication all the way to a local and international hospital
Light Aviation
Light aviation services include using planes or choppers to beautifully display event banners, product promotion, aerial surveys, and photography among others.
Other include:
Flight planning assistance
Aircraft maintenance
Sales of jet fuel
Ground handling
Concierge services
Fueling arrangement
International travel logistics
Aircraft brokerage services
How many private jet charter firms are in Nigeria?
There are more than 10 private jet charter companies that are registered with the Nigeria Civil Aviation Authority (NCAA) and the Federal Airport Authority of Nigeria (FAAN).
They provide private jet charter services in Nigeria's major cities like Lagos, Abuja, Kaduna, Uyo, Maiduguri, Calabar, and Kano.
The leading Nigeria private jet charter companies are:
ExecuJet Aviation Nigeria (EJAN)
Owned by one of the Nigerian billionaires, Sam Iwuajoku, ExecuJet Aviation Nigeria is a partner with the ExecuJet Luxaviation Group, the second-largest operator of corporate aircraft in the world.
The global brand, ExecutJet, operates across Africa, Europe, Latin America, the Middle East, the Caribbean, and Asia.
If the founder of ExecuJet Aviation Nigeria Sam Iwuajoku isn't in his private multi-million naira edifice, you are definitely going to find him wining and dining with his top billionaire friends like Africa's richest man Aliko Dangote; Chairman, Board of Directors of Geregun Power Plc, Femi Otedola; Segun Awolowo, trillionaires in Nigeria, and other heavyweight business mogul and politicians.
EJAN facility in Lagos sits on a 50,000-sq-ft/4,645-sq-m hangar space that could accommodate up to four G550 jets.
Contact details:
Along Gate 1, Murtala Muhammed International Airport, Ikeja, Lagos, Nigeria
Tel: +234 704 608 4450 (24 hrs)
Email: fbo.dnmm@execujet.com.ng
Dornier Aviation Nigeria AIEP Ltd
Dornier Aviation Nigeria is one of the oldest operators of private jet charter firms in Nigeria. It was established in 1979.
Apart from providing air charter services, Dornier Aviation Nigeria AIEP Limited also undertakes agricultural flying, aircraft management and maintenance, aerial photography and emergency medical evacuation services.
Contact details:
Head office, Kaduna Old Airport, Kaduna State, Nigeria
headoffice@dananig.aero
Tel: +2347056893206
Website: dananig.aero
Anap Business Jets Limited
Mr Atedo Peterside, the founder of Stanbic IBTC is also the founder of Anap Business Jets Limited.
Anao Business Jets is one of the biggest players in the aviation sector in Nigeria and possibly across Africa
It provides a Fractional Ownership platform, Legacy Jet Card, Adhoc Charter and Shared Charter Services, and maintenance services.
For those who can afford it, Anap Jets fleet comprises Embraer Phenom 300, Embraer Legacy 600 and the ERJ 145 aircraft
The Unique Selling Proposition of Anap Jets is its Legacy Jet Card services that enable for travellers to acquire block hours and gain priority access to the company's fleet of aircraft.
Anap Contact details:
Website: anapjets.com
Email: info@anapjets.com
IG: @anapjets
Facebook: @Anap.JetsLtd
West Link Airlines
With its terminal in Kano, Abuja, and Lagos West Link Jet Charter is one of the top-rated private jet charter companies in Nigeria.
If you request a quote from West Link Airlines (WLA), you'll be able to know the cost of the charter.
West Link Airlines Private Jet Charter was established in 2013 operating in Africa, the Middle East, Europe, and Asia.
Contact details of West Link Airlines:
Facebook: @Westlinkairlines
Email: info@flywestlink.com
Twitter: @AirlinesLink
Pinterest: @westlinkairlines/
Website: flywestlink.com
Tel: +234 909 114 6635
SML Private Jets Charter
SML is a Private Jet and Charter company based in Lagos Nigeria. It operates other aviation services such of aircraft management and consultancy.
Aeronai Global Service
With its head office at the Central Business District, the Federal Capital Territory, Abuja, Aeronai provides charter services, management, and aircraft sales.
Contact:
Email: aeronaiconsultltd@aol.com
Website: aeronai.com
Swift Jets Charter Services
If you want a swift response for air ambulance and medical evacuation, Swift Jets Charter Services is one of the best you can always rely on in Nigeria.
Contact:
info@swiftjetcs.org
Phone number: +234 (902) 879-2910
Stargate Jets
The list of private jet charter companies would be incomplete without adding Stargate Jets.
With its head office located at 22, Idowu Taylor Street Victoria Island, Lagos Nigeria, Stargate Jets has in its fleet 8 Seater, 10/12 Seater, and 14/16 Seater jets ready to convey you to your desired destination.
It operated within and outside Nigeria and is able to meet demands with as little as four hours' notice.
Stargate jets contact details:
Phone: +234 818 027 3472
Email: sales@stargatejets.com
Website: stargatejets.com
Jet Flite Limited
Another private air charter in Nigeria is Jet Flite Limited. It also provides several services in the aviation sector such as ground handling and facility management.
Contact details:
Dominion Air Hangar, Murtala Muhammed International Airport, FAAN Transit Camp, Lagos Nigeria.
Email: info@jetflitelimited.com
Website: jetflitelimited.com
FlyHezix Private Jet Charter
FlyHezix is a private jet charter firm that connects its customers to the rest of the Northern states and across Nigeria.
Contact details:
No 52 opposite Nepa office, old Karu road, Mararaba Abuja
Tel: +2348140491420
Trebet Aviation
If you hope to operate on short or medium or long distances, the company's Bombardier Challenger 605 and Hawker 800XP aircraft are able to take care of these.
Trebet Aviation's head office is located at 16B Allen Avenue, Ikeja, Lagos, Nigeria
Telephone: +234803 960 0100
E-mail: info@trebetaviation.com
Website: trebetaviation.net
Raymart Aviation
Raymart Aviation is one of the private jet charter companies located in 4 Duplex lane, Sam Nujoma Estate, Galadimawa, Abuja, Nigeria
Contact details:
Facebook: @raymartaviation
Twitter: @RaymartAviation
Instragram: @raymartaviation
Website: raymartaviation.com
Lush Purple Jets Services
One of the best private jet charter firms in Lagos is Lush Purple Jets Services. It also operates in other major airports across the most populous African country.
Other services it offers include training of cabin crew on VVIP service procedures, visa application, and permanent residence.
Contact:
Head office: No 9. Tokunbo Alli, Off Toyin Street, Ikeja, Lagos.
Website: lushpurplejetsservices.net
Fly Gyro Air
Since it began full air charter services in October 2016, Gyro Air Limited has been one of the major players in private jet hire services in Nigeria.
Contact:
Head office: 65 Oduduwa Cres, GRA 101233, Ikeja, Lagos
Tel: +2347011460033
Website: gyroairltd.com
Mercury Jets
Mercury jets is a private charter division of Monarch Air group, a company that is known to have provided services to the US government, the Canadian Department of Defense, United Nations among others around the world.
So, it is a company you can rely on because of its track record in providing world-class services in the aviation industry.
Mercury jets operate in the FCT and Nigeria's commercial city of Lagos.
Faithful Jets Limited
Head office: NAF Shopping Mall, Suite A90/108 Muritala Mohammed International Local Airport Road, Ikeja, Lagos.
Tel: +2348034661887.
Email: info@faithfuljetltd.com
Website: faithfuljetltd.com
Ideal Aviation Support Services
It also offers services like ground travel, hotel reservations and aircraft handling.
Website: idealaviationng.com
Mudita Limited Private Jet Charter
Located at Zone 4, 5b Oshakati Street, Wuse 904101, Abuja, Federal Capital Territory, Abuja, Mudita offers helicopter charter to its customers within and outside Abuja on demand.
Private Jets Nigeria
We're including Private Jets Nigeria in this list because it connects users of private jet hire with private jet operators, and it provides a booking service.
Website: privatejetsnigeria.com.ng
Aircharter Service
Aircharter Service Nigeria (ACS) is another private jet charter firm in Nigeria which has more than two decades of experience providing air cargo services.
Webiste: aircharterservice.ng
What is the cost of chartering private air travel?
The cost of a private jet charter depends on a lot of factors including the size of the aircraft and time of booking as captured in one of our posts.
Conclusion:
The introduction of the private jet charter in Nigeria's aviation sector has enabled the super-rich to meet schedules, enjoy the benefits that come with flying private jets, and attend to other business activities instead of wasting their precious time booking ticket at commercial airlines that may disappoint any time.