Last updated on September 13th, 2023 at 11:06 am
How Many People Have Private Jets in Nigeria?
There are over 30 private jet owners among super-rich Nigerians. They include Aliko Dangote, Allen Onyema, Mike Adenuga of Glo, Arthur Eze, Adedeji Adeleke, and Pastor Enoch Adeboye among others.
Detailing Private Jets Owners in Nigeria
On August 2, 2021, the Nigerian Customs Service (NCS) disclosed that 30 private jet owners in Nigeria were yet to pay duties to the Federal Government.
NCS revealed that there are 65 verified private jet owners in Nigeria, although Customs didn't reveal the names of the wealthy Nigerians who fly around the world in private planes.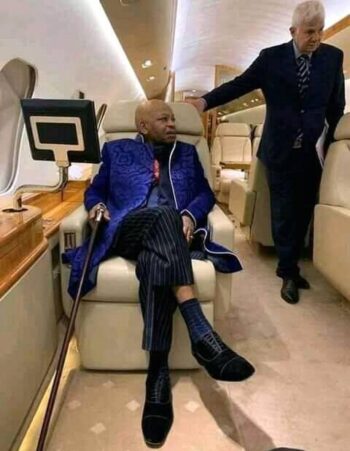 On this list, we've compiled 34 names of Nigerian billionaires, celebrities, politicians, and men of God who don't fly commercial lines, rather they jet around the world in their personal jets.
However, they still need the services of a private jet charter company for maintenance and other aviation services they might need.
Here is the list of private jet owners in Nigeria by category:
Businessmen and women
Celebrities
Nigerian pastors
NOTE: Some of them also have helicopters to shuttle within the 36 states of the federation plus the Federal Capital Territory
Billionaires Who Own Private Jets
Owning a private jet in Nigeria isn't just for convenience, but also a display of wealth and affluence and quite a handful of Nigerians are proud owners of this luxury piece of flying metal.
And of course, extremely wealthy Nigerians prefer privacy, one of the ways to achieve this is by flying in their private jets
Allen Onyema
The founder of Air Peace Chief Allen Ifechukwu Onyema has the highest number of planes in Nigeria. In his fleet are four Airbus A320-200, 13 Boeing 737, eight Embraer ERJ-145 among other 34 planes under his control.
Although Onyema uses the planes for commercial purposes, as the owner of the airline, he cruises whichever one he likes anytime around the world.
It's speculated that some top government officials during the regime of Goodluck Jonathan use him as one of their fronts, but since we can't confirm that, Onyema has the highest number of planes, he has 34 of different makers and types, according to Planes Potters
Aliko Dangote
Africa's leading billionaire and richest man, Aliko Dangote does not deny himself the pleasure and luxurious life that he can afford. Understandably, he can afford the best in life including two private jets.
One of the jets named Bombardier's Global Express XRS from Montreal Canada is reported to cost $45 million (NGN16.3 billion).
He bought the luxury jet on his 53rd birthday. He deserves it been the richest man in Africa for decades now.
The jet is built to comfortably convey 19 passengers and it is highly efficient and it can cover a range of 14300km, it can continue to run for 18 full hours without a stop.
Arthur Eze
The Anambra state billionaire Eze has been a billionaire for more than three decades. He isn't a billionaire in Naira but in US Dollars.
When you are a billionaire in dollars, then you are most likely richer than some state governments in Nigeria.
A Bombardier Challenger belongs to Arthur Eze to aid his investment exploits in Nigeria and across Africa.
On August 30, 2020, his private jet was the first to land on the rehabilitated Akanu Ibiam International Airport runway.
On the trip, the Minister of Aviation at the time Hadi Sirika joined the billionaire to land at the airport.
Adedeji Adeleke
The exact net worth of the founder Adeleke University, Ede, Osun State, may not be known, but those who have been following him since the 90s know that Chief Adedeji Adeleke is a billionaire who makes no noise about his wealth.
But some years back, the Ede-born investor sent a powerful message to Nigerians when he acquired Bombardier Global Express 6000 by coughing out just $62 million. In today's official exchange rate, that's over NGN22 billion.
When next you see the founder of Pacific Bank and Chairman of Pacific Holdings Limited, dove your cap. He is a billionaire who was once rumoured to have offered to give Osun State.
Folorunsho Alakija
Having a woman make the list makes it more interesting. The founder of Fanfa Oil Limited who controls an oil well has sufficient money in all major currencies to get whatever she needs for her comfort. 
She also made the list of Nigerians who Owns Private Jets christened the Bombardier Global Express XRS estimated to be worth $46 million. The large cabin jet with a 6,000 mi / 11,100 km is designed and manufactured by Bombardier Aviation.
The jet is designed in a modern and unique style, and it has an extraordinarily long and ultra-long-range capability that can comfortably accommodate 12 passengers.
Cletus Madubugwu Ibeto 
Apart from having several bulletproof exotic cars in his garage, the spare parts billionaire and the chairman of Ibeto Group, Cletus Ibeto's wealth isn't limited on the road, he extended his dominance to the airspace with a private jet.
The Anambra billionaire makes no noise about his wealth, even at that, he's among the top five richest Igbo on earth.
Mike Adenuga
On the list is the third richest man in Nigeria Mike Adenuga who owns not one, not 2 but 3 private jets.
The founder and chairman of Globacom telecommunication use these private jets for work flying around the world for his business meetings likewise for pleasure as well.
Adenuga's private jet includes the Bombardier Challenger 604 Aircraft that cost $40.2 million, a Bombardier Global Express XRS that cost him $47.5 million, and a Falcon 7X that is the same as that of the presidential air flight cost $50 million.
Dr. Bryant (ABC) Orjiako
The former Chairman of SEPLAT Oil is another man on the list. The former medical doctor's entry into oil was phenomenal.
Today, the leading Nigerian independent oil and gas company is listed on the London and Nigerian Exchange
Femi Otedola
It is amazing to find another billionaire on the list which means owning a private jet is no small business and requires a whole lot of money.
With 7 private jets, Femi Otedola is another renowned Nigerian businessman to appear on our list of private jet owners.
Ernest Azudialu Obiejesi
The chairman Nestoil owns Gulfstream GIV (N990EA). He hails from Okija, Anambra State. Obiejesi is also the founder of Obijackson West Africa Limited. His business interest includes Engineering and Construction, Oil and gas.
Joseph Arumemi-Ikhide
With 18 Aircraft in his hangar, the founder of Nigeria's biggest commercial airline, Arik Air, has been in the aviation business before Air Peace came on board.
And of course, Arumemi-Ikhide is a billionaire that wealth-rating firms rarely talk about. Some of the planes you will find in his portfolio include Airbus A330, Bombardier CRJ-200, and De Havilland Canada DHC-8-300 among others.
Even though, the Asset Management Company of Nigeria (AMCON) took over the management of Arik Air on February 7, 2017, due to NGN375 billion debt, according to Premium Times
Igho Sanomi
In case you don't know, the young and smart son of a retired Assistant Inspector-General of Police is one of the youngest billionaires in Nigeria and in Africa.
The younger Sanomi has a private jet, it was reported in April 2019 that he forfeited the jet and three of his apartments in London to a Swiss bank over $3million in debt.
Another version of the story reported that the younger oil baron Igho Sanomi was able to find his way out of the debt one of his companies took from Credit Suisse Group AG, a Swiss bank.
Jimoh Ibrahim
It would be an oversight to mention names of billionaires who have private jets without mentioning the Chairman and founder Global Fleet Group, Jimoh Ibrahim's Bombardier Challenger 605.
Patrick Ifeanyi Ubah
The Chairman of Capital Oil and Anambra State Senator is said to own Embraer Legacy 600 private jet. He is also the owner of Ifeanyi Ubah FC
Theophilus Danjuma
Called TY Danjuma, the retired Army General who played a major role in the July 29, 1966 coup that killed the head of state and many others is a billionaire who keeps his wealth secretly.
Apart from committing more than US$500,000 to non-governmental organisations in Nigeria, US$500,000 is another politician to appear on our radar of Nigerians Who Own Private Jets.
The former Chief of Army Staff is the owner of two private jets: a 900XP Hawker jet, and a Challenger 605 Bombardier.
The 900XP Hawker medium jet has a cabin that measures 23.1 feet long by 6 feet wide by 5.7 feet tall. This means it can comfortably accommodate 8 passengers, with a maximum configuration seating of 10. Also, it can cover a range of 3243 miles and a maximum speed of 516 mph.
Private Jet Owners Among Nigerian Celebrities
Making millions from musical tours around the world is one of the things celebs artistes on this list are familiar with. And spending some of the money on classic pleasure isn't a bad idea.
Don Jazzy
Don Jazzy is one of the greatest music producers in the Nigerian music industry. He owns his record label known for producing numerous stars over the years.
He is the proud owner of Bombardier Challenger 605 believed to have cost him $27 million.
Davido
David is one of the richest and foremost Nigerian celebrity's famous throughout Africa. It is a norm for celebrities to showcase their wealth by acquiring expensive and luxury items such as cars, houses, and a private jet and Omo Baba Olowo appears prominently on the list of celebrities who have a private jet.
Davido himself been the son of a billionaire does not rely on his father's wealth but has built his wealth through his music career owing a Bombardier Global Express 6000 that can fly up to13hours nonstop.
It can reach a 560mph high-speed cruise among other amazing features. Most importantly the jet cost the celebrated musician approximately $62 million.
However, rumour has it that the private jet belongs to his father as a lot of people believe that although ranked among the richest artists in Africa, he is still far from owning the wealth that can afford him such a jet.
Wizkid
Wizkid is a young talented Nigerian music artist currently sitting at the apex of his music career.
He has been seen travelling most of his journey via a private jet to ease his travelling which led to speculations that the young entertainer has purchased for himself a private jet valued at a whopping $40 million.
However, we are unsure if he bought the private jet himself or it was a gift to him. Nonetheless, the successful musician is known to flood the internet with pictures of him boarding, flying and having fun in his private jet.
DJ Cuppy
Florence Ifeoluwa Otedola popularly known as DJ Cuppy is a popular Nigerian Disc Jockey and daughter of a Nigerian businessman and billionaire Femi Otedola.
She followed her music passion and today she is a reputable DJ in Africa whose fame is gradually extending outside the shores of Africa.
Her career is highly supported by her father and she has a private jet in her name with which she goes around the world for her music tours.
It was speculated that the private jet is one of her Dad's seven private jets, regardless, we consider her one of the rich young ladies who cruises around the world with a private jet.
Others who have been mentioned include:
Phyno 
Olamide 
Teckno
Nigerian Pastors Who Are Private Jet Owners
There has been a lot of controversies regarding ministers of God owning luxury items and living in exquisite houses alongside owning vast assets more than the people they are leading.
But some still feel there is no problem with a minister living a good life, after all, men of God are humans like you and me.
And this saying was further corroborated by the RCCG head Pastor Enoch Adeboye during an interview in 2017 when he said that Bible isn't against men of God who have private jets.
Justifying the acquisition of private jets among men of God, the clergyman stated that:
"So as for me, people of God who have a global ministry having an aircraft, nobody has neither moral nor biblical justification for them not to own an aircraft, it is just a means of transport just like a car, so why would they not have an instrument that would help them do the work?"

IndependentNG November 5, 2017 
He posited that isn't morally wrong nor biblically wrong, it is also not ethically wrong for pastors, evangelists, and preachers who operate a global ministry to have an aircraft.
As such, below is a list of Nigerian clergymen who spread the gospel using private jet locally and internationally.
Bishop David Oyedepo
Bishop David Oyedepo is the founder and general overseer of the Living Faith Church A.K.A Winners Chapel is considered to be one of the largest congregations in the world with branches around Nigeria and abroad.
Interestingly, he is ranked to be one of the wealthiest men of God in the world and to add to that fact, he owns four private jets.
His jet collections include the Bombardier Challenger 604, Grumman Gulfstream I (G-159), Gulfstream IV (G-IV) and Gulfstream V (Gee-5).
It was gathered that Oyedepo acquired his first jet, the Gulfstream 1 in 1996 and the last jet, the Gulfstream V (Gee-5) in 2011 and its cost him $30 million.
Pastor E.A Adeboye
Pastor Enoch Adejare Adeboye popularly called "Daddy G.O" is the General Overseer of the Redeem Christian Church of God (RCCG) with its camp headquartered in Mowe, Ogun State, and branches around Nigeria and the world.
In April 2013, Daddy G.O justified the purchase of his private jet, saying it is needed for someone who has millions of members across 160 countries, during an interview, he granted Aljazeera, a global news channel.
Specifically, he was quoted as saying:
"When you have to oversee churches in 160 countries, you can't do that on a bicycle."

Aljazeera
He is also ranked among the richest ministers in the world with assets valued at billions of dollars.
From what we gathered, the seasoned minister of God is a proud owner of two private jets, the first is the Gulfstream G550 and the second is the Gulfstream GIV. The latter cost $65 million.
Pastor Ayo Oritsejafor
Pastor Ayo Oritsejafor is the founder of "Word of Life Bible Church", plus he was the former president of the Christian Association of Nigeria (CAN).
The minister is not left out among pastors in Nigeria that own private jets. He is the owner of Bombardier challenger 601 which according to him was a gift. However, the cost of the private aircraft is valued at $40 million.
It was rumoured that one of the senior government officials during the government of Goodluck Jonathan gifted him the jet.
The bombardier challenger 201 is an upgrade to the "600 series" with an improved range coverage of 3784 miles and a maximum speed of 528 mph.
Prophet Jeremiah Omoto Funfeyin
The seasoned minister of God, prophet Jeremiah Omoto Funfeyin, the founder and general overseer of Christ Mercyland Deliverance Ministry located in Warri, Delta State, Nigeria.
The revered minister acquired his private jet, the Bombardier Challenger 601-3R in 2018. The price of the aircraft is about $3 million.
Apostle Johnson Suleman
Apostle Johnson Suleman is a seasoned Nigerian televangelist and the senior pastor and general overseer of Omega Fire Ministries International. He is a proud owner of three private jets.
According to him, he acquired his third private jet during the pandemic. At a time, he was quoted as saying covid-19 pandemic was a blessing for him as he acquired his third jet during the deadly period.
"In COVID, I bought a jet. The third one. I have three. I was praying for COVID not to end because I was resting. While people were complaining, my wife asked, 'Can life be this sweet?".

TheCable quoted, February 17, 2021.
Pastor Chris Oyakhilome
The founder and general overseer of Christ Embassy did not escape our search beam being a private jet owner. The revered man of God owns a private jet which was a gift by his church member.
The report has it that the jet was gifted to the pastor by the Loveworld Music and Art group, an arm of the Believers Loveworld Ministry established by the ministry to produce gospel music.
Prophet T.B Joshua (late)
Prophet T.B Joshua the founder of Synagogue Church of All Nation (SCOAN) who died on June 5, 2021 left behind a private jet.
The late televangelist is the owner of Gulfstream G550. It is 96 ft 5 in (29.39 m) aircraft was purchased in 2015 at the cost of $60 million.
Nigerian Politicians Who Have Private Jet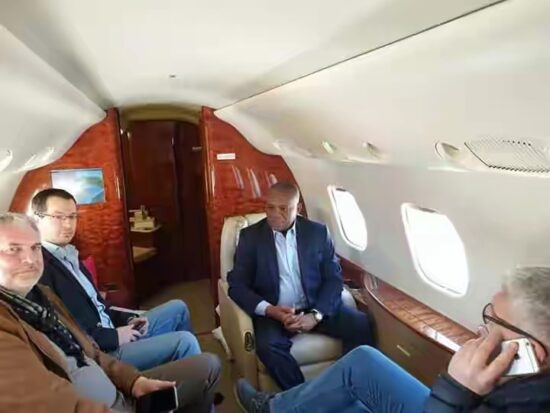 Hundreds of Nigerians believe that the richest set of people in Nigeria are politicians (unofficially), but because of their link to state funds and public resources, they prefer to operate their business empire in anonymity.
Even as they don't want their wealth in the public domain, some of them known to have private jets are listed below:
Orji Uzor Kalu
Orji Uzor Kalu is one of the foremost Nigerian politicians and a former governor of Abia state isn't left out among Nigerians who own private jets. It was reported that he has five private jets.
The founder of SLOK Holdings and owner of two newspapers (Daily Sun and the New Telegraph) has in his hangar Gulfstream G650 that cost him about $72 million, one of the most expensive jets in Nigeria.
It is a large business jet that can comfortably accommodate from 11 to 18 passengers. In addition, Kalu possesses three Gulfstream IV and one Bombardier's Global EXP XRS.
Rotimi Amaechi
The former governor of Rivers State Rotimi Amechi was said to have secretly acquired a brand-new Bombardier Global 5000 (N565RS) in 2012.
The current serving Minister of Transportation reportedly acquired the private exclusively for his personal at a whopping $50 million.
Senator Ali Modu Sheriff
Another prominent Nigerian politician who owns a private jet is Senator Ali Modu Sheriff, a former governor of Borno State
He has four jets, including Gulfstream G650 and three Dornier aircraft.
The Gulfstream G650 was his latest acquired jet. The original price is $65 million but due to additional charges, the price is valued at $72 million. The three Dornier aircraft were purchased from Aero Contractors at an estimated $3 million.
Jide Omokore
From Okun, Kogi State comes the founder of Energy Resources Group Jide Omokore. He is one of the Nigerian billionaires who prefers to remain behind the scene. Even at that, a private jet was traced to him when it was discovered that he was one of the allies of a former Nigeria's Petroleum Minister Diezani Alison-Madueke who was accused of corruption and embezzlement in her ministry.
Godswill Akpabio
Godswill Akpabio, the former governor of Akwa Ibom state is not left out on our list. The incumbent Minister of Niger Delta is a big spender, no wonder he acquired a brand-new Bombardier Global 5000 with number N224BH bought under the guise of being a state-owned property. The craft is valued at $45 million.
Asiwaju Bola Ahmed Tinubu
Asiwaju Bola Ahmed Tinubu is a famous Nigerian politician and a former two-time Lagos state governor features prominently on the list of top Nigerian politicians who spent billions of Naira in acquiring private jets.
The established politician who occupies the position of National leader of All Progressive Congress (APC) is reported to have two executive private jets.
The second executive private jet acquired by Tinubu is a brand-new Bombadier Global Express XRS reported to cost him $50 million (N10 billion).
The private jet is an upgraded version of the Global Express aircraft designed for excellent and more efficient performance. The giant luxurious flying steel provides higher cruise speed, increased range, and improved cabin design layout, as well as great lighting.
Ned Nwoko
Billionaire Philanthropist and one of the consultants to the Federal Government Prince Ned Nwoko is a strategic politician and tactical businessman who owns a private plane in Nigeria. And he doesn't hide when he acquired it sometime in June 2020.
Nwoko who is married to one of the screen divas Regina Daniels was elated to flaunt his wealth in his Falcon 7x with his beautiful wife and kids during one of his great moments with his family members.
Nwoko is indeed a billionaire! Say hello to the Anioma Kingdom prince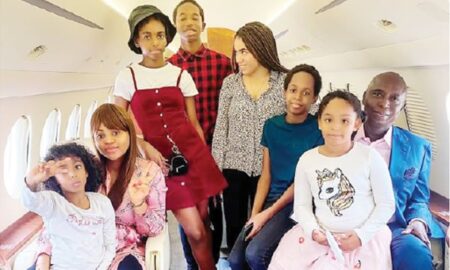 Final Thought:
Above all, the Nigerian Customs Service confirmed that 65 verified private planes in Nigeria, NCS didn't mention their names, though.
References:
Featured image by franktalknow
Sahara Reporters (August 1, 2021). "30 private jet owners owing custom duties". Saharareporters.com. Retrieved December 3, 2022
Premier Times ( April 13, 2013). "Pastor Adeboye of Redeemed Church justifies purchase of private jet". Premiurtimesng.com. Retrieved January 3, 2022
Kenechi, Stephen (February 17, 2021). "Apostle Suleman: I bought my third jet during COVID… prayed pandemic doesn't end". thecable.ng. Retrieved January 10, 2022
Abiaziem, Chinyere (November 5, 2017). "Bible Not Against A Global Preacher Owning Private Jet – Pastor Adeboye". Independent.ng. Retrieved February 3, 2022
Planes Potters (January 26, 2022). "Air Peace Fleet Details and History". Planespotters.net. Retrieved February 4, 2022