A popular adage in the southwestern part of Nigeria says "One who works diligently should have a dedicated time for enjoyment", this is applicable to billionaires in Africa.
When you've made excess money, it isn't a bad idea to spoil yourself in a luxurious private yacht which some people described as a "moving exotic mansion" on the sea to cruise around the world.
This truth is not far-fetched from the Nigerian billionaires who own private yachts where they make out time to cruise, relax and spend time away from the hustle and bustle of their corporate world.
You may be right about some names but ensure you continue reading to find out if you are right, plus to learn about the Nigerians who spend quality time with fellow wealthy men and allies after making sufficient dollars to spend
Note: We include the Yacht that was formerly owned by Nigerians.
Mariya
Owner: Alhaji Aliko Dangote
Africa's richest man, Aliko Dangote owns a yacht known as "Mariya". When you are worth $19.2 Billion, spending just $43 million to acquire a customed yacht isn't a big deal. He acquired it in 2013.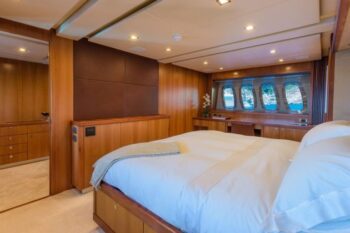 The president of Dangote Group knows how to live and enjoy the big life as he got the yacht customized to look almost like that of his billionaire counterpart Femi Otedola.
The 108-foot motor yacht has room for up to eight guests who wants to spend the night in its fine and well-designed four cabins including a master suite, one VIP stateroom and two twin cabins.
The president of Dangote Group was magnanimous in 2019 when he hosted the former World Boxing Heavyweight Champion Anthony Joshua in his classic yacht
Importantly, the expensive luxury yacht is capable to reach a top speed of 44 knots and comfortably cruises at 30 knots.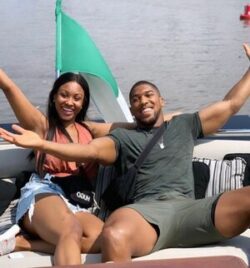 When next you can't find the extremely rich Dangote in any of his offices within and outside Nigeria, you are most likely to find him on the sea.
Boadicea
Owner: Gabriele Volpi, Nigerian
Gabriele Volpi is an Italian-Nigerian billionaire businessman known to be the owner of the Italian football club Spezia Calcio. He formerly owned the Croatian football club HNK Rijeka.
The motor yacht is a 76.6m (251′ 4″) that can accommodate up to 14 guests in its 7 beautifully designed cabins as well as a crew of 23. The beam is 14 meters, it has a draft of 4.2 meters and a volume of 2,191 GT.
Talking about efficiency, the yacht is powered by two mammoth engines making it reach a maximum speed of 15 knots and a cruise speed of 13 knots.
Illusion (formerly known as Galactica Star)
Former Owner: Kola Aluko
The "illustrious" yacht, Illusion (formerly known as Galactica Star) was once owned by Nigerian billionaire Kola Aluko. He is the Co-Chief Officer and an Executive Director of Atlantic Energy known as an indigenous, private upstream oil and gas company, focused on independent exploration and production.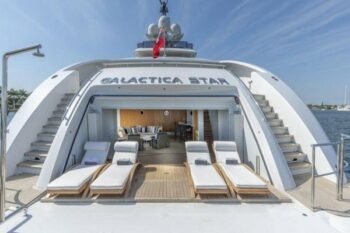 The 65-meter (213-foot) motor yacht was built in 2013 by the Dutch Heesen Yachts shipyard while the interior design was done by Bannenberg & Rowell Design and the exterior work by Omega Architects.
More so, the sea sailing luxurious object is wide enough to accommodate up to six guests in 12 cabins comprising of one master, one VIP and four double staterooms.
The efficiency of the boat is not underrated as it was It was constructed with a 4,200 nautical mile range at 14 knots. It can achieve displacement and a fast cruise speed in the range of 28 knots.
The Nigerian billionaire owned this boat up until 2017 when it was confiscated by the United States government as a part of the asset recovery initiative from Diezani Alison-Madueke, the former Nigerian Minister of Petroleum Resources who escaped prosecution because of corruption charges in Nigeria
In 2019, the yacht was then sold at auction to Burgess yachts representing an anonymous buyer. It was sold for $42m (₦15b).
Nana
Owner: Femi Otedola, Nigerian
One of the beautiful parts of having excess money is that you can afford all the luxuries that money can buy. Purchasing a luxurious yacht is one of the best gadgets you can own. Interestingly, Femi Otedola owns one of these beautifully designed steel cruising steel named "Nana".
The Nigerian billionaire who owns arrays of exotic and luxury cars and a private jet also included a 40 million in naira.
The President and Chief Executive Officer of Zenon Petroleum and Gas limited 108 motor yacht was built with a 32.91-meter and a beam of 6.3 meters. It also comes with a draft of 1.2 meters and a volume of 142 GT.
Talking about space, the luxurious boat is capable of accommodating up to eight people and a four-man crew. Not forgetting that it also has a grp hull and grp superstructure.
The supercruise boat is powered by three MTU engines making it reach the cruising speed of 28 knots and a top speed of 42 knots. Importantly, it is can reach a top speed of 42 knots, and cruises at 28 knots.
Yemoja (formerly known as Hud Hud)
Former owner: Deinde Fernandez
Yemoja means "Mermaid" in the Yoruba language, a majority tribe in Nigeria. It is awesome that a luxurious boat is named in the Yoruba lingua and this motor superyacht has a steel hull and aluminium superstructure built by Dutch shipmaker Feadship.
The yacht was formerly owned by late Nigerian businessman and diplomat Billionaire, Ambassador Chief Antonio Oladeinde Fernandez. The superyacht is considered to be one of the diplomat's favourite places for pleasure and leisure while he was alive. The billionaire diplomat was reported dead on the 1st of September 2015 inside his Brussels, Belgium home.
Yemoja is built in a length of 46.9 meters and its features include a beam of 8.6 meters, a draft of 2.75 meters and a volume of 558 GT all of which contributes to its efficiency.
In terms of space, the yacht is capable to accommodate up to eight guests and 10 crew members, including the captain. Most importantly, the yacht is powered by two Caterpillar Inc engines making it reach a cruising speed of 13.0 knots and a top speed of 14.5 knots.
Final Thought
Life is not just about work but also finding time for leisure and pleasure which the Nigerian billionaires above understood.
If you want to join the league of Nigerian billionaires with a private yacht, you can when you've made some dollars than what you can spend
Featured Image