Last updated on December 31st, 2022 at 07:15 am
With more than two dozen grants and soft loans put in place by the State of Utah's economic opportunity to help grow existing businesses and encourage new ones, the Beehive State got enough convincing reasons to attract investment into the state.
Beyond the array of business incentives in place, there are several reasons why incorporating a business in Utah can be beneficial to the business owner.
Table of Contents
In the state are lots of business opportunities one can engage in. Before taking the bold steps of registering your business in the Beehive State, below are the benefits of incorporating in the 'industrious' state: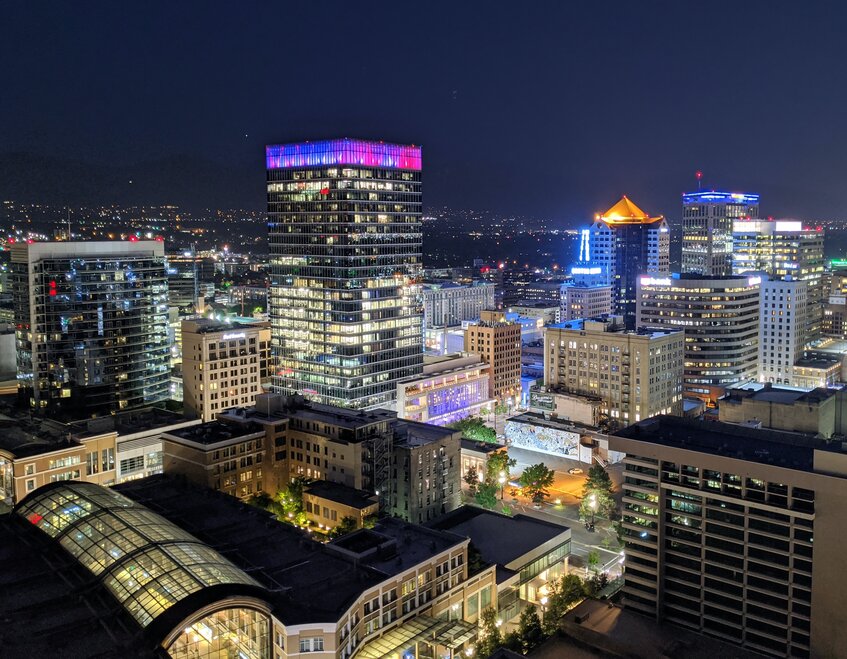 Strong Economy
Utah boasts a very strong economy. In the year 2000, the GDP of the state was around $92 billion. Fast forward to some 20 years later, Utah's Gross State Product has grown to over $160 billion.
Impressively, after the pandemic, Utah was able to recover quickly even when some countries around the world are at crossroads.
Best State for Business
In 2014, Utah occupies the first position in Forbes' list of best states to do business. The economic outlook of the state's capital Sal Lake City has also been impressive and phenomenal, thereby attracting high-paying jobs and attracting high-tech firms to the area during a recession.
Happiest State in the U.S
Does this affect your fortunes as a business owner? Yes! It is easy to make fulfilled and happy people try out your products or services, and they can always encourage you even if imperfect.
The state was ranked as the happiest state in the U.S in 2021 by WalletHub. Even though it dropped to the fourth position in 2022, this factor will ensure you have a nice time doing business with the beautiful residents of Utah.
Fair Costs of Living
You can decide to invest and live well in Utah at the same time. It is cheaper to live in this state when compared with several other states in the country. According to statistics, the average cost of living in Utah is 6 per cent below the national average.
A State of Entrepreneurship
This is one of the reasons Utah has been dominating the list of best states to do business in the United States of America for a while now.
The state is saturated with the consciousness of entrepreneurship, and this good attitude to creating good value via business will be very helpful to you and your success.
Small Business-Friendly Laws and Policies
The state is not merely a lover of small businesses on a theoretical basis. One of the expressions of its eagerness to help small businesses succeed is in the several friendly laws and policies you will always come across. Why wouldn't you incorporate your business in Utah?
Healthy Competition
Aside from the thousands of small businesses here, you will also be inspired by the operations of the big firms like Action Target, Alphine Air Express, Bluehost and so on.
These companies are strong businesses that will, directly or indirectly, keep you standing on your toes, inspiring you toward creativity and excellence.
A Well Diversified Workforce
Remember, Utah is a lovely place to reside, and many people are living here too from different parts of the world, speaking different languages. Therefore, the workforce is well diversified, and you can easily go for your peculiar needs whenever you desire.
Low Energy Costs
If you are going for a business where you have to depend greatly on electricity for business activities, then you should consider Utah, due to its low energy costs.
Utah is No. 1 for the lowest electricity bills in the U.S. But if you're worried about the high emission of carbon and pollutants, Utah might not be for you.
The state built its energy on fossil fuels, making it rank No. 43 for the carbon and pollutants produced by electrical generation.
Low Tax Rates
Low tax rates are one of the reasons entrepreneurs are incorporating their businesses in Utah. Beyond emotional factors, the fact that the state has business-friendly tax rates is one prominent reason it is a hot spot for investors.
Utah's top corporate income tax rate is 4.95%, ranking 10 among the 50 U.S states in the business tax climate indexing ranking by Tax Foundation.
Skilled Workforce
Utah can boast of a superb skilled workforce that emanated from a combination of several factors. Aside from the fact that there are good educational institutions around here that are training bright minds to become exceptional workers, there is a good emphasis on excellence and development.
Technology
Utah can also boast of its own technological area that is slowly approaching the cadre of Silicon Valley. If you are considering a business that has a lot to do with technology, you can give serious attention to Utah.
Access to Business Funding
There are various financing options available for you in Utah. It doesn't matter what industry you are diving in, or what level you currently occupy – there is always something for everyone in Utah.
At the time of publication, some of the available open grants in Utah are:
Event Service Industry Revitalization Grant
Rural Employment Development Incentive (REDI) Grant
Utah Technology Innovation Funding
New Destination Development Funding
Family-Friendly Place
If you are an investor who is considering a place to move in with your family, then Utah is a good option. The state is a family-friendly place and children are given great priority too. There are several superb schools that will give your kids the best education they need.
Formidable Infrastructure
Utah is a great state when it comes to infrastructure. These are things that not only promote quality of life but are also utilized to save costs while at your business.
Conclusion
Utah's motto Is "Industry", which should give you a glimpse of the state's foundational commitment to economic prosperity via a partnership with business people and organizations.
Indeed, the advantages of doing business in Utah are more than the challenges you are most likely to face. But you are only going to be a beneficiary of the aforementioned benefits if you implement some of the business ideas in the Beehive State.
Utah may not be the best state in America when it comes to weather, but the weather here is still better than what is available in several other places. Additionally, several beautiful spots in Utah will make life colorful while doing business.
References
Go Utah. "Government of Utah: Grants ". utah.gov
Tax Foundation. "Utah Tax Rates, Collections, and Burdens". taxfoundation.org
Andrew DePietro (August 4, 2021). "2021 U.S. States By GDP And Which States Have Experienced The Biggest Growth". forbes.com