I watched in dismay as some officials of the Corporate Affairs Commission (CAC) 'gyrated' over the removal of their boss, Garba Abubakar.
Table of Contents
The embarrassing audacity of civil servants
The audacious civil servants at the CAC headquarters in Abuja didn't merely rejoice over Mr. Abubakar's exit on October 14, 2023; they displayed inscriptions on placards and banners maligning him.
Abubakar wasn't the first to work with such toxic civil servants. The other day, the Minister of Works David Umahi locked latecomers out of the ministry. Instead of the unapologetic civil servants to be remorseful, they locked him in from outside.
But the recent event at CAC headquarters where officials of the agency hired 'owanbe' drummers, sang, and danced to the melodious tunes from the trumpeter call for the need to commit them to new rounds of orientation.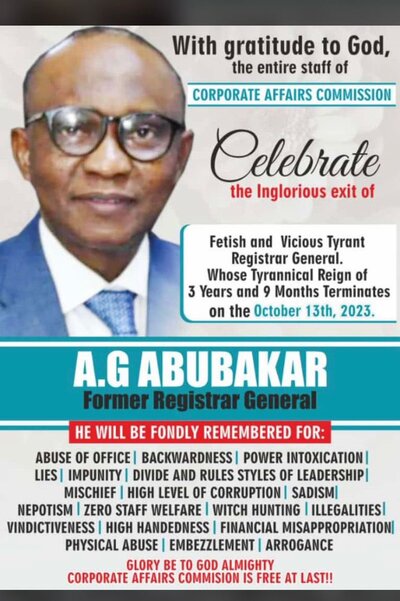 This leads one to wonder: How did Garba Abubakar fare during his tenure as the Registrar General of CAC?
CAC before Abubakar
Back in 2018, when we were our first company, the process was archaic.
We were provided a form to fill out, and a CAC official at the Osogbo office informed us that the form would be sent to Abuja after submission. It then took almost three months to receive the registration certificate.
Correcting an error on your business certificate before 2020 meant navigating a tedious and exhausting procedure.
A visit to any CAC branch office before Abubakar's appointment felt more like visiting a business center than a government agency. No decorum!
CAC during Garba Abubakar
On January 7, 2020, President Muhammadu Buhari appointed Garba Abubakar as the head of CAC, replacing Bello Mahmud.
His appointment marked a significant turning point for business registration in Nigeria.
Abubakar championed the digitization of the CAC registration process, which greatly improved the ease of doing business in the country.
His leadership allowed business owners to register their ventures directly, sidestepping agents who previously also served as CAC employees.
Annual filing of returns became more straightforward with online processing via Remitta.
Although you could still use accredited agents, this new method was a vast improvement over the previous practice of paying at banks and then returning with a bank slip.
Under Garba Abubakar's leadership, thousands of jobs emerged. This job creation resulted from accrediting external CAC agents to handle various CAC-related issues.
Before his tenure, CAC staff, despite being on the payroll of the government, also acted as agency agents. This redundancy was eliminated, paving the way for external job opportunities.
Abubakar ceased certain unchecked practices of CAC employees and introduced a system of accredited agents across Nigeria.
Customer support, under his guidance, was attentive and efficient in resolving registration concerns.
He also implemented paperless processes for various types of registrations, such as business names and NGOs.
The move to eliminate direct interactions with CAC officials indicated that he may not have been popular among some self-serving employees.
Who is Garba Abubakar?
Alhaji Garba Abubakar hails from Bauchi State. He was born on October 7, 1966.
He studied Law at the prestigious Ahmadu Bello University, Zaria, and was called to the Nigerian Bar in 1989.
He joined the management of CAC as Principal Manager, Compliance in April,2004.
In 2016, he rose to the rank of Director and between August to October 2010, he served as the Special Adviser to his predecessor Bello Mahmud.
Before joining CAC, Abubakar worked with the Nigeria Social InsuranceTrust Fund as Compliance Officer between1991 to1993.
He also worked at NIG Insurance between Jan, 1995 to December,1997.
Alhaji Abubakar is a member of several law-focused bodies, including:
Member of the Governing Council Nigerian Bar Association, Section on Business Law;
Member, Inter-Agency Committee Against Money Laundering and Terrorists Financing; and
Member of In-House Committee on the Review of the Companies And Allied Matters Act (CAMA).
A noteworthy exit
His successor Mr Hussaini Ishaq Magaji (SAN) will have to look into the possibility of enabling business owners to create account on the Company's Registration Portal (CRP) and file annual returns without seeking the service of an agent.
As Alhaji Abubakar leaves CAC, his legacy of innovation as the registrar general will be remembered.
While no leader is perfect, his tireless dedication and outstanding leadership have been noteworthy.
A few detractors cannot overshadow one's achievements or values.
Thank you, Alhaji Garba Abubakar, for your dedicated service to CAC and Nigeria. You're a conqueror!