Last updated on November 19th, 2023 at 05:10 pm
On its official website, the EFCC claims that it "does not charge any fees for SCUML registration nor are they required to pay any fees to obtain the certificate," this is a false claim. It will cost you between N45,000 to NGN60,000 to get a SCUML certificate at the time of publication. The price depends on the agent that is handling the registration process for you.
SCUML registration in Nigeria was designed to be FREE, but it has now been monetized which now makes it impossible for business owners to handle the registration themselves.
Sample of SCUML certificate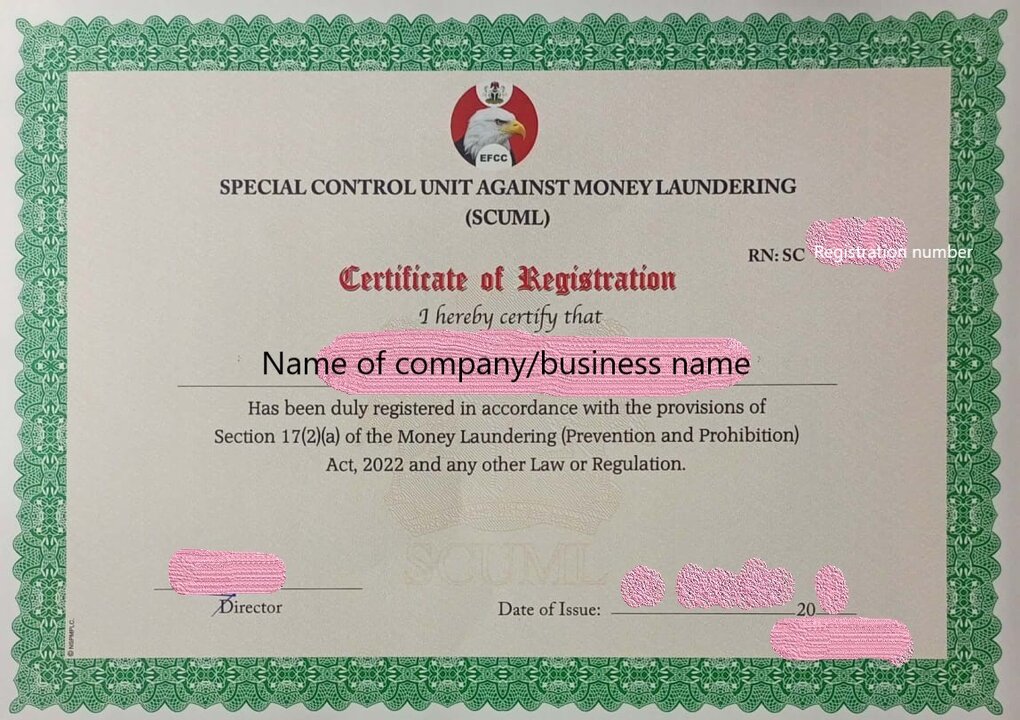 Here is a sample of SCUML certificate according to Section 17(2) (a) of the Money Laundering (Prevention and Prohibition) Act, 2022 and any other Law or Regulation.
Meaning of SCUML
SCUML is an acronym for Special Control Unit against Money Laundering. It is one of the key departments of the Economic and Financial Crimes Commission (EFCC), Nigeria's anti-graft agency.
SCUML is headed by a director who reports directly to the Chairman of EFCC.
SCUML is saddled with role of monitoring the financial activities of Designated Non-Financial Institutions (DNFIs) or Designated Non-Financial Businesses and Professions (DNFBPs) that handle cash in excess of N10,000,000 (for limited liabilities) or excess of N5,000,000 (for business name) from their customers.
Businesses that need to get SCUML Certificate
If your company or business type is capable of handling NGN10,000,000 or NGN5,000,000 or more in future, you are classified as DNFBPs by the Act establishing the anti-money laundering Act and expected to register for SCUML.
In case you didn't know, here is a full list of businesses that are designated as DNFBPs. They are the businesses or professions that need SCUML registration in Nigeria.
Law Firms
Supermarket
Audit Firms
Tax Consultants
Digital agencies
Mortgage brokers
Lottery Businesses
Dealers In Jewelry
Automobile dealers
Accounting firms
Mechanized farming
Real estate companies
Consulting companies
Construction companies
Casinos and Pool Betting
Non-Profit Organizations
Dealers In Luxury Goods
Real estate dealers/brokers
Estate Surveyors and Valuers
Clearing and forwarding firms
Hotels and hospitality business
Businesses that buy and sell precious stones and metals
Procedure for SCUML Registration
At some point when the registration was free, here is how to register for the certificate by yourself without having to pass through an agent.
Head over to SCUML registration portal at: https://portal1.scuml.net/mhatabz.php to sign up
Fill out the registration form
Upload required documents
Click next to fill in other required spaces.
General requirements for SCUML registration
Category (DNFBPs or NPO)
CAC registration type (RN for companies; BN for Business Name; NEPZA for Nigeria Export Processing Zones Authority)
Sector (supermarket, tax consultants, construction firm etc)
Business objective
Incorporate number
Registered name
Date of incorporation
Tax ID (TIN)
Office address
State
Bank
Account number
Account name
Preferred location to pick up your certificate when it's ready
Company's phone number
Company's email address
Company's director details
National Identity Number (NIN)
Required documents for vehicle importers
CAC certificate
Tax Identification Number (TIN)
BVN
Bank Name
Account Number
Evidence of Registration with the Association of Motor Dealers of Nigeria (AMDON) for auto dealers
for hotel owners
All the aforementioned documents plus…
Evidence of registration with Hotel Owners Forum Abuja (HOFA) or Nigeria Tourism Development Corporation (NTDC) for those who are in the hotel and hospitality business.
For betting companies
All the above documents plus…
Obtain license from either the National Lottery Commission/ State Lotteries Board if you are in the Casinos, Pool Betting & Lottery Business.
For auditing and accounting firms
All the above documents
Evidence of professional certificate with ICAN or ANAN or ACCA for auditing firms.
For tax consultants
All the above documents plus…
Professional certificate with ICAN or ANAN or ACCA or CITN.
For Estate surveyors
All the general requirements
Estate surveyors and valuers need the Nigerian Institution of Estate Surveyors and Valuers (NIESVs), or Nigeria Institute of Quantity Surveyors Certificate (NIQS).
For real estate business
All the above documents plus…
A REDAN Certificate.
Requirements for construction companies
Aforementioned documents plus…
COREN Membership Certificate or Nigerian Society of Engineers Membership Certificate or relevant construction certification for those in the construction sector.
Requirements for clearing agents
Above general requirements
Evidence of registration with Council For The Regulation Of Freight Forwarding In Nigeria (CRFFN) for those in the clearing and forwarding business.
Requirements for law firms
The aforementioned documents plus…
Law firms need Legal Practicing certificates
Requirements for oil or mining companies
The aforementioned documents
Any company that their business objective contains Mining, oil/Gas, Export, Investment and Pharmacy will be required to have Approvals/Authorization/licenses from relevant agencies.
For instance license from Nigerian Export Promotion Council (NEPC) for exporters; Nigerian Investment Promotion Commission (NIPC) for importers of such precious stones, and Exploration License/permit from the Ministry of Solid Minerals.
NOTE: Some of the additional requirements or professional licence may be waived.
Requirements for NGOs
Non-Profit Organizations (NPOs) need to present the Identification of Trustees with a valid means of identification
Constitution/Memorandum & Articles of Association
Certificate of Incorporation/Registration
Incorporation of Trustees or CAC7 and CAC 2
Tax Identification Number (TIN) or Tax Exemption
Particulars of Settlors
Trust Deed Agreement
Copy of cooperation Agreement (For international NGOs)
Requirements for SCUML registration for Religious Organizations
Certificate of Incorporation/Registration
Incorporation of Trustees
Identification of Trustees with a valid means of identification
Constitution
Tax Identification Number (TIN) or Tax Exemption
Letter of Authority from the General Overseer of the church
Details of other activities engaged in (Charities/Humanitarian activities)
BVN, Bank Name and Account Number
Penalties for failure to register with SCUML
There are penalties for violating Money Laundering (Prohibition) Act, 2011. Entities or individuals that violate the act may have their certificate of registration revoked and may be fined or sent to jail, depending on the gravity of the violation.
Conclusion
If your business or profession is classified as DNFBPs, you will need to register for SCUML to get registration number to open a corporate bank account or business account
After registration, you will have to send evidence of registration to your bank for validation and activation of your bank account.
How long does it take to get a SCUML certificate after registration?
It takes 7 working days if your application was not rejected. 
Which businesses are required by law to register for SCUML?
More than 20 DNFBPs like exotic jewelry sellers, auto dealers, real estate dealers, construction firms and others as earlier highlighted above.
How will I get my EFCC SCUML certificate?
It will be delivered to you via courier service in case you can't pick it up at the EFCC-designated office. Check their branch offices across Nigeria in one of our articles.
What is the meaning of DNFI category?
The Money Laundering (Prohibition) Act, 20111, defines a Designated Non-Financial Institution (DNFI) as dealers in Jewellery, Luxury Goods, Chartered Accountants, Audit Firms, Tax Consultants, Clearing And Settlement Companies, Legal Practitioners, Hotels, Casinos, Supermarkets, or such other businesses.
Can I use someone's SCUML certificate for my business?
No, if you're caught in such an act you may be prosecuted for not only forgery, but for flouting an anti-money laundering act.
How do I register my business with EFCC?
Once you have a SCUML certificate, you don't need any registration with EFCC anymore because SCUML is one of the departments of EFCC.