Last updated on August 12th, 2023 at 09:50 pm
What is SCUML?
SCUML means Special Control Unit against Money Laundering which is designed for Designated Non-Financial Institutions (DNFIs) or Designated Non-Financial Businesses and Professions (DNFBPs) for them to declare financial transactions from their customers which involves cash in excess of NGN10,000 (for limited liabilities) or excess of NGN5,000,000 (for business name).
SCUML is an acronym for Special Control Unit against Money Laundering. It is one of the key departments of the Economic and Financial Crimes Commission (EFCC), Nigeria's anti-graft agency. SCUML is headed by a director who reports directly to the Chairman of EFCC.
What are DNIs?
According to the Anti-Money Laundering, Combating the Financing of Terrorism and Countering Proliferation Financing of Weapons of Mass Destruction for Designated Non-Financial Businesses and Professions, and Other Related Matters) Regulations, 2022, DNFIs are companies, Businesses or entities that could receive cash in excess of NGN10 million or NGN5 million, depending on the business type.
Purpose:
SCUML registration for businesses means that they make an obligation that their organizations or businesses will not be used as a channel to receive illegal cash.
Of course, it also means such organizations or businesses make promises to the anti-graft body EFCC and Nigeria's government never to involve themselves in illegal or illicit financial transactions from their customers or to their customers.
Obtaining SCUML certificate means DNFIs consented to the provisions of EFCC regulations 2022 and allow the SCUML to diligently carry out its functions by monitoring their financial activities.
Today, no individual or body can operate a corporate account without submitting evidence of the SCUML registration number.
Some Time ago, I set out to open a corporate account for my business. I later received an account number but was unable to perform any transaction on the account. Why? A dedicated account manager told me I needed to complete SCUML registration. That was the first time I heard about the SCUML certificate and why my business had to obtain it.
"After review by the compliance unit, it was discovered that you need a SCUML registration because of your business type," my account manager told me.
You will definitely cross the hurdle if you plan to open a corporate account for your business in Nigeria.
Origin of SCUML
The Special Control Unit Against Money Laundering ("SCUML") was a brainchild of the administration of Chief Olusegun Obasanjo (former Nigeria's president).
It came into existence in September 2005 as a department under the EFCC in compliance with the provisions of the Money Laundering (Prohibition) Act 2004.
The Money Laundering (Prohibition) Act 2004 was later repealed and became the Money Laundering (Prohibition) Act 2011(as amended).
In a situation whereby DNFIs failed to declare such funds and the purpose it is meant, it is one of the functions of SCUML to step in and make such persons face the full wrath of the law, especially if such funds are illicit or proceed from corruption or for terrorism financing.
Businesses or companies that are categorized as DNFIs include sellers of expensive jewelry, auto dealers, real estate companies and importers and exporters of precious stones among others.
Before we highlight the roles of SCUML in the fight against illegal funds in Nigeria, it's imperative to know where its offices are located and past and present directors of SCUML from 2005 till date.
Key roles of SCUML
Here are the 11 functions of SCUML. They play these roles in fight again money laundering in Nigeria in helping EFCC to actualize its core mandate:
1) To collect Cash based transaction reports (CBTRs) and Currency Transaction Reports (CTRs).
2) To update the Nigeria Financial Intelligence Unit (NFIU) by forwarding transaction and currency reports collected from DNFBPs to NFIU.
3) To register and issue certificates of compliance to Designated Non-Financial Businesses and Professions (DNFBPs).
SCUML certificate of registration is issued to DNFIs in accordance with the provisions of Section 5 (1) (a) and (4) of the Money Laundering (Prohibition) Act 2011.
These companies or businesses are required by the EFCC regulations 2022 to declare excess funds.
4) Monitoring the financial activities of DNFBPs is one of the key functions of SCUML to ensure that inflows and outflows are legal transactions.
5) To enlighten companies and businesses classified as DNFBPs on the guidelines on Money Laundering Prevention and Prohibition Act 2022 to ensure that they abide by the provision of the law in financial transactions.
6) It is the role of SCUML to inspect DNFBPs at their designated office as it appears on their official business registration address.
The visit may be unannounced. This falls under its off-site and on- site, and spot checks role.
7) To implement to the letters the provisions of EFCC Act 2022.
8) To maintain an up-to-date database of DNFIs including their financial records in order to maintain compliance in combating Money laundering.
9) To strategically follow trends and patterns in money laundering and terrorism financing to help it take actionable enforcement against illicit funds.
10) To work and collaborate with financial institutions, the Department of State Security, the Police, and other stakeholders in finance and security so as to ensure compliance with anti-money laundering law within the DNFIs sectors in Nigeria.
11) To carry out financial criminal investigations on DNFBPs suspected to have violated the provisions of the law.
Penalties for failure to register with SCUML
There are penalties for violating Money Laundering (Prohibition) Act, 2011. Entities or individuals that violate the act may have their certificate of registration revoked and may be fined or sent to jail, depending on the gravity of the violation.
Businesses that should get SCUML Certificate
Wondering if your business needs to register for SCUML? Or don't even know if your company is one of the entities classified as Designated Non-Financial Businesses and Professions (DNFBPs) by the EFCC?
If your company or business type is capable of handling NGN10,000,000 or NGN5,000,000 or more in future, you are classified as DNFBPs by the Act establishing the anti-money laundering Act.
As such, you are expected to apply and obtain a SCUML certificate from the Economic and Financial Crimes Commission.
In case you didn't know, here is a full list of businesses that are designated as DNFBPs. They are the businesses or professions that need SCUML registration in Nigeria.
Law Firms
Supermarket
Audit Firms
Tax Consultants
Digital agencies
Mortgage brokers
Lottery Businesses
Dealers In Jewelry
Automobile dealers
Accounting firms
Mechanized farming
Real estate companies
Consulting companies
Construction companies
Casinos and Pool Betting
Non-Profit Organizations
Dealers In Luxury Goods
Real estate dealers/brokers
Estate Surveyors and Valuers
Clearing and forwarding firms
Hotels and hospitality business
Businesses that buy and sell precious stones and metals
Sample of SCUML certificate
Here is a sample of SCUML certificate according to Section 17(2) (a) of the Money Laundering (Prevention and Prohibition) Act, 2022 and any other Law or Regulation.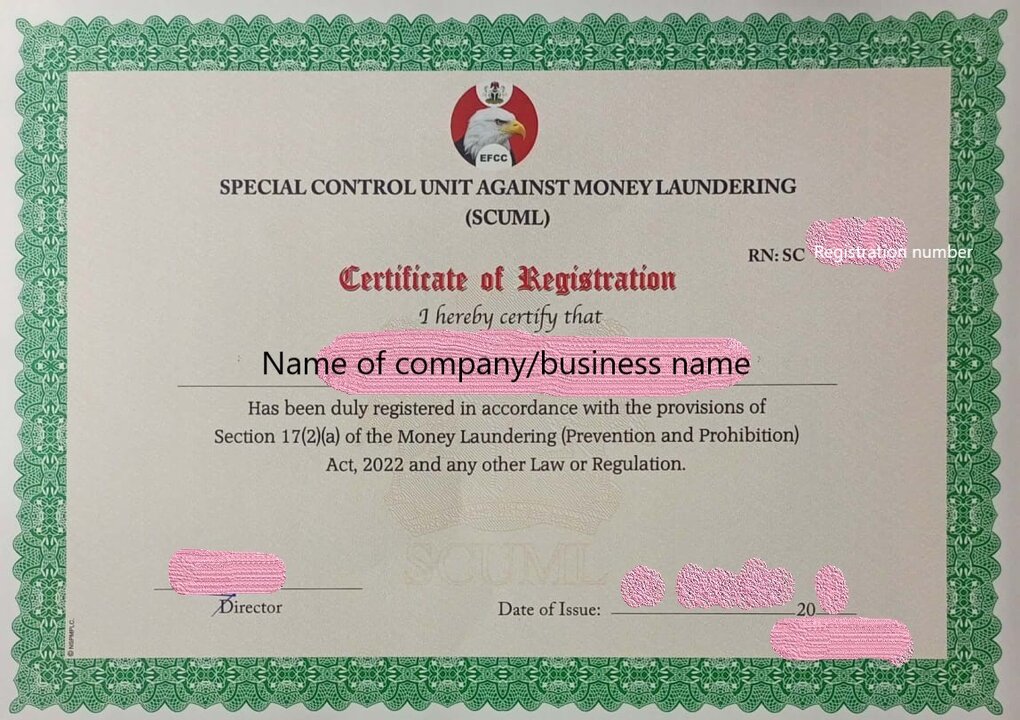 Required Documents for SCUML Registration
1) Certificate of Incorporation (limited liabilities)
2) Memorandum and Articles of Association
3) Form CAC 1.1 (CAC 2 and CAC 7 FOR OLD REGISTRATION)
4) Form BN-01 (Proprietor's Particulars for BN)
5) Tax Identification Number (TIN)
6) BVN
7) Bank Name
8) Account Number
Additional requirements
1) Evidence of Registration with the Association of Motor Dealers of Nigeria (AMDON) for auto dealers
2) Evidence of registration with Hotel Owners Forum Abuja (HOFA) or Nigeria Tourism Development Corporation (NTDC) for those who are in the hotel and hospitality business.
3) Obtain license from either the National Lottery Commission/ State Lotteries Board if you are in the Casinos, Pool Betting & Lottery Business.
4) Evidence of professional certificate with ICAN or ANAN or ACCA for auditing firms.
5) Tax consultants must present a professional certificate with ICAN or ANAN or ACCA or CITN.
6) Estate surveyors and valuers need Nigerian Institution of Estate Surveyors and Valuers (NIESVs), or Nigeria Institute of Quantity Surveyors Certificate (NIQS).
7) Real estate dealers need a REDAN Certificate.
8) Accounting firms need a professional certificate with ICAN or ANAN or ACCA.
9) COREN Membership Certificate or Nigerian Society of Engineers Membership Certificate or relevant construction certification for those in the construction sector.
10) Evidence of registration with Council For The Regulation Of Freight Forwarding In Nigeria (CRFFN) for those in the clearing and forwarding business.
11) Law firms need Legal Practicing certificates
12) Any company that their business objective contains Mining, oil/Gas, Export, Investment and Pharmacy will be required to have Approvals/Authorization/licenses from relevant agencies.
For instance license from Nigerian Export Promotion Council (NEPC) for exporters; Nigerian Investment Promotion Commission (NIPC) for importers of such precious stones, and Exploration License/permit from the Ministry of Solid Minerals.
NOTE: Some of the additional requirements or professional licence may be waived.
Non-Profit Organizations
Non-Profit Organizations (NPOs) need to present the Identification of Trustees with a valid means of identification
Constitution/Memorandum & Articles of Association
Certificate of Incorporation/Registration
Incorporation of Trustees or CAC7 and CAC 2
Tax Identification Number (TIN) or Tax Exemption
Particulars of Settlors
Trust Deed Agreement
Copy of cooperation Agreement (For international NGOs)
Requirements for SCUML registration for Religious Organizations
Certificate of Incorporation/Registration
Incorporation of Trustees
Identification of Trustees with a valid means of identification
Constitution
Tax Identification Number (TIN) or Tax Exemption
Letter of Authority from the General Overseer of the church
Details of other activities engaged in (Charities/Humanitarian activities)
BVN, Bank Name and Account Number
Cost of registering for SCUML certificate
SCUML registration is between NGN50,000 to NGN60,000, depending on the agent that is handling the registration process for you. Although the registration was designed to be free, this is not always the case in a situation whereby business owners can't handle registration themselves.
Procedure for SCUML Registration
To begin the registration process, head over to SCUML registration portal at: https://portal1.scuml.net/mhatabz.php to sign up
Fill out the registration form
Upload required documents
Click next to fill other required spaces.
Note: The SCUML registration form has the following info which you are required to fill in:
Category (DNFBPs or NPO)
CAC registration type (RN for companies; BN for Business Name; NEPZA for Nigeria Export Processing Zones Authority)
Sector (supermarket, tax consultants, construction firm etc)
Business objective
Incorporate number
Registered name
Date of incorporation
Tax ID (TIN)
Office address
State
Bank
Account number
Account name
Preferred location to pick up your certificate when it's ready
Company's phone number
Company's email address
Company's director details
National Identity Number (NIN)
Past and incumbent SCUML directors
Since its establishment as a critical department of the EFCC, SCUML has produced 10 directors to date. The pioneer SCUML director was Norman Sixth Wokoma. Here is the full list of SCUML directors from inception to date:
Norman Sixth Wokoma
Theophilus Akinbo
Ayo Peter Olowonihi
Angela Nworgu
Binta A. Rano
Bala S. Sanga
Bsmanga Bello
Francis Usani
Daniel Isei
Hanafi Baba Ahmed
SCUML offices in Nigeria
The Special Control Unit against Money Laundering is headquartered in Abuja, the Federal Capital Territory (FCT).
Other SCUML offices are in nine cities (states). They are:
Lagos state
15, Awolowo Road,
Ikoyi, Lagos, Lagos State.
Email: lagosscuml@efcc.gov.ng
Rivers state
No 8 Bank Road,
Off Moscow Road,
Port Harcourt Rivers State.
Email: phscuml@efcc.gov.ng
Enugu state
Plot 106 Federal Government College Road,
Independent Layout, Enugu State
Email: enuguscuml@efcc.gov.ng
Kano state
GP 360 Bida Road,
Civic Center, Kano
Email: kanoscuml@efcc.gov.ng
Kaduna state
No. 4 Wurno Road, Badarawa,
Kaduna, Kaduna State, Nigeria.
Email: kadunascuml@efcc.gov.ng
Gombe state
No 4 EFCC Street,
New G.R.A, Gombe State.
Email: gombescuml@efcc.gov.ng
Oyo State
16, Rev Oyebode Crescent Iyaganku,
G.R.A, Ibadan Nigeria.
Email: ibadanscuml@efcc.gov.ng
Edo state
No. 2 Court Road, By Reservations Road, GRA, Oka, Benin City, Edo State, Nigeria.
Email: edoscuml@efcc.gov.ng
Borno state
Plot 80 Baba Shehu Lamin Street,
Opposite Elkanemi College,
Tudun Wada Layout
Maiduguri, Borno State Nigeria.
Email: maiduguriscuml@efcc.gov.ng
How long does it take to get a SCUML certificate after registration?
It takes 7 working days if your application was not rejected. 
Which businesses are required by law to register for SCUML?
More than 20 DNFBPs like exotic jewelry sellers, auto dealers, real estate dealers, construction firms and others as earlier highlighted above.
How will I get my EFCC SCUML certificate?
It will be delivered to you via courier service in case you can't pick it up at the EFCC designated office. Check their branch offices across Nigeria in one of our articles.
What is the meaning of DNFI category?
The Money Laundering (Prohibition) Act, 20111, defines a Designated Non-Financial Institution (DNFI) as dealers in Jewellery, Luxury Goods, Chartered Accountants, Audit Firms, Tax Consultants, Clearing And Settlement Companies, Legal Practitioners, Hotels, Casinos, Supermarkets, or such other businesses.
Can I use someone's SCUML certificate for my business?
No, if you're caught in such an act you may be prosecuted for not only forgery, but for flouting an anti-money laundering act.
How do I register my business with EFCC?
Once you have a SCUML certificate, you don't need any registration with EFCC anymore because SCUML is one of the departments of EFCC.
Conclusion
If your business or profession is classified as DNFBPs, you will need a SCUML registration number to open a corporate bank account or business account
After registration, you will have to send evidence of registration to your bank for validation and activation of your bank account.
Of all the functions of Special Control Unit against Money Laundering in Nigeria, its success relies on the level of smooth collaboration with stakeholders in Nigeria.
For instance, SCUML needs 100% cooperation of banks to avoid actions that could thwart its fight against financial crimes.
It also needs the untainted cooperation of other security agencies in arresting owners of businesses that use their entities for illicit funds.