Last updated on August 5th, 2023 at 09:13 pm
Before the 2016 and 2017 batch beneficiaries of the youth empowerment programme were exited in 2020, there were calls from concerned Nigerians to find an alternative for them.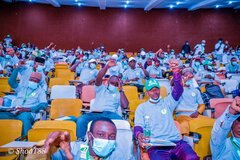 They posited that pushing them into the labour market would defeat the objective of the programme. After months of deliberations and consultations, the Minister of Humanitarian Affairs and Social Development Hajiya Sadiya Farouq announced her ministry's partnership with the Central Bank of Nigeria (CBN) on mobile money.
3 Job Options For Exited N-Power Beneficiaries
Finally, the federal government led by President Muhammadu Buhari unveiled the three jobs options for the former N-Power volunteers.
The 3 job options for former NPower beneficiaries are:
SANEF money transfer agent
GEEP micro-enterprise loans
Mass agric enumerators in 774 local governments
What is SANEF?
SANEF means Shared Agent Network Expansion Facilities (SANEF). It is CBN financial inclusion project aimed at driving financial inclusiveness among Nigerians.
Training begins:
Training for the exited beneficiaries in Mobile Money transactions was launched on Thursday, October 21, 2021, in the Federal Capital Territory and the North Central states at the International Centre for Women's Development, Abuja.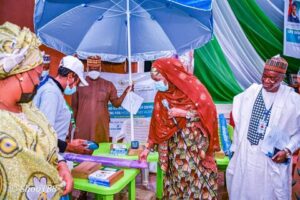 The Minister said that the Mobile Money Agents' Training Programme was designed to empower unemployed youths and develop their competencies to operate as registered mobile money agents.
"Upon completion of the training, the target beneficiaries will be registered with the Shared Agency Network Expansion Facility (SANEF) as Mobile Money Agents and will be provided with Start-up Kits that include a Point-of-Sale (POS) Machine, Fingerprint Scanner and Furniture (chairs, tables and umbrellas) as well as a modest capital of N20,000.00".
The training will be taken to other parts of the country for beneficiaries to get on board.
GEEP micro-enterprise loans
Do you remember TraderMoni, MarketMoni, and FarmerMoni? All of them are under the GEEP loans.
GEEP means Government Enterprise and Empowerment Programme (GEEP). It's an initiative of the APC-led government to provide access to micro-credit for Nigerians at the bottom of the economic pyramid.
If you're a business owner, you stand at least 99% chance of getting GEEP loan.
This means the former N-Power volunteers who already have their business will enjoy GEEP funding.
The micro-enterprise initiative is one where exited N-power beneficiaries would be offered the option of applying for a proposed GEEP loan to fund their small businesses.
Or form a Joint collaboration and form registered cooperatives in line with earlier established GEEP loan requirements to obtain loans.
We urge you to go for the first option, very simple than the second.
GEEP loan will give you access to financial opportunities to improve or start new businesses under a micro-enterprise initiative.
Mass agric enumerators
The mass agric programme is a component of the Economic Sustainability Plan (ESP), where the exited beneficiaries will be engaged as geospatial experts and enumerators in the Economic Sustainability Plan's Mass Agric programme
Remember that 30,000 former N-Agro beneficiaries were engaged under this programme in 2020. They are still part of the programme.
The goal of the mass agric enumeration is to engage the beneficiaries in the geo-mapping of farmlands and the enumeration of farmers across Nigeria.
Key Takeaways:
The federal government's three job options allow you to choose a preferred option, choose wisely.
For those who already have a business, go for GEEP loan
SANEF mobile money agent will be the best option for those who want to provide financial services in their community.
Former N-Power agro beneficiaries are advised to choose the mass agric enumeration option. It will give you the chance to also get agro loans.
Ask questions and share your thoughts with us. Which one are you applying for?