Last updated on March 21st, 2023 at 07:54 pm
The Kgalagadi Transfrontier Park is a famous conservation area in Southern Africa. It covers 38,000 square kilometres or 14,668 square miles.
It is the second largest park in South Africa after Kruger national park relatively free from human interference, as well as reputable for being the very first peace park in the southern part of Africa, connecting two countries together (i.e South Africa and Botswana).
Table of Contents
But South Africa is blessed with other tourist attraction locations like Blyde River Canyon Nature Reserve, Constantia Valley, Addo National Park, and Golden Gate Highlands National Park among others.
Brief History of Kgalagadi Transfrontier Park
The Kgalagadi Park is so big that its three-quarters extended into Botswana while one-quarters is in South Africa.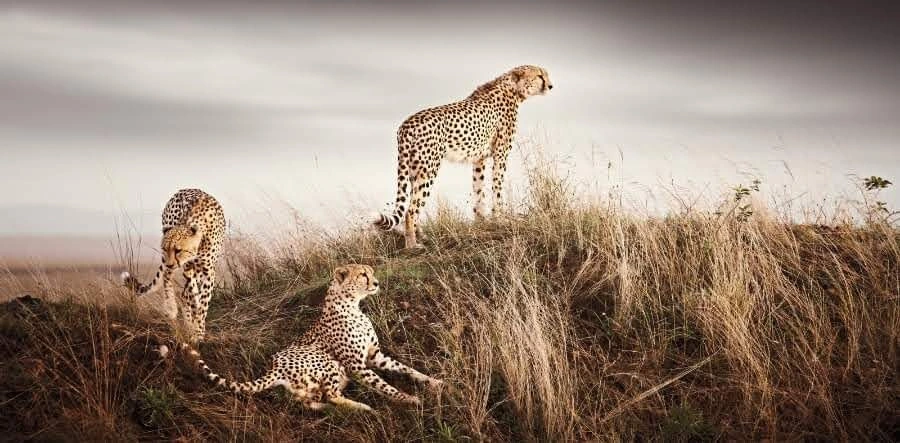 The Kgalagadi Transfrontier Park was born as a result of diplomatic agreements between the conservation authorities of South Africa (when it was still known as the Union of South Africa) and Botswana (when it was still Bechuanaland Protectorate) back in 1948.
Many years after the agreement, in 1992, the two countries decided to keep maintaining the place as a single ecological unit rather than splitting it into two.
Hence, representatives from South Africa and Botswana opted to establish a joint management committee to oversee the running of the area, with clear regulations in place to avoid issues.
Who manages Kgalagadi Park?
South Africa and Botswana are the managers of the park. Both countries are Southern African Development Community (SADC).
South Africa is represented by the South African National Parks Board
Botswana is represented by the Department of Wildlife and National Parks of Botswana.
The management came into being and was agreed upon in 1997.
It highlighted the system that would be utilized for cooperative tourism ventures. Also, it was agreed that the revenue from entrance fees to the park would be shared by both countries equally.
One of the core features of the deal was that each nation would maintain its own infrastructure without waiting for the other and that resources derived would be also utilized to develop communities located around the park, within the territories of each country.
The boundary between the two parks had no physical barriers whatsoever, although it is the international border between these countries.
Eventually, on May 12, 2000, the Kgalagadi Transfrontier Park, the very first peace park in the southern region of Africa, was officially launched by the Presidents of Botswana (Festus Mogae) and of South Africa (Thabo Mbeki).
Why Kgalagadi Transfrontier Park Is Unique
The Kgalagadi Transfrontier Park is not only the very first peace park in Southern Africa but is also reputable for its peculiarity as a big ecosystem relatively free from human interference.
The park is also unique for its red sand dunes and scarce vegetation, as well as being home to different types of animals – particularly its large antelope herds and desert predators.
Kgalagadi Transfrontier Park Location
The Park is located in the southern Kalahari, occupying both the territories of Botswana and South Africa.
Which Animals Are in Kgalagadi Transfrontier Park?
The Park is home to several types of animals. From large herbivores like springbok, blue wildebeest, red hartebeest and eland, to wild predators like lions, cheetahs, leopards, and hyenas, tourists won't be disappointed and can engage different animals all day.
Here is a complete list of the animals you will find in the Kgalagadi Transfrontier Park:
African Striped Weasel
African Wild Cat
African Wild Dog
Antbear
Bat
Eared Fox
Black-Backed Jackal
Black-Tailed Tree Rat
Blue Wildebeest
Brant's Whistling Rat
Brown Hyena
Bushveld Elephant-Shrew
Cape Golden Mole
Cape Hare
Cape Serotine Bat
Caracal
Chacma Baboon
Cheetah
Common Mole Rat
Damara Mole Rat
Desert Musk Shrew
Egyptian Free-Tailed Bat
Egyptian Slit-Faced Bat
Eland
Gemsbok
Giraffe
Grass Climbing Mouse
Grey Duiker
Ground Squirrel
Hairy-Footed Gerbil
Highveld Gerbil
Honey Badger
Kudu
Large-Eared Mouse
Leopard
Lion
Namaqua Rock Mouse
Pangolin
Porcupine
Pouched Mouse
Pygmy Mouse
Red Hartebeest
Round-Eared Elephant Shrew
Short-Tailed Gerbil
Silver (Cape) Fox
Slender Mongoose
Small Spotted Cat
Small-Spotted Genet
South African Hedgehog
Spotted Hyena
Springbok
Springhare
Steenbok
Striped Mouse
Striped Polecat
SuricateVervet Monkey
Warthog
Woosnam's Desert Rat
Yellow Mongoose
Also worthy of being mentioned is that the park contains over 250 bird species, including the likes of bateleur, tawny eagle, raptors, white-backed, migrant birds, lappet-faced vultures, black chested snake eagle, and much more.
How Much Does It Cost For Tourists To Visit Kgalagadi Transfrontier Park?
South Africans:
An adult: $6.50
A child will: $3.30
International tourists:
An adult: $26
A child: $13
It should be noted however that these are daily fees, expiring after 24 hours of payment.
How Far Is The Kgalagadi Transfrontier Park from Pretoria?
The distance between Pretoria and Kgalagadi Transfrontier Park is an average of 800 km depending on your routes and transportation method.
If you are heading towards the Park from Pretoria, it is best to fly from Johannesburg Upington Airport (UTN). Then take a bus or rent a car to drive down to the park.
Requirements For Entering The Kgalagadi Transfrontier Park
There are different gates to gain access to the Park. Tourists coming from South Africa can enter via the Twee Rivieren gate.
You don't need a passport to enter, except if you intend to leave via a different gate to Botswana or Namibia.
Accommodation:
There are various accommodations for tourists around the park, but the most famous ones visitors can choose from include:
Rooiputs Campsite 1
Kgalagadi lifestyle Lodge
Twee Rivieren
Tashebube, Rooiputs Lodge
Security Measures Visitors Should Pay Attention To
For wildlife viewing in the park, it is very safe to do so, particularly as you follow the instructions given by your guide.
Make sure you keep your voice down when an animal is nearby, and ensure you don't run or jog in a wildlife area.
Conclusion
The Kgalagadi Transfrontier Park, which started as an attempt to secure migrating games from poaching in 1931, has evolved into a massive tourist destination that attracts numerous tourists from different places in the world each year.