Addo Elephant National Park is one of the great places for tourists who are willing to visit South Africa. It is one of the most prominent diverse wildlife conservation parks in the former Apartheid country.
Table of Contents
Brief History of Addo Elephant National Park
Established in 1931, the park has an intriguing history. It was put in place primarily to remedy the declining rate of elephants in the region.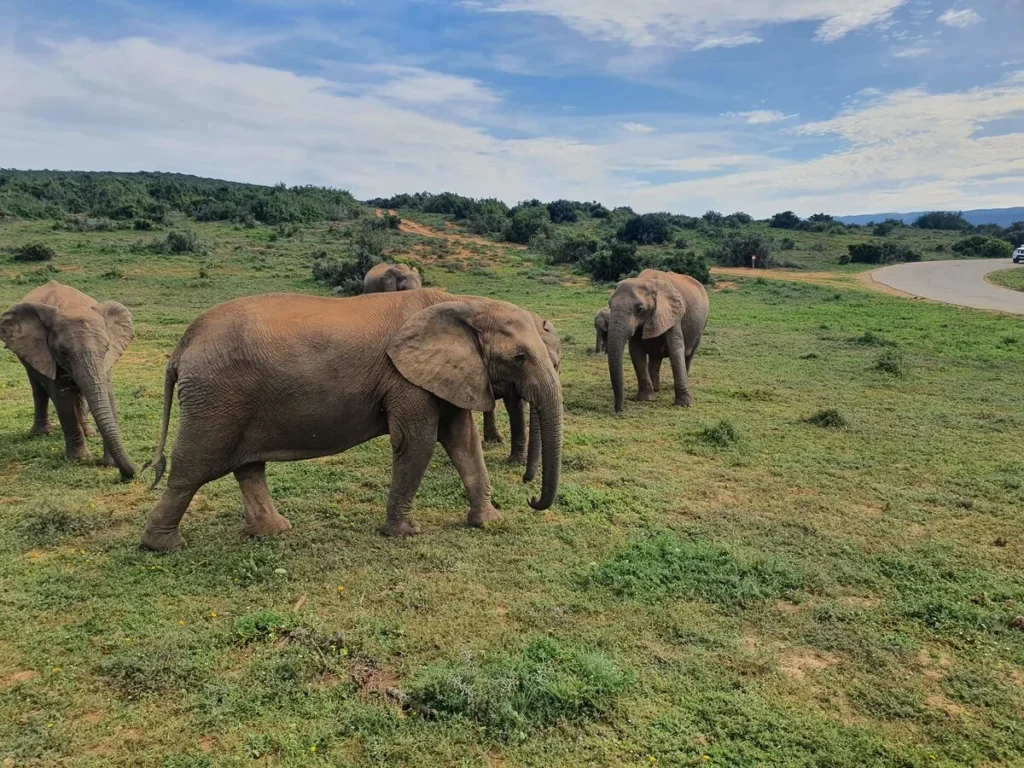 At that point, the authorities took steps towards building the park to house and secure the remaining 11 elephants left in the whole area, which paid off.
According to history, in the 1740s, some Europeans arrived in the region (known as the Boer people) searching for Ivory and trading opportunities.
They decided to settle down there, and aside from the constant clashes with the original native occupants (the Khoi people in particular), elephants were brutally hunted almost to extinction.
Due to the lucrative nature of elephant hunting, hunters gave great priority to poaching these animals, so much so that at the dawn of 1900, only a few elephants were left in the area.
As if this was not enough, Major PJ Pretorious gave an order in 1919 asking that the elephants left there should be killed.
Fortunately, 11 elephants survived, and steps were taken toward preserving their lives.
This led to the establishment of the Addo Elephant National Park in 1931. It should however be noted that some of the elephants went astray and went missing.
Then in 1954, the authorities put in place a strong Elephant-proof fence.
From that time, things began getting better for the animals, and today, Addo Elephant National Park is home to over 600 elephants, attracting different types of tourists from different places across the world.
Addo elephant national park sits on 180,000 hectares of land.
What Makes The Park So Famous?
Apart from being one of the highest gold reserves in Africa, South Africa also has a lot of parks, in fact, Addo Elephant National Park is a pride of South Africa, being one of the most famous parks in Africa that attract thousands of tourists from around the world.
It is reputable for being home to a large population of African elephants. It is the third-largest national park in South Africa.
Addo Elephant National Park was able to attain a state of prominence due to progressive expansions.
There were expansions from the Sundays River even to Alexandria. It also inculcated St Croix as well as Bird Island.
Hence, Addo Elephant National Park is not simply all about elephants, but you also see different species of birds.
Where Is Addo National Park Located?
The park is located near Addo in the province of the Eastern Cape, South Africa.
How to get to Addo national park
Getting to Addo from Cape Town should take almost 800km/500mi. However, Port Elizabeth, being the nearest domestic airport to get to Addo National Park, is just 75 km away from Addo.
Which animals can be found in Addo national park?
The rationale behind Addo National Park was to preserve elephants and keep them safe, but today, the park is home to several other types of animals.
Other animals in the park include:
African pride of lions,
leopards,
black rhinos,
buffaloes,
great white sharks, and
whales.
The park is also home to various species of carnivores like Hyaena, Wild Dogs, and Cheetahs,  
In addition to all of these animals, there are over 400 species of birds in the boundaries of the park.
What is the cost of visiting Addo national park? 
Below cost of visiting Addo national park is effective from November 1, 2022, to October 31, 2023:
International tourists:
R376/day for adult
R188 for a child/day
SADC nationals with passport:
R188 per adult/per day
R94 per child/per day
Note: SADC means Southern African Development Community which comprises 16 member countries.
South African Citizens and Residents (with ID):
R94 per adult/per day
R47 per child/per day
How far is the park from Pretoria?
Between Pretoria and Addo Elephant National Park is a distance of around 1,067.1 km.
While you have the liberty to settle for a traveling option that suits you, it is advisable to take a plane. Flying from Johannesburg to Port Elizabeth takes less than 2 hours.
Requirements for entering Addo National Park
There are basic requirements you must satisfy before you can be allowed into the park.
You must have the valid documentation agreed upon by the management of the park for gaining entry into its premises.
The required documentation includes:
Driver's license (driver of the vehicle)
ID book/card (all persons/passengers over 18)
Passport
Valid vehicle license disk
Kindly note that the managers of the park already warned that tourists who don't have the required documentation won't be allowed in.
This was enacted to bolster security inside the National Park, to ensure things keep moving as they ought to, and it is binding on everyone including those working in the park.
Accommodation at Addo Elephant National Park
Visiting Addo park, South Africa, definitely means staying over for a couple of days will enable you enjoy the beauty of the park.
As such, accommodation is based on the camps you wish to stay. There are almost 10 camps you can choose from, they include:
Woody camp
Spekboom Tented Rest Camp
Nyathi Rest Camp
Narina Bush Camp
Addo rest camp
Matyholweni Rest Camp
Luxury Lodges
Kabouga
Contact Details
Intending tourists can send a direct message to reservations@addoelephantnationalpark.co.za for enquiries
Security Measures Tourists At Addo National Park
The Park is reasonably safe for tourists, thanks to South Africa's Department of Environment, Forestry & Fisheries.
Nevertheless, while passing through the city itself, normal precautions should be adhered to. However, many tourists never experience crime-related incidents.
When it comes to wildlife viewing at the Park, you will always be fine as long as you adhere to the general rules and your guide's instructions.
You don't need to fear the elephants around, since they are usually relaxed and rarely attack people. However, if you are driving, ensure you avoid driving between a herd and don't get the animals scared.
On a general note, the following rules should keep you safe:
1) See to it that you always adhere to every instruction given by your guides
2) Ensure you keep your voice down when you are near the animals
3) Make sure you don't drive between elephants in a herd
4) Make sure your arms and legs are well covered in the evening to protect yourself from mosquitoes
5) Don't run or jog in a wildlife area. This can entice predators to attack you.
Conclusion
There are lots of exciting things to do at Addo National Park aside from seeing and playing with the friendly elephants.
You can move towards the southern part of the park to see the lions. You can visit the Woody Cape section to explore the rolling sand dunes and explore the famous Alexandria hiking trail.
Other places you can visit include Motlatse Canyon Provincial Nature Reserve, Mandela National Museum, Kruger National Park, Kgalagadi National Park, Pilanesberg National Park, and iSimangaliso Wetland Park.
References:
Game and Hunt Daily. "Legends Of The Hunt: Pj Pretorius Jungle Man". gameandhuntdaily.co.za
Nature-Reserve. "The Bloody History of Addo Elephant National Park". nature-reserve.co.za
South African National Park. "Addo Elephant National Park". sanparks.org