The Mandela National Museum used to be the home of former South African President Nelson Mandela in Soweto.
It is one of the most prominent tourist sites in South Africa due to the legendary life of the first nationalist President of the former Apartheid country.
Table of Contents
Why do tourists visit Mandela House?
Visitors troop to the Mandela National Museum to immerse themselves into the history of the foremost African legend on a more practical and realistic level, in the humble abode he stayed between 1946 and 1962.
Just like iSimangaliso Wetland Park, Mandela house was declared UNESCO World Heritage Site in 1999.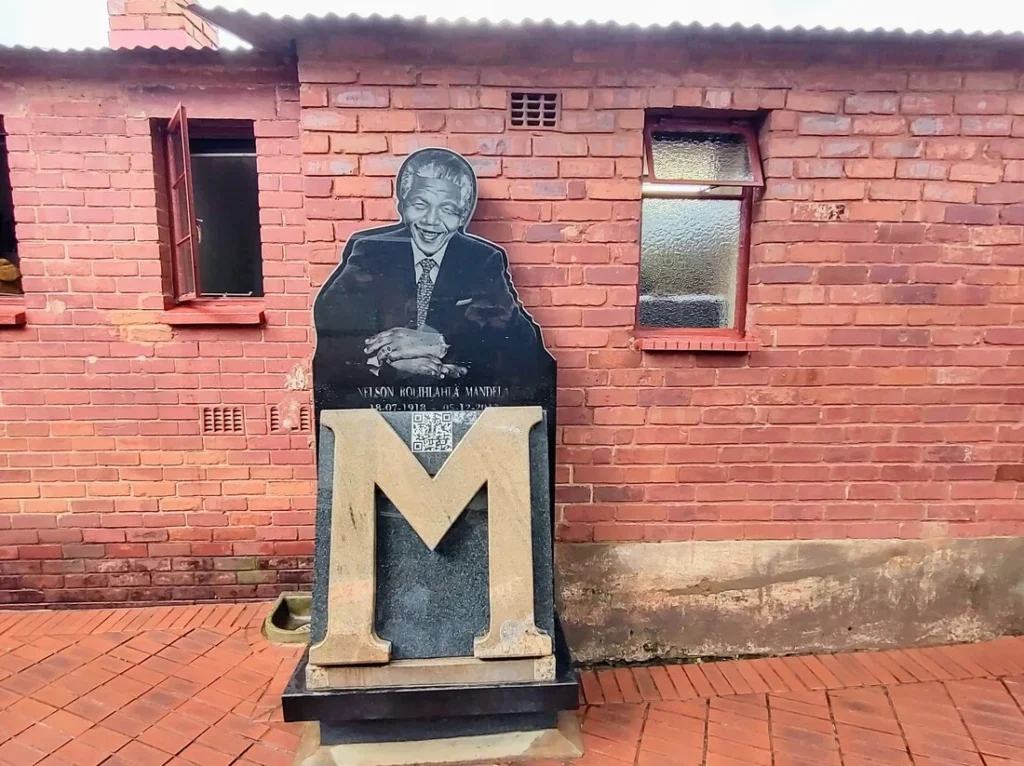 Where is Mandela House located?
Located in Orlando West, Soweto, Mandela House is managed by the Soweto Heritage Trust and became a National Heritage Site in 1999.
Brief History Of The Museum
In 1990, after Nelson Mandela regained his freedom from prison, he decided to return to his humble house at 8115 Vilakazi Street, Orlando West in Soweto.
He ignored widespread advice to relocate to a safer place, due to his fondness for the place. On returning, he got a roaring welcome from his kinsmen.
In 1997, after establishing the Soweto Heritage Trust (SHT), Nelson Mandela decided to hand over his house to the Trust to be managed as a museum
The handing over to the SHT took a new shape from there with many tourists coming over to have a feel of staying in the space of a great man.
In 1999, the Museum was declared a National Heritage Site, becoming one of the most famous tourist centers in South Africa and jacking up the popularity of the area where the Mandela House is located.
However, along these lines, the Soweto Heritage Trust decided to embark on a project to renovate the Mandela House as much as possible due to its deficiencies.
It was publicly made known that the house is not in a good shape and condition, and even its contents must be attended to.
The managers also lamented the absence of visitor facilities that would make the House more desirable to tourists across the world.
Thus, in 2008, intentional works were carried out that added radiance to the House. First, the place was closed to the public, and construction work started in July of that year.
Aside from the commissioning of a new visitor center, the workers were also adequately trained, and all of these added beauty to the House, which is now known as the Mandela Family Museum, still in Orlando West.
Today, it is still a humble building to showcase the humble and simple lifestyle of a legend.
It has four inter-leading rooms and is filled with several items belonging to Mandela himself as well as his family – such as photographs, paintings, honorary doctorates donated to him by institutions from all around the world, a pair of boots he had, etc
Cost of Visiting Mandela Museum
African Union member countries:
Adults: R40
Students with a valid student card: R20
Under 6-year-old children: R5
Over 6-year-old children: R20
Foreigners:
Additionally, school groups (Learners and Educators) are given special considerations, and only have to pay R5 to gain access to the Museum.
Guidelines of visit
1) Only a maximum of 20 people in a group are allowed for the visit per time.
2) Irrespective of what category you fall into, the duration of a tour at the Museum is approximately 20 minutes.
Nevertheless, it is also profound to include how a visitor to the Mandela House can take advantage of the opportunity to see the house of another South African legend, Desmond Tutu, just close by on Vilakazi Street.
Here is another historic house with a strong significance in South Africa – for it was there that the 1976 students' uprising began.
Who owns the Mandela National Museum?
While the Mandela House that is now the Mandela Family Museum belonged to the former President of South Africa, he purposefully donated it to be managed by the Soweto Heritage Trust as a museum.
We should add that Mandela himself founded the Soweto Heritage Trust in 1997 with particular attention to cultural causes.
Where Is The Mandela Family Museum Located?
Mandela House is located at number 8115, at the corner of Vilakazi and Ngakane streets, Orlando West, Soweto in Gauteng province.
What are the visiting hours?
The museum is open daily from 9 am and closes to visitors at 5 pm. However, it is not open for business on Good Friday and Christmas Day.
Security measures when visiting Mandela National Museum 
The Mandela Family Museum is a safe place, and there are no security issues to be worried about.
However, if you are a foreign tourist traveling to Soweto to visit the Museum, you should give priority to basic security measures. This is because Soweto has a high crime rate.
Fortunately, a lot of visitors come around without experiencing any trouble, particularly those traveling in well-protected groups.
While using the roads, you should be as careful as possible, since the country is battling with issues revolving around drinking and driving.
Hence, be cautious and sensitive, either if you are driving too or walking along the road.
Additionally, if you are a lone foreign tourist, as much as possible, ensure you try to hide your identity as a tourist if you are alone.
This means you should avoid carrying a camera dangling on your neck and don't act naive. Generally, avoid large crowds of strangers and be careful with your belongings.
This travel advisory also applies to other tourist locations like District Six Museum, Pilanesberg National Park, Kgalagadi Park, and Blyde River Canyon Nature Reserve among others
Conclusion
If you have always admired the man Nelson Mandela, then you will be delighted to explore the house he used to call home at 8115 Orlando West Soweto, which is now a tourist Museum attracting a lot of people from different places around the world.