Last updated on December 14th, 2022 at 08:52 am
Are you foreigners Visiting Lagos from the United States, United Kingdom, United Arab Emirates, and other countries of the world? you'll find answers to some of your questions in this post.

Some of them will be visiting to have fun at the beach and some other beautiful places in the city, while some of them will be around for some business meetings.
Whatever the purpose of your visit to Lagos, you will have to take personal security very seriously. Vicky covered that in one of her posts titled "Security Tips For Expats Visiting Lagos"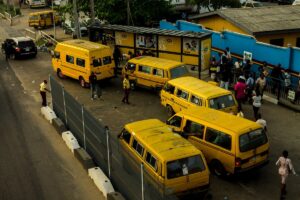 These tips bring us to a few questions:
Is Lagos safe for foreigners?
One of the questions by foreigners visiting Lagos is: Is the city safe for expat? There are slums in Lagos like every big city around the world.
In Lagos, we'll not recommend slums to you who is visiting Lagos unless you have a very trusted friend to guide you on a such visit.
Some parts of Lagos are perfectly safe for expats. We have Americans, Britons, and Indians (mostly in Ota, Sango, Ogun State).
Hotels located in Ikeja, Ikoyi, Victoria Island, Lekki are some of the absolutely safe places to look out for when booking a hotel.
What's the predominant language spoken in Lagos?
Lagos is rated to be the number one Nigerian city that has the highest number of educated people.
Generally, the English Language is the predominant language spoken in Lagos. But the city is dominated by the Yoruba-speaking people. However, a typical market woman in Lagos understands simple English.
But it won't be a bad idea if you learn a few Yoruba language. We'll come up with a few of them in our next publication.
What's the acceptable currency in Lagos?
Naira is the acceptable currency, but when you're dealing with sophisticated business people they accept US Dollars and UK Pound Sterling.
Lagos has the highest number of Bureau De Change (BDC) operators, mention any foreign currency, they will on hand to change it for you within a second, but as a stranger to the land, all eyes are on you, as such you will need to be extraordinarily careful in the handling of your cash.
It's more security advisable to foreigners visiting Lagos to stick with the local currency. Stay low!
What's the best hotel in Lagos for expats?
We can specifically say which is the best, but we've done thorough research on some of the best hotels in Lagos you can stay in while visiting Lagos for holidays or for business.
Lagos is a beautiful city to visit, but you need to know the Dos and Donts while travelling Lagos, Nigeria.
These questions and answers for foreigners visiting Lagos for holiday will be updated from time to time. If you have any other questions you want to ask about Lagos before your visit, do drop them right here.