Lagos state has the highest internal generated revenue (IGR) among the 36 states in Nigeria including the Federal Capital Territory, according to data published by the National Bureau of Statistics
Lagos State generated a whooping NGN267,232,774,434.06 as IGR in the first quarter of 2021. The commercial state is richer than the 20 states of the federation combined.
In Africa, Lagos's economy has the 4th highest GDP and is on the top 10 list of cities and urban regions with the fastest growing economy in the world.
The presence of seaports which serves as entry points for most goods coming into Nigeria, the establishment of more than 50 businesses with their headquarters in Lagos, and taxation from individuals and businesses are contributing factor to Lagos's growing economy.
Lagos is the busiest city in Nigeria and one of the states in Nigeria with the highest numbers of businesses despite the fact that it is the smallest state in Nigeria by area.
Lagos At Glance
One mysterious fact that remains unraveled in the history of Lagos state today was, how the state was able to accommodate a growing population of over 15 million residents according to the 2015 population projection.
These stats made Lagos the largest city in Nigeria by population and the second most populous city in the whole of Africa.
According to the 2018 population projection, Lagos state with a growing population of over 23 million people was ranked as the largest metropolitan area in Africa.
The city is serving as the seat of many business hubs, financial centers, the entertainment industry, technology hubs, the seat of tourism, and many more in the country.
Lagos State Economic Overview
Several sectors come into play when you talk of Lagos's economy. According to Kingmakers, Lagos has the highest Gross Domestic Product (GDP) of $29 Billion in 2020, GDP PER CAPITA of $2,174, Internally Generated Revenue of NGN382 Billion, and over 3,345,948 functioning enterprises.
All of these figures are generated from over 14 parastatals that cut across the states outside taxes from individuals in the state.
Following are some sectors that generate income for Lagos:
Sea Ports
Lekki Free Trade Zone
Agriculture
The entertainment industry and media
Oil refinery
Tech companies
Automotive Industry
Pharmaceutical industry
Parks and squares
Transportation
Sports
Education
General services
Analysis OF Each sector And What They Contribute To Lagos's Economy
According to NBS, the Internally Generated Revenue Report for Lagos State in 2020, shows that the state generate about NGN278.89 billion in PAYE taxes, NGN17.07 billion in Direct Assessment, NGN12.14 billion in Road Taxes, and NGN51.79 billion in revenue from the various Ministries, Departments, and Agencies (MDAs).
But in 2021, after the State's 2021 budget was approved, the state's Commissioner for Budget and Economic Planning, Mr. Sam Egube, gave a breakdown of the budget, revealing that the state planned to use NGN723.8 billion in IGR to fund the budget.
This meant that the state would need to bring in about NGN60 billion every month on average throughout the year in order to accomplish the goal.
According to NBS data, however, the state's economy produced NGN127 billion in revenue during the first quarter of 2021 and NGN267.23 billion during the first half of the year. In addition, the NBS data showed that every month the state generated about NGN44.5 billion.
The state's IGR would have been NGN180 billion at the end of the first quarter instead of NGN127 billion if the state had met its monthly IGR target. Additionally, it should have produced NGN360 billion as IGR by midyear, as opposed to NGN267 billion.
Government revenue in Lagos State comes from a total of 12 sources, there are:
PAYE
Direct Assessment
Road Tax, and other taxes.
Individual income tax,
Withholding tax,
Capital gains tax
Stamp duties on devices & heavy-duty equipment used by individuals
Tax on Pools Betting and Lotteries
Tax on gaming and casino taxes
Business premises registration fee;
Development Levy (individuals only)
Naming of Streets registration in the State capital
Right of Occupancy fees on lands.
Other revenue sources include Market taxes and levies where the State Finance is involved in the construction of the market, as well as Hotel Occupancy and Restaurant Consumption Tax.
Lagos State Government Revenue from PAYE
Pay As You Earn (PAYE) is a form of personal income tax that is removed directly from the salaries of staff and employees from any formal organization.
Lagos' total receipt under personal income tax (on incomes of individuals), which was NGN190.66bn in 2016, accounted for approximately 63.3% of the Total IGR that year.
In 2010, 2011, and 2012, receipts under personal income tax (PAYE) were NGN104.68 billion, NGN120.25bn, and NGN172.44bn respectively.
Figures for 2018 remain outstanding and unclear. On average, 64.8% of IGR for Lagos state came from PAYE between 2010 and 2016.
Revenue from Direct Assessment
Direct Assessment is a type of tax that is being used to tax personal income from individuals or self-employed citizens. With this scheme, a new taxpayer can assess him/herself, and pay the calculated amount.
Also, Direct assessment may refer to taxes imposed on businesses, especially (informal) by the State authorities, based on the size of their activities.
Since 2010, Lagos' total receipt under direct assessment was pegged at NGN6.62bn in 2016. In 2010, 2011, and 2012, revenue gotten under direct assessment was NGN7.51bn and NGN7.97bn respectively.
Revenue From the Transportation sector (Road Tax)
Road taxes are daily levies paid by commercial transporters operating within Nigeria's states. In Lagos, total receipt under Road Tax was approximately NGN9.54bn in 2016, accounting for about 3.16% of total IGR.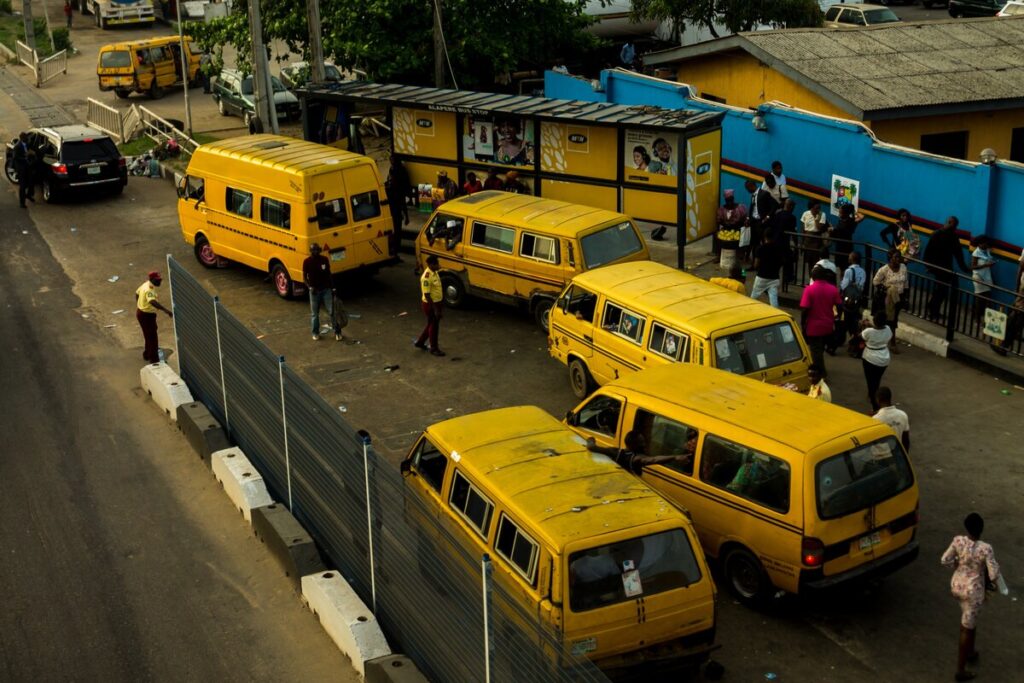 In 2010, 2011, 2012 and 2015 receipts from Road Tax was NGN7.51bn, NGN7.97bn, NGN4.36bn and
NGN9.516bn respectively. Preliminary reports from the Nigeria Bureau of Statistics show that revenue from Road tax in Lagos was NGN9.54bn, between January and June 2016.
According to ICIR, it was estimated that commercial drivers (including those on motorcycles and tricycles) in Lagos contribute an annual total of NGN123.078 billion to Lagos state economy, which is over 29% of Lagos' IGR in 2020.
Lagos state has the busiest route in the whole country, not less than 2,000 yellow buses and over 1,000 motorbikes ply the road in the city daily.
The state government makes money from this sector by leveling a certain amount as a daily tax on commercial drivers and riders which in a year is estimated to be over 250 billion naira.
This sector has underdeveloped as was, it is one of the sectors that contribute a significant amount of funds to the economy of Lagos.
Revenue from Lagos Road tax is more than the IGR of 5 states in Nigeria combined.
This sector is capable of funding different state governments of some states in Nigeria, until recently, the Lagos state government began a drastic reform in the sector by establishing bus terminals, and more railway terminals, the state was not getting the best of the sector.
In a publication on ICIR reporters, earlier before this period, 'agberos' in Lagos which are otherwise known as the National Union of Road Transport Workers (NURTW) do generate at least NGN123.078 billion annually from drivers of commercial vehicles, tricycle drivers, and motorcycle drivers.
However, they do not provide any kind of accounting to the state government because their business dealings were not included in the financial reports for the state
Revenue From Seaports
According to data published on GuardianNG, TinCan port in Lagos generated over 1.2 billion Naira yearly and Apapa port generate over 220 billion naira in a year.
This is a strong economic booster for Lagos as about 35% of its total IGR is from the Seaports present on its shore.
According to data compiled by the Nigerian Ports Authority (NPA), 97% of all containers berthed in Nigeria in 2016 were handled by the Lagos ports complex.
NPA's preliminary container traffic count showed that 179,443 TEUs were handled at TinCan Island port, while 136,543 TEUs were handled at Apapa Port.
The Lagos port receives a daily wide variety of ships which cargo ships (14%), oil and chemical tankers (13%), bulk carriers (12%), and offshore supply vessels (5%).
There have been ships as long as 279 meters docking here as well as ships that have more than 113,306 tons of goods termination at this port.
The busiest seaport in Africa is located in Apapa, Lagos. This is because the majority of the Nigerian port's general cargo is processed in Apapa
TinCan Island houses the second-largest seaport in Africa. These silos can hold up to 28,000 tons of grain transported by Fleetwood Transportation. Each day, the port can accept over 4000 metric tons of grain, including wheat, corn, and malt.
Vessels up to around 30,000 tons in tonnage can dock at the port. Moreover, there is a grain bagging plant there.
Federal Transfers Under FAAC
What makes the federal transfers includes revenue from tariffs on imports, company income tax, Value Added Tax, and revenue for the oil sector.
Lagos in 2017, received about N89.69bn from the federation account, facilitated via the Federal Account Allocation Committee (FAAC). In 2014, 2015, and 2016, the total amount received from FAAC came in at N105.57bn, N82.91bn, N76.77bn respectively.
Revenue from Tourism and Vacation
The influx of people into Lagos from within and outside for relaxation at different beaches add to the revenue of the commercial state.
Some of the beaches and relaxation centres include:
Elegushi beach,
Lekki Garden,
Takwa Bay,
Eko hotel, and many popular relaxations center are all present in Lagos.
All of these fetch a reasonable income to the government via indirect taxation of the private individuals managing these resorts.
Statutory Revenue
According to yourbudgit, Statutory revenue allocation to Lagos is as follows:
| | |
| --- | --- |
| Year | Statutory Revenue |
| 2007 | NGN35.76 billion |
| 2008 | NGN4799 billion |
| 2009 | NGN3764 billion |
| 2010 | NGN48.21 billion |
| 2011 | NGN69.86 billion |
| 2012 | NGN66.99 billion |
| 2013 | NGN70.94 billion |
| 2014 | NGN5985 billion |
| 2015 | NGN45.03 billion |
| 2016 | NGN33.87 billion |
| 2017 | NGN43.19 billion |
| 2018 | NGN57.5billion |
Source: Office of The Accountant-General of the Federation and Lagos State Government
Revenue from Telecommunications
According to the findings by the Nigerian Communications Commission, Lagos State received a total of NGN4.6bn in 2019 from various levies levied on telecom companies.
The study looked at how much money states make through taxes, levies, and fees, and how it compares to the federal government's goals for the digital economy.
The survey found that of all the Nigerian states, Lagos State collected the most money in taxes, fees, and levies from the telecom industry.
Airtel, MTN, 9mobile, IHS Nigeria, VDT Communications Limited, and ATC Nigeria were among the telecommunications businesses that reported their tax, levy, permission, and fee payments to the Lagos State Government.
Distribution of Employed Persons by Economic Sector In Lagos
According to NBS, Lagos state had the highest employment figure across the board except for agriculture, where Benue had the most workers (1,036,739);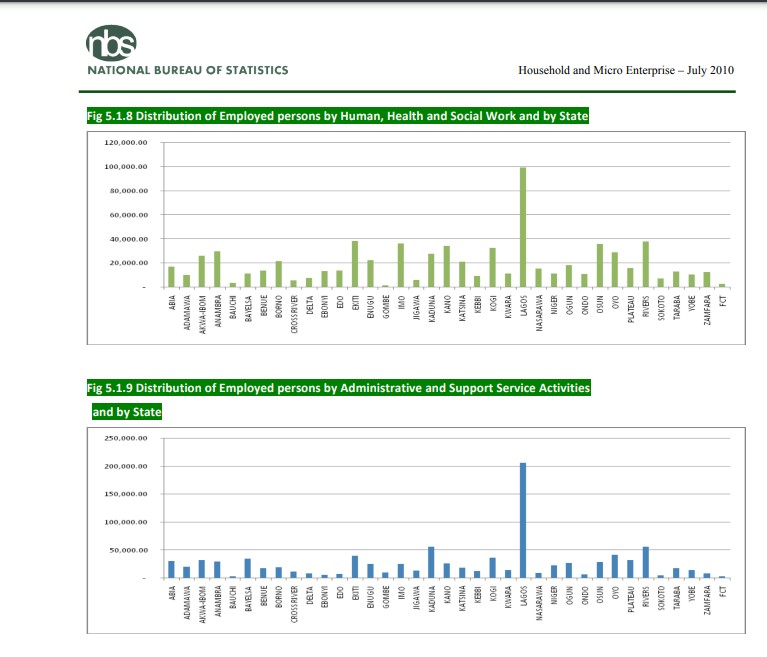 Mmining and quarrying, where River state had the most workers (28,946), manufacturing, where Katsina had the most workers (629,594),
Accommodation and food service activities, where Kano had the most workers (535,327), information and communication, where Ogun had the most workers (122,684), and professional, scientific, and technical services (154,666).
Lagos State Revenue from 1999 to 2018:
| | |
| --- | --- |
| Year | Revenue |
| 1998 | NGN3.5 billion |
| 1999 | NGN22.2 billion |
| 2000 | NGN27.1 billion |
| 2001 | NGN39.8 billion |
| 2002 | NGN41.8 billion |
| 2003 | NGN52.3 billion |
| 2004 | NGN62.8 billion |
| 2005 | NGN79.7 billion |
| 2006 | NGN93.7 billion |
| 2007 | NGN118.8 billion |
| 2008 | NGN179.3 billion |
| 2009 | NGN220.9 billion |
| 2010 | NGN2217 billion |
| 2011 | NGN281.1 billion |
| 2012 | NGN310.4 billion |
| 2013 | NGN316.2 billion |
| 2014 | NGN408.1 billion |
| 2015 | NGN384.4 billion |
| 2016 | NGN542.9 billion |
| 2017 | NGN642 billion |
| 2018 | NGN897 billion |
Source: yourbudgit.com
Private companies with Headquarters in Lagos State
In Lagos today, there are thousands of different big brands and some start-ups that are doing well which taxes they remit to Lagos state coffer enrich the state and gave her a boost ahead of other states of the federation.
For example, Lekki Toll Gate, according to SaharaReporter in one of its publications, report that the daily revenue projections for the Lekki-Ikoyi Link Bridge were around NGN10million, with the Lekki toll plaza projected to bring in no less than NGN16.6 million every day.
Some of the companies that have their headquarters in Lagos include:
Dangote refinery
All financial institutions have their headquarters in Lagos except Jaiz Bank which is headquartered in Abuja
Dangote cement
More than 95% of media companies have their headquarters in Lagos
Africa Finance Corporation
Afrinvest
Almost all insurance companies in Nigeria are headquartered in Lagos
Flour Mills of Nigeria
Flying Doctors Nigeria
FMA Architects
Famfam Oil Limited
Dangote Transport Company
SystemSpecs
Dangote Pasta Factory
Aiteo Group
Allied Air
Petrolex
Bet9ja
BudgIT
CMC Connect Burson-Marsteller
Co-Creation Hub
Consolidated Media Associates
Jobberman
John Holt plc
Kachifo Limited
Kakawa Discount House Limited
Kenna Partners
LADOL
Lambo Xtra
Leadway
Yinka Folawiyo Petroleum Company Limited
The Economic Future of Lagos State
For more than two decades Nigeria's capital was moved from Lagos to Abuja, and the commercial state remains the country's economic hub of Nigerian.
Lagos is also entitled to 13% derivation revenue after the discovery of oil of crude oil in commercial quantities in the coastal state.
The first discovery of crude oil in the state was made public on June 26, 2013, by Afren Plc and its partner, Lekoil Limited, making the state to attain oil-producing status.
More and more businesses are relocating their headquarters to Lagos, while new companies are springing up.
What all of these simply implies is more IGR for the state, more infrastructural development within the state, and an economic explosion that is capable of competing globally.
The government is setting up rules and policies to optimally harness the potential of the population in the state, numerous numbers of companies in the state, and natural resources within the state to boost the economic power and output of the government for the betterment of the general masses.
In September 2022, Governor Babajide Sanwo-Olu expressed optimism that Lagos 30-year development plan was aimed at boosting its GDP to $100bn USD.
"The plan tagged LSDP 2052, has over 400 initiatives across different metrics to drive exclusivity of every citizen in the state", Sanwo-Olu said.
Economic Challenges of Lagos State
However, the major economic challenge of Lagos I overcrowding of its seaports, thereby putting pressure on its facilities while the transport sector is dominated by NURTW officials who allegedly pocket most ticket fees.
There are also allegations that NURTW officials also make life unbearable for commercial drivers with the state government taking no significant action to make the sector attractive to investors.
Conclusion
With several business opportunities in the Nigeria's commercial state, Lagos is a model for other states in terms of aggressive growth in IGR over the last 25 years.
It is important to note that real estate is another emerging market in the Lagos economy where the state generates millions of naira in licenses such as government consent, Certificate of Occupancy, and other levies.
References: