Last updated on March 18th, 2023 at 05:04 pm
Pilanesberg National Park is one of the most outstanding parks in South Africa, with an area of 550km². It is also popularly referred to as Pilanesberg Game Reserve. It is one of the largest parks in SA.
Table of Contents
A Short History of Pilanesberg  National Park
Various human activities that have been traced back to thousands of years before now were discovered in Pilanesberg.
Organized human settlement in this area is dated back to 1200AD before eventually becoming Pilanesberg Game Reserve.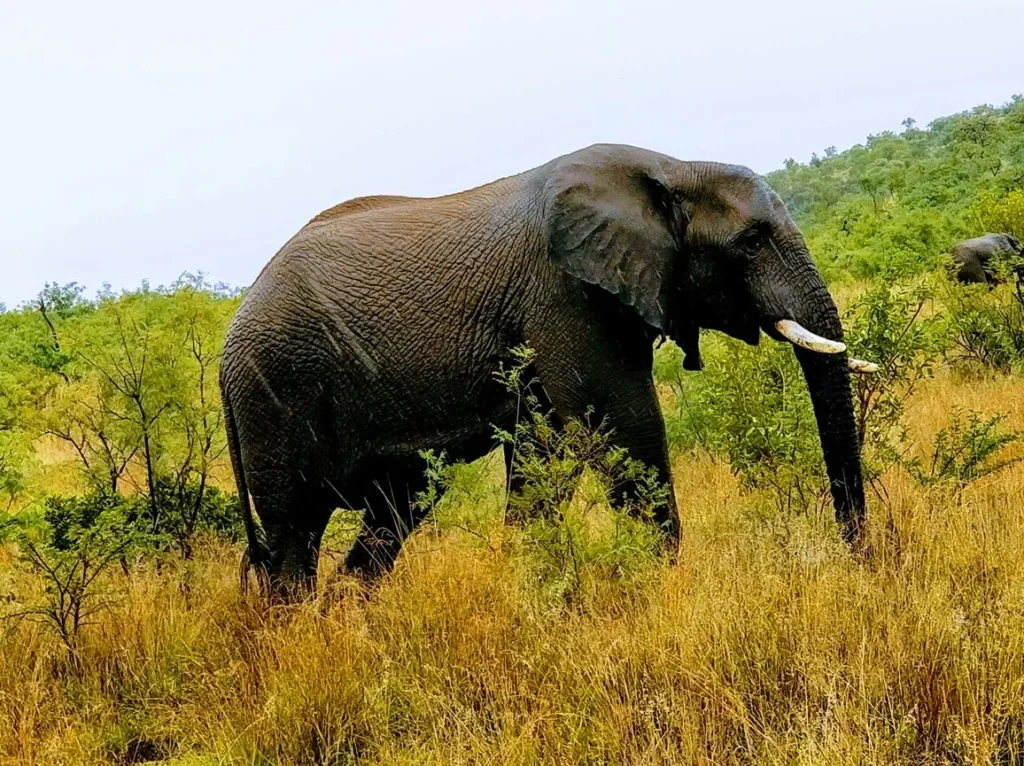 According to some historians, the Tswana people made the area their home between 300 AD and 600 AD, and proof of their existence have been seen in different parts of the area.
In 1829, some Cape Town Traders and European missionaries arrived the area. In subsequent years, various European explorers visited the territories for different purposes.
However, in 1839, a company of Voortrekkers founded the place and settled close to Phokeng, and they started utilizing the area for different productive activities.
Fast forward to the year 1969, Potchefstroom University demanded that the territory should be maximized as a recreation and nature reserve.
Fortunately, government officials supported the idea, and it was pushed till its approval in 1979 when the Pilanesberg National Park was formally founded, getting its name from Pilane, the Tswana chief.
In 1976, Southern Sun was planning to build a hotel on the land around the Mankwe dam.
But, authorities turned down the attempt so they could permit the running of the Park. As a result of this, Sun City was established around the South of the Park.
One of the immediate and most significant things done after the establishment of the Reserve was how over 5,800 animals were relocated, in an act that was branded Operation Genesis.
As expected, the government spent millions of Rands to put everything into proper shape.
Today, the Reserve spans 50, 000 hectares of land, the 4th largest wildlife park in South Africa, incorporating valleys, hills as well as broken rocks.
Who manages Pilanesberg National Park?
Unlike other prominent parks in the country that are managed by the South African national government, this one is taken care of by the North West Parks Board.
What Makes The Park So Unique?
Pilanesberg National Park is famous for being one of the largest game reserves in South Africa that is home to an incredible variety of game animals.
Almost all the animal species that are indigenous to Southern Africa will be seen in the Park, including Africa's Big 5 – lion, leopard, black rhinoceros, African bush elephant, and African buffalo
Additionally, Project Genesis is one of the core factors contributing to the prominence of the park.
Pilanesberg National Park has a reputation for witnessing the largest game translocation effort in the world around the 1980s, tagged Project Genesis.
Millions of Rand were spent to bring thousands of animals from other places to Pilanesberg.
Where is Pilanesberg located?
Pilanesberg National Park can be found in the North West Province of South Africa, right in the Bojanala Region, and close to Johannesburg. 
Which Animals Can Be Found In The Park?
The Pilanesberg National Park is home to almost all of the large animal species of southern Africa. At the park, you will find:
elephants,
Cape buffaloes,
lions,
crocodiles,
leopards,
black rhinos,
cheetahs,
hippos,
giraffes,
white rhinos, and
zebras.
Also, over 290 species of bird can be seen in the area, which made bird watching a vibrant sport in Pilanesberg.
What's the cost of visiting Pilanesberg park?
The entrance rates at Pilanesberg National Park are reasonably affordable.
Adult South African citizen: R80 per day
South African pensioner: R40
Adult foreign tourist:  R110
Children (6-12 years) irrespective of nationality: R30.
It is important to note that there are five public gates (aside from the one for the private Black Rhino Reserve) that can be utilized to enter the Park. And for those wondering if the Park accepts Wild Cards, the answer is no.
How Far Is The Park To Pretoria?
The distance between Pretoria and Pilanesberg Game Reserve is around 130 km, depending on where you are coming from. You can decide to drive yourself down to the park or take a bus.
Entry requirements:
There are simple requirements visitors should adhere to before they can be allowed entry.
Aside from your entrance fees (which must be in South African Rands), come with an ID card (foreign tourists should be with their passport).
It should also be added that the park cannot be accessed by motorbike, but visitors are permitted to drive their own vehicles around the park.
While the Park is open year-round, it is also important to be familiar with its gate times:
March and April: 6h00-18h30
May to September: 6h30-18h00
September and October: 6h00-18h30
November to February: 5h30-19h00
Accommodation at Pilanesberg National Park
Just like the management of Kruger park, lodging provisions are made for tourists and visitors alike at Pilanesberg park, however, this is based on financial strength.
There are campsites and caravan park specially designed for a group of tourists and for visitors or celebs who prefer a bit more privacy may go for safari tents or studio rooms.
Notably, citizens of the SADC enjoy some special privileges to some exclusive accommodation, this doesn't come for free, anyways. All these come with varied prices per night.
For camping, Bakgatla Resort and Manyane Resort are available. For someone who prefer a self-catering lodge, Thutlwa Safari Lodge, Nkala Safari Lodge, and Buffalo Thorn Lodge should be on top of your list.
The park also pays so much attention and care to parents who might be visiting with their kids, that's special accommodations Bakubung Bush Lodge, Black Rhino Lodge, Ivory Tree, Manyane Resort, and Kwa Maritane Lodge among others are there to choose from. For more, check the accommodation unit of the park.
Travel advisory:
The Park is reasonably safe, but visitors are advised to keep to basic security measures.
If you are driving down to the park from Johannesburg, have it in mind that you are undergoing a 150 kilometers trip.
And while the roads are not bad, you should know that there is usually the possibility of crime in the area. Hence, do all you can to avoid being stranded on the side of the road.
And while the Reserve is not in a high-malaria danger zone, visitors should be conscious of taking necessary precautionary measures. You can come with mosquito nets if you have the means.
Also, it is important to not swim in any place other than designated swimming pools, as one can never tell what is beneath the surface.
Are there lions in Pilanesberg national park?
Lions are among the big 5 and Pilanesberg park boasts of over 50 lions.
What is the size of Pilanesberg national park?
It covers an area of  550km² making it the fourth largest park in South Africa and among the best in Africa.
What makes Pilanesberg park special?
Some of the popular attractions that make the park special include day trips to see the big 5, hot air ballooning, and Lost City at Sun City.
What are the nearby airports to Pilanesberg park?
Closeby airport to Pilanesberg national park are:
1) O.R. Tambo International airport located at 1 Jones Rd, Kempton Park, Johannesburg, South Africa and
2) Pilanesberg International Airport is located in South Village, South Africa. It is inside the park.
3) Cape Town International Airport located at Matroosfontein, Cape Town, South Africa
What other parks are in South Africa apart from Pilanesberg park?
There are several parks and attraction centres in South Africa, some of them include Garden Route, Kruger park, iSimangaliso Park, District Six museum etc.
Conclusion
Pilanesberg National Park is a famous tourist area in South Africa that attracts numerous visitors from different places in the world. The Park is unique on various fronts. Aside from being the fourth largest of its kind in South Africa, it also has a unique Alkaline ring complex and is home to over 7,000 animals.