Last updated on March 21st, 2023 at 07:51 pm
Kruger National Park is a very prominent game reserve in South Africa, known widely to be the largest in the country and one of the largest game reserves in the world.
Table of Contents
How large is Kruger National Park?
The Kruger National Park (KNP) is one of the largest parks in the world. It is the largest park in South Africa covering 19,500 km2 or 7,500 sq mi.
It is so large that it runs along the eastern region of the Mozambique border, spread through the northern region of the Zimbabwe border, and the southern border is the Crocodile River.
Other large parks in South Africa include Kgalagadi Park, iSimangaliso park, and Addo Elephant park among others.
A Short History Of The Park
Man has always interacted with the area that will eventually be known as the Kruger National Park, thousands of years before now.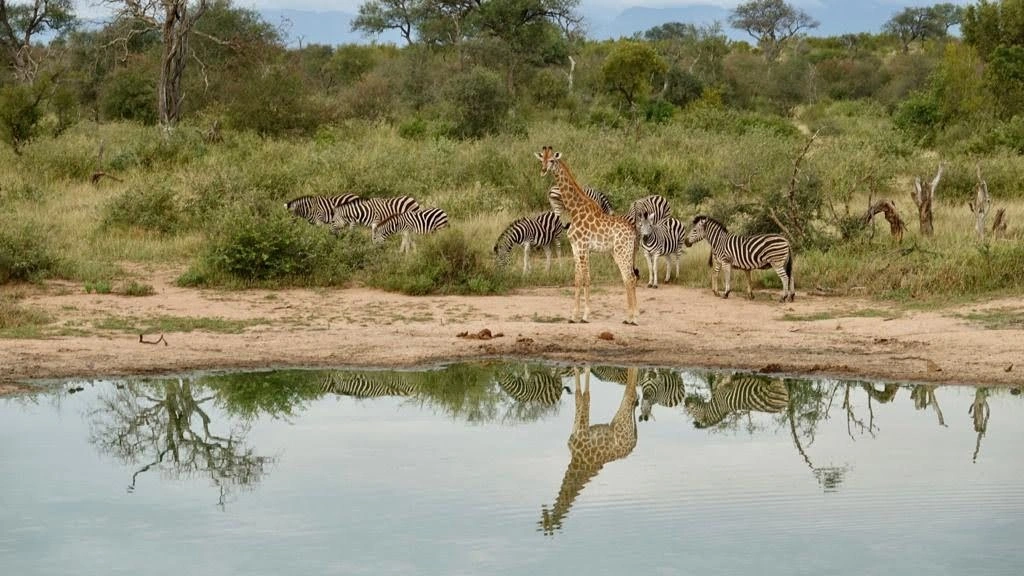 Proof of this is the discovery of cultural artefacts that dated back to the stone age era, making the park a superb place of history.
Many historians agreed that Iron Age tribes settled in the area some 1500 years ago, before the arrival of the Europeans in the 19th century.
In the 1800s, the then President of the Transvaal, Paul Kruger, was determined to protect the Lowveld animals from poaching and total annihilation.
The Lowveld has always been regarded as a hunter's paradise. One of the immediate things he did was to put restrictions on hunting in the region between the Sabie and Crocodile Rivers in 1884.
Kruger took his ambitions to another level with the establishment of the Sabie Game Reserve in 1898, which was a 4 600-square-kilometre area. The very first Warden of the reserve was James Stevenson-Hamilton, who took up the role in 1902.
Stevenson-Hamilton worked ruthlessly to protect the animals and even went as far as removing indigenous tribes from the demarcated reserve.
So determined was he to create a tourism-based national park, that he clashed even against sheep farmers and mining entrepreneurs who got in his way.
However, in 1927, following the proclamation of the National Parks Act, there was a merging with the Shinwedzi Game Reserve (which was another close by reserve established by Kruger that stretched between the Shingwedzi and Luvuvhu Rivers), and the name was officially agreed to be Kruger National Park.
Even at its earliest times, adventure lovers were always eager to explore the park, paying an entrance fee that is just around 1 pound.
In less than ten years, various camps were put in place, and 3 600 kilometers of roads had been established too.
The Park took another superb shape after the first wilderness trails were worked upon in 1957.
This inspired different conservationists and progressive experts in other fields to pioneer walking safaris in the 1950s and 1960s, contributing in no small measure to the prominence of what the Kruger National Park stands for today.
The area was fenced in by 18 000 kilometers of wire and poles in 1969, and the park experienced a process of commercialization in the 1990s, where private investors were allowed to invest their resources in different ways.
By 2002, more than a million tourists have visited the park. And today, it attracts numerous visitors every day.
What Makes The Park So Famous
The Kruger National Park is famous for being the largest game reserve in South Africa and one of the biggest in the world, occupying a whopping 19,485 square km and home to over 700 species of animal as well as more than 1900 species of plants.
The Kruger National Park is famous for affording tourists the opportunity to explore all of Africa's prominent safari species – buffalo, cheetah, elephant, giraffe, leopard, zebra, lion, hippo, and rhino.
More than 10,000 elephants and over 2,500 lions are thriving at the Park.
Where is Kruger Park Located?
The Kruger National Park is in Limpopo and Mpumalanga provinces, as it covers a very wide expanse of land.
Which Animals Are In Kruger Park?
Due to its peculiarities and uniqueness, there are so many species of animal at the Kruger National Park.
Some of the most prominent animals you will find at the Park include:
caracal,
black and white rhinoceros,
Lion,
kudu,
cheetah,
Aardwolf,
Cape buffalo,
leopard,
zebra,
spotted hyenas,
savannah elephant,
blue wildebeest,
steenbok,
hippopotamus,
black-backed jackals,
impala,
Southern African giraffe,
pangolin,
honey badger,
African painted dog,
sable,
Rock dassie,
bushbuck,
aardvark,
mongoose,
nyla,
stripped polecat, and so on.
At Kruger National Park, you will also find several types of birds, including grey lourie, black heron, ground hornbills, blue waxbill, plovers, martial and Bateleur eagles, crested barbet, white-backed vultures, green-backed heron, saddleback stork, Egyptian goose, hammerkop, and so on.
What is the entry fee at Kruger national park?
South African (citizen and resident):
Adult: R110 per day
Children: R55 per child
International tourists:
Adult: R440 per day
Children: R220
SADC Nationals
Adult: R220 per adult each day
Children: R110
Note: SADC national must show their passport.
How Far Is The Kruger Park To Pretoria?
The distance between the Kruger National Park and Pretoria is dependent on your routes and where you are coming from. However, it takes approximately 4 hours to get to the Park from Pretoria.
Entry Requirements:
There are certain requirements that must be adhered to before you will be allowed into the park.
If you are a South African above 18 years, you must provide an ID card that will be scanned by the security at the entrance (a valid driver's license will be accepted too).
Foreign tourists will have to tender their passports for security checks at the gate.
Additionally, all self-drive visitors are obligated to pay a conservation fee per person per day at the main entrance gate.
You should remember that security individuals may ask to check the boot of your vehicle just to be sure you are not bringing anything that is out of place into the park.
After paying your entrance fees, you will be issued an entry permit. It is very important that you don't lose your entry permit, since it will be required of you should you decide to stay overnight in any of its camps.
Are there accommodations at Kruger national park?
Just like Pilanesberg Game where there are family-friendly hotels, there are several hotels within Kruger and camps inside the park for tourists to enjoy the cool breeze of the wild. Some of the popular ones include:
Kruger Adventure Lodge
Olifants Rest Camp
Letaba Rest Camp
Crocodile Bridge Safari Lodge
Roodewal Bush Lodge
Kruger Gate Hotel
Kruger Park Lodge Unit 82
Balule Satellite Camp
Kapama River Lodge
Imagine Africa Luxury Tented Camp
Travel advisory to Kruger national park
It is important and advisable to travel in groups, going with only qualified tour guides. If you are taking accommodation around the park, make sure you lock your room at all times and don't leave your luggage unattended.
Considering that one can't always be perfect when it comes to being security conscious, it is advisable that you keep original copies of your valuable documents in a safe place, and travel only with certified copies.
Also, cash and credit cards should be separated, and don't carry everything you have with you whenever you are outside.
Additionally, as much as possible, don't permit strangers to assist you with ATM transactions.
When exploring hiking trails, it is very advisable to do so in groups, particularly for the sake of physical or medical emergencies.
If you are not accompanied by a guide, avoid isolated areas as much as possible.
When you are at the beach, make sure you don't swim alone, and don't go into unfamiliar waters.
It is very advisable to swim only in areas that are supervised by a lifeguard and try to keep off the sun between the hottest times of the day.
What is the best time to visit Kruger park?
Between May to October is the best time to visit the park for the best game viewing and walking safari conditions. During this time, it is easier to view animals in the wild.
Are the accommodations in Kruger park?
The park has camps for visiting tourists. You can either book online before visiting or book a camp on arrival.
What's the distance between Kruger park from Johannesburg?
Can I step out of my car when driving through Kruger park?
It isn't advisable to step out of your car when driving through the park because wild animals might be lurking around. You can safely view the animals when inside your car.
Can I fly directly to Kruger national park?
Yes, you can fly directly to Kruger National Park because there is Kruger Mpumalanga International Airport (MQP) is less than a 60-minute drive from the park.
Where can I book a direct flight to the park?
Tourists can get direct flight to kruger park at Cape Town, Durban, and form Johannesburg.
Conclusion
The Kruger National Park is one of the most prominent tourist sites in the world, and it is a core contributor to South Africa's flourishing tourist industry.