Last updated on November 23rd, 2021 at 02:22 pm
In July 2021, the Central Bank of Nigeria (CBN) announced that financial institutions that have foreign exchange licence would be in charge of selling forex to eligible Nigerians to meet their foreign exchange needs.
Technically, it means that Bureau De Change operators would no longer be able to buy FX from the apex bank. Since then, Nigerians who need forex for foreign needs need to apply at the banks, but some applicants revealed that the bureaucracy is annoying.
The question we asked some of those who contacted InfomediaNG Business Solutions is: Why did you choose to stress yourself when you can fund your Dollar Debit Card and spend it in any part of the world?
Domiciliary Debit Card
The need to simplify the process of buying forex in Nigeria came to the fore when Access Bank Plc announced that it launched Dollar Mastercard for Nigerians to have access and spend forex in any part of the world.
But in an actual sense, this is a technology that banks like GTCO and 10 other Nigerian banks already have. We'd tell you the banks in the later part of this guide.
First…
What Is Dollar Debit Card?
A dollar debit card is a debit card that carries out transactions in US Dollars. It operates like the Naira Debit card, the major difference is that it's denominated in USD or whatever foreign currencies' transactions it's designed to perform.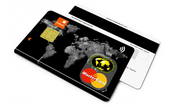 Some banks in Nigeria have Pound Debit Card, which means that the handler of Pound Debit card can easily use it in the UK and other transactions that support the Great Britain Pounds (GBP).
6 Benefits of Dollar Debit Card
Holding and operating a domiciliary card has its a lot of advantages most especially for entrepreneurs whose business depend largely on online shopping and importation; for students who want to settle school fees online etc.
You can access your fund 24/7 in any part of the world.
It simplifies online shopping
It's faster most especially when you have to use it at ATM terminals and PoS
It has a global acceptance
You don't have to worry about currency conversion
It is secured because it uses Chip and PIN technology to block unauthorised transactions.
Note:

The fact that it is secured doesn't prevent hackers from breaking its security wall, in a situation where you suspect unauthorised transactions, you can block your card by using USSD codes.
How To Apply
Open a domiciliary account
Apply for dollar debit card
Daily Spending Limit:
ATM: $1,000
POS: $10,000
Internet/Web: $5,000
Note:

This depends on the bank. Specifically, this spending limit applies o WEMA bank. Kindly check the USD debit card spending limit at your bank.
List of Nigerian Banks That Issue USD Debit Card
It may be called different names, but the foreign exchange debit card performs the same function in the currency it's denominated.
Below are some Nigerian banks where you can obtain Dollar Debit Card:
GTCO (formerly Guaranty Trust Bank)
First City Monument Bank (FCMB)
First Bank of Nigeria (FBN)
United Bank of Africa (UBA)
Union Bank
Zenith Bank
Stanbic IBTC
Unity Bank
Wema Bank
Providus Bank
Access Bank
If you already have a domiciliary account with your bank, then the process becomes easier. Check the requirements to open a Dom account.
Let's discuss how to obtain the card from the aforementioned banks
GTCO
GTCO calls it GTBank Dollar Debit MasterCard and the bank makes provision for three available means on how to apply for it:
internet banking,
GTworld,
physical application
Complete Domiciliary account form at any of its branch
Wait for collection
Note:

Annual Maintenance fee of $10 applies
Zenith Bank
Zenith bank calls it Pounds Sterling and Euro Visa debit Card. It enables its customers to perform international transactions
FCMB
At the First City Monument Bank, it's called FCMB Dollar Debit Card which is linked to your domiciliary current or savings account.
UBA
At UBA, it's called UBA Gold Debit MasterCard where all transactions carried out with the Gold MasterCard for Domiciliary Account are debited from your Dollar, Pounds, or Euro account, depending on the currency in which transactions are performed.
Stanbic IBTC
At this bank, it's called Stanbic IBTC Corporate Credit Card – Dollar
The application process at Stanbic IBTC is slightly different from others:
You must have at least one-month salaried banking relationship with Stanbic IBTC Bank
 Or 6 months banking relationship with any other bank in Nigeria
 Completed credit card application form
 Valid means of ID
 Proof of employment and address verification
 Salary domiciliation
Unity Bank
It's called Unity Platinum Debit Mastercard (USD) which is linked to your domiciliary account.
Wema
It's called Dollar Denominated MasterCard which enables you to define your international spending limits without restrictions.
Access Bank
Access Bank announced its USD Debit Mastercard in October 2021 which it calls Access Travel Debit Card.
Specifically stated that the card can be used to access foreign exchange outside the country in an announcement titled, "Important Update on Personal/Business Travel Allowance"
How does it work?
Your application for PTA or BTA must have been approved before the money can reflect on your Access Travel Debit Card to access foreign exchange.
Those who use Access Bank will be able to use the card from October 18, 2021, it means your approved PTA and BTA will be credited into the card.
Wrapping Up:
Your access to Dollar Debit Card doesn't give unrestricted access to forex. To get BTA funds on your card, your application for it must have to be scrutinized by your banks.
Featured Image credit:
Clay Banks of unsplash.com