The official price for a police clearance certificate in Nigeria is NGN40,000. This cost excludes the bribes in the application process. This means that Nigerians seeking to travel abroad to seek greener pasture will no longer pay NGN5K but NGN40K.
One major thing the potential applicant should be worried about is that they will most likely pay double the official price.
This is because when the official cost of a character certificate was NGN5, 000 some years ago, applicants paid at least NGN10,500 while applicants who had no political influence on police authority paid as much as NGN40, 000 or more.
From NGN5K to NGN40K, that's a 700% increase.
What is Police Clearance Certificate (PCC)?
The Criminal History Record Check or Police character certificate is an official document issued by the Police as a criminal background check on those who are immigrating or changing their country of residence.
It is demanded globally so that the host country doesn't have to carry the security threat of another country through travel. It is proof that you're a law-abiding person and of good character.
It is called different names around the world, whatever the name is called in your country of residence, they serve the same objective:
to certify that the holder or applicant have a clean criminal record.
The Same Document, Different Names
As earlier noted, it is called different names by countries around the world.
Check some of them below:
Criminal History Record Check
Police Clearance Certificate (Nigeria)
Police extracts
Good citizen certificate (Hong Kong)
Police Check
Judicial Record Extracts (UK, Australia)
Good conduct certificate (Nigeria)
Identity History Summary Check
National Police History Check (Australia)
NPF Character Clearance (Nigeria)
Criminal Record Check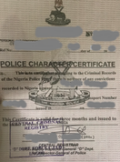 Who needs PCC?
As a student or skilled worker who just landed an opportunity in the United Kingdom, the United States or any other country around the World, you will be required to obtain Police Clearance Certificate from your country of residence (e.g Nigeria) before being allowed entry to another country.
For instance, if you're sponsored by UK companies to come work as a foreign worker, you will definitely need this document to for verification so that your employer doesn't take criminal liability as staff.
A U.S citizen who has been managing his business in Nigeria for several years (e.g five years) and wants to immigrate to Germany to further his business extension needs police clearance.
When is it necessary?
The scope varies, depending on each country's law, applicants may be required to submit police certificates from the countries in which they have stayed beyond certain periods.
It could be weeks, months, and years as clearly stipulated by the country's immigration law:
Nigeria: A foreigner who has live-in Nigeria for more than 30 days
Canada: Countries where applicants have resided for 6 months or more.
New Zealand: Countries where applicants have resided for 12 months or more.
Australia: For citizenship applications, countries where applicants have resided for 3 months or more if the applicants have been outside Australia for more than 12 months since acquiring permanent residency; for visa applications, countries where applicants have resided for 12 months or more.
Ecuador: Country where applicants have principally resided during the last 5 years.
United States: Countries where applicants have resided for 6 months or more.
An escapee from prison can't obtain it, it isn't issued to 419 or any other person who has been found guilty of criminal offences and serving a jail term.
Who issues it?
It varies from country to country, but it's majorly issued by the Police or a security agency saddled with the responsibility of feting and checking the criminal record of its citizens or residents.
For instance, Police Check is undertaken and issued in the United States of America by the Federal Bureau of Investigation.
In Ethiopia, it is issued by Ethiopian Federal Police Commission Forensic Investigation Department.
In South Africa, it is issued by the South African Police Service, while the payment is made to the South Africa Police Service's account in favour of the National Commissioner of the South African Police Service.
6 Significance Police Criminal Record Check
You may want to ask, "Why do I need to obtain a police clearance certificate?"
1) To ensure that those who committed an offence face the consequences of their action.
2) In Nigeria, it is mandated for someone who wants to occupy a sensitive position to obtain it e.g to be a member of the Armed Force, you need a police check which is called police attestation.
3) It is mandatory for if you are invited by the Canadian Immigration office to complete your application for a temporary or permanent residence (as a worker).
4) You will also need to upload a Police character certificate if you want to proceed on a post-graduate programme in United Arab Emirates, UK, Canada, Russia or any foreign institutions.
5) An employer may also request you to provide a police clearance report before you are fully employed (this is very rare).
6) Even as a tourist to another country, you will need a police character cert. to show that you don't have an "outstanding" criminal record back home, and ensure that you won't be a threat to your host country.
3 Major Ways To Obtain Nigeria Police Clearance Form
There are three major ways through which you can get cleared by the Nigeria Police Force through the Central Criminal Registry Force C.I.D. Annex, Lagos.
They are:
Physical application at the force CID headquarters (see address below)
Application through Nigeria Police Force website (the most ineffective ways)
Application within and outside Nigeria through a third-party service (the most effective but costlier)
Requirements:
Here are the requirements you will need to present at application and collection locations (in Nigeria):
Ten-digit fingerprint on Nigeria prescribed format:
Passport copy (front and back):
Application form:
PCC processing fee:
5 passport-size photos (if you're applying through a third party).
Valid international passport
Application fees: minimum of (N10,500-N50, 000) it varies.
Note:

If you have been added to the pool of International Experience Canada (IEC) or through Express Entry (which has been considered the simplest way to relocate to Canada), then you might need to start processing the required document-police certificate-so that your application will not be late when it is needed.
So,…
How much is Nigeria Police Clearance Certificate?
The Nigeria Police Force is silent about how much it costs to get a criminal record check until recently a source in Abuja confirmed that the official price of a Police Clearance Certificate in Nigeria is NGN40,000
When we visited the Facebook page of Nigeria Police where it publishes a guide on how to obtain it, the manager of the page was silent on the cost. Several inquiries sent to the admin were ignored.
However, we've received reports from applicants that the price varies, most especially when you're using the physical application method.
We've heard stories of those who claimed to have spent NGN60,000 to get PCC in Nigeria.
However, passing through an intermediary at the Nigerian Police Command in your state or at the CID Registry Office, Alagbon, Lagos, could make you pay more.
If you flaunt your wealth then you could be charged NGN100,000 or more at the issuing office.
Bottom line:
The cost of the Nigeria Police Clearance Certificate is marred with corruption, as such the price ranges between NGN40,000 to NGN80,000.
Note:

Sometimes, you may have to negotiate with the issuing officer if you're using physical application to get a moderate price.
PCC Physical Application at Force CID, Lagos
Step 1: Ask for the criminal registry office, Alagbon, Lagos.
Step 2: Pay the charge fee
Step 3: Collect and fill application form and attach your passport photograph.
Step 4: Proceed to the forensic desk. It could take some minutes here, depending on the number of applicants ahead of you.
Step 5: Wait for your record to be processed and collect your certificate.
Physical application can be done at:

Central Criminal Registry Force C.I.D. Annex
Alagbon Close Ikoyi
Alagbon, Lagos State

Nigeria
How To Get to Criminal Registry Office, Alagbon, Lagos:
The Criminal registry office isn't far from Obalende motor park. Ask for directions when you get to the park, it's a popular area in Ikoyi
For someone who is coming from Osun, Ekiti, Ondo, Oyo or anyone from the Soutsouth or Southeast or North and would like to get it done in Lagos,, here is the direction. From Berger bus stop to Obalende and ask for further direction if you're driving.
How long does it take?
If you are applying at the Criminal registry office in Lagos, you can get it within a day, depending on the number of applications before you.
If you are applying from your state command, you may it may take between 7days to 14 days since the State Command only collate applicants' record and forward to the Criminal registry office in Lagos.
PPC Application via Nigeria Police Force website at npf.gov.ng
Wherever you are in Nigeria, you can download the Criminal record check form on the official portal of the Nigeria Police Force.
At the time of updating this post as of Thursday, October 28, 2021, the police authorities have deactivated the link to make an online application.
In 2018, the online application was available on npf.gov.ng/character/index.php but it has been removed.
The guide on its Facebook page has also been deleted. But there's still a guide on the portal which directs prospective applicants to make physical applications at their offices.
Our Take:

This may create an avenue for bribery and corruption and makes it more tedious for applicants. Police form is record that should be done with high integrity, when bribery is involved, the form may be comprised and it could be issued to criminals
We'll update the process when the police make available the online form.
Police Clearance Application Via Third-Party Service
This process could be done in two ways: 1) Via Nigerian Embassy, 2) Via Third-party service
Through Nigeria's embassy:
Application for police clearance check isn't restricted to those who are based in Nigeria, those who reside in any part of the world can also submit their application for the clearance form.
For instance, if you are applying in Canada, the application can be submitted by mail to:
The Commissioner of Police

Central Criminal Registry Force C.I.D. Annex,

Alagbon Close,

Ikoyi, Lagos, Nigeria
Or send to the official email address of the Police ncis@npf.gov.ng
Requirements:
A pre-paid return courier envelope
Three photocopies of your international passport bio-data page with necessary visa stamps
Three copies of a properly filled application form
A set of fingerprints taken and certified by a recognized police authority or the Nigerian embassy or consulate
An international money order payable to the Nigerian Police Force, CID.
NOTE:

Your email may never get response.
If you've received ITA or Invited to Apply email as a result of your application for Canadian Express Entry Immigration, you will need to upload it in your Electronic Application for Permanent Residence (e-APR). Canadian Immigration Office doesn't accept police clearance check by email.
Third-Party Service:
Below are the requirements you may be asked by an agent:
Name
Address
Phone Number
Tribe
Place of Birth
Passport data page
Year of Birth
Passport photo
Signature
Race
Fingerprint in corresponding boxes
Note:
Fill in your name as it appears on your passport data page.
Third parties that offer Police Character Certificate Service
No other person's fingerprints match your own, as such, it can't be done by proxy. However, the third parties that offer this service will send a form of fingerprints to you
Third parties that offer Police Character Certificate Service are:
1) Gatewayng
+44 7946 759 680
(or WhatsApp)
Support at gateway dot ng
Mailus dot gateway at gmail dot com
Website: Gateway dot ng
2) Famsville
Barr. Dayo Adu
Email: dayo.adu at famsvillesolicitors dot com
Call: +234 80 62 80 1020
Website: famsvillelaw dot com
Where can I download the Police report form?
The clearance form was available on the portal of NPF as of 2019, at the time of this report, it has been removed for a reason best known to them.
If you are applying through a third-party service, see the sample of police clearance report form you may be asked to fill
Is it a must to travel to the Criminal Registry in Lagos to get it?
No. It has been simplified. You can obtain the form at the Command office of the Nigeria Police Force in your state of residence.
Does the Police clearance document expire?
Every document relating to a criminal record check expires and this depends on the issuer's immigration legislative (it depends from country to country):
Here is the validity:
Nigeria: It lasts for three months in Nigeria (90 days)
Australia: In Australia, a police certificate is valid for 12 months from the date of issuance (365 days)
Ecuador: Ecuador's authority recognises police certificates for three months just like Nigeria (as of 2 March 2012).
Take Away:
Police character check isn't limited to students or tourists, businessmen and women need them if they have stayed in a country for more than a stipulated time by the law.
If you submitted your application outside Nigeria, you will still need to authenticate the document upon arrival at the Nigerian embassy or consulate in your host country. Your clearance application may be rejected because of some reasons pointed out in one of our articles.
A police clearance certificate is the same as a police criminal record check. It is called different names across the world and it cost forty thousand naira in Nigeria.