Transnational weddings are common these days, no matter where it is, in India, China, the United Kingdom, or any other country, and it has nothing to do with the developed, or under-developed status of the nation.
The most populous country is the largest source of migrants from any country. Over 15 million people shift from there to overseas temporarily.
This immigration encourages affinity toward people of other countries. It may lead to matrimony, which is not permitted unless they present a bachelorhood certificate.
Table of Contents
What Is a Single Status Certificate Apostille?
A Single Status Certificate, also known as a singleness certificate, is a document verifying one's bachelorhood.
The significance of this document can be understood as the crucial paper that can hamper solemnizing a marriage in a foreign nation as per the judiciary.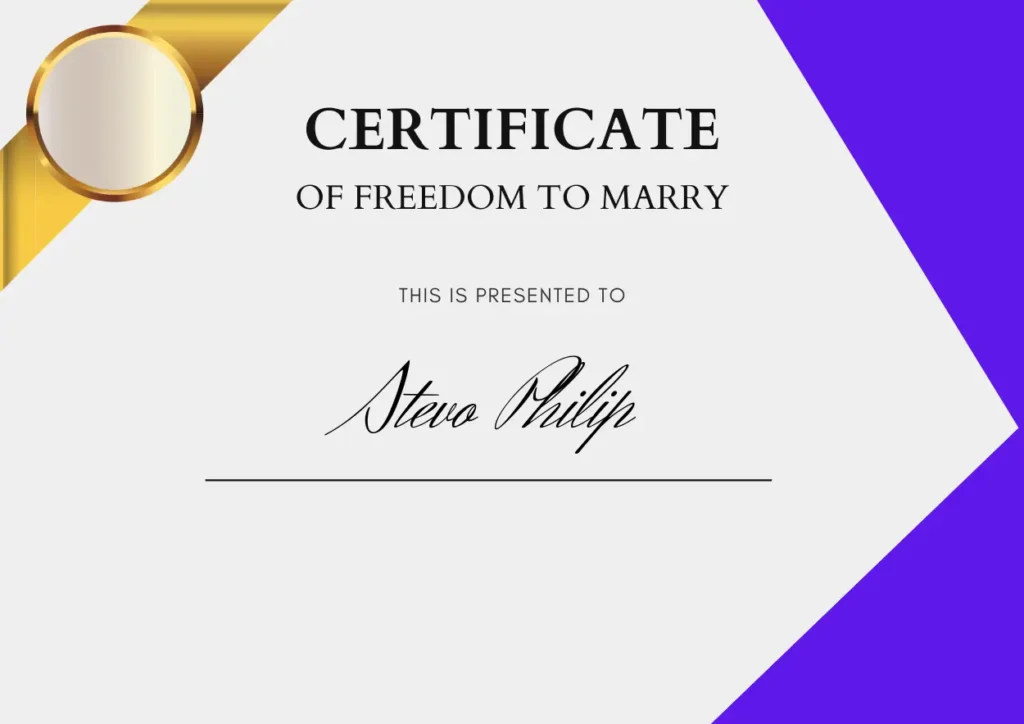 Sometimes, it is called a single status affidavit, which is a sworn statement that is presented by the affiant himself or herself.
A single status certificate states the real matrimonial status (such as a divorcee, widowed, separated, or bachelor) because it is verified by a competent authority like A-gazette officer, sub-divisional magistrate, union government, and foreign ministry.    
This certificate validates that the applicant is single/unmarried, as the name implies. The Apostille Single Status Affidavit is a critical document that requires government legalization.
It is evidence of a person's actual single status. It is a legal document stating that the individual is single.
Furthermore, it's worth noting that it will also certify people's single status if they're divorced or widowed.
Other names
Other names by which single status certificate is recognized in other countries are:
No Record of Marriage Certificate
Certificate of No Impediment For Marriage
Certificate of NullaOsta
Single Statutory Declaration
Certificate of Celibacy
Certificate of Freedom To Marry
Unmarried Certificate
Bachelor's Certificate
Affidavit of Single Status
Certificate of No Public Record
Who requires a single status certificate?
These are certain categories defined that are an ideal candidate for this proof from India:
Those Indians who are planning to marry a foreign national.
Those who are going to study or work in another country
Those who want to start a career in the military or the CISF
The Need to Get this Certificate Apostille
The Apostille for Single Status Certificate attests to the applicant's single status or bachelorhood.
It is required when an individual wishes to marry a foreign national.
All countries understand the sensitivity of the marital scam. So, they have constituted some laws and sections to safeguard the rights and lives of their countrymen.
Related Post: Importance of Certificate of No Marriage (CENOMAR)
The provision to submit this proof of single status is also there, which mandates its submission a month prior to the marriage.
Once done, the ceremony can be scheduled within six months. Later, the same procedure is to be followed in many countries because the certificate is rejected.
Ways to get Single Status Certificate in India
The application for certificate attestation is simple; nevertheless, it can be completed by the applicant or his family members, or with the assistance of attestation and apostille service providers.
Step 1: The State Home Department will verify this paper and send it to the District.
Step 2: The State Home Department will confirm the original bachelorhood certificate after receiving verification from the District.
Step 3: After the State Home Department has attested the original document. For further attestation/legalization, the original paper would be sent to the Ministry of External Affairs (MEA) in New Delhi.
Step 4: After attestation, you must take the document to the Indian embassy or the country where you desire to marry.
You can also get apostille single status affidavit by consulting service providers. This is the most reliable and quicker alternative because the affiant won't face any delays or challenges after getting professional support.
The agency prepares the draft, and the applicant only needs to submit the required documents.
The apostille and attestation agency ensures that the document is stamped and forwarded to the MEA/Home department for authentication.
There is a possibility that the MEA and embassies are in different states or location. You may overcome this hassle by hiring an NRI consultant or solicitor. It would prove a time and money savior trick for you.
Required Documents To Get Certificate of Freedom To Marry
Bachelor Applicants
An affidavit stating that the affiant is unmarried, together with further information on the affiant's address, name, and witnesses.
Proof of address, such as a bank passbook, a rental agreement, a voter ID card, or an Aadhar card.
A passport or visa is required.
Proof of birth, such as a birth certificate, NABC, or school certificate.
Parents' proof, voter identification, and Aadhar card
Divorced/ Widowed Applicant
In addition, the divorcee and widowed have to enclose the following proofs:
If the applicant is officially divorced, he or she will require submitting an Absolute Decree.
If the applicant's former spouse has died, a death certificate is required.
Summary
Your legal advisors and apostille and attestation agency can help you in getting a Single Status Certificate Apostille.
However, there may be delays due to legal, procedural, or other external factors, which are beyond the control of your service providers.