Tsitsikamma National Park is located along the famous Garden Route. It is a well-known tourist destination blessed with several natural edifices, allowing tourists to explore its superb coastal scenery, lush forest, rivers, indigenous plants, and massive reefs.
Let's explore why Tsitsikamma National Park is unique and other things tourists and visitors need to know about one of South Africa's famous parks.
Table of Contents
Short History of Tsitsikamma National Park
The area where the Tsitsikamma National Park is located has always been in existence for many years, occupied by different groups at different times in history. The word "Tsitsikamma" itself is a Khoi word, which shows how well the Khoi tribe sojourned in the territory from the earliest times.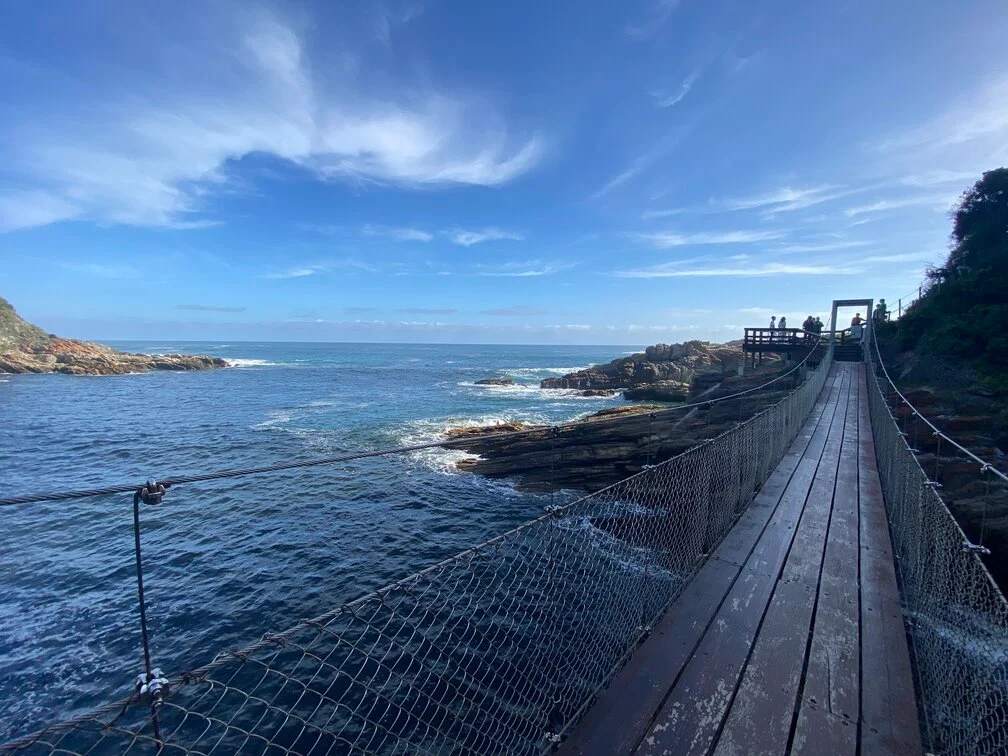 The name was given due to the abundance of water in the region since it experiences a great deal of rainfall.
As a result of the frequent rainfall, the area is synonymous with beautiful vegetation and is a citadel for different animals and birds.
During the Stone age era, there were groups traversing the coastline and hunting animals as food.
Eventually, the Europeans arrived and started their ambition of colonialism, disposing of the native tribes from their original habitats.
This was easy for the Europeans since they came with more sophisticated fighting weapons.
History has it that some of the earliest sets of Europeans that came here were bent on getting a spice route to Asia as they interact with the native inhabitants.
However, in 1652, a Portuguese by the name Jan van Riebeeck moved to the Cape and a real settlement started.
As time passes by, the people started exploring the territories for different purposes – as hunters, botanists, etc.
Not only was it that hunters were killing the various animals for different purposes, but some people made a serious commercial business out of cutting down and shipping trees to other regions.
In contemporary times, the Duthie family arrived to put in place a hunting camp around Storms River in 1841.
These guys started shooting animals for different purposes, particularly for the tusks of elephants.
More people then started moving in this direction when a wagon road was constructed by Thomas Bain in 1854 from Plettenberg bay to Port Elizabeth.
In 1956, better developments started coming through particularly after the construction of the Paul Sauer Bridge on the N2 national road.
Hence, small communities were established all around and tourist activities began to flourish, particularly with the managerial initiatives of SANPARKS.
In 1964, it was designated as an MPA (Marine Protected Area) and it enhanced the security of the endangered fish species.
Why Tsitsikamma National Park Is Unique
The Tsitsikamma National Park is unique because it is one of the few Marine Protected Areas in this part of the world.
It has a reputation for being one of the largest and oldest in the world, and its significance stretch beyond Africa.
It is a well-known region, not only for adventurous fun lovers but also for professionals researching endangered fish species.
The Park is also special for harboring a splendid rainforest that has over a hundred types of giant trees.
Where is Tsitsikamma National Park Is Located?
Tsitsikamma National Park occupies both the Western Cape and Eastern Cape provinces of South Africa. However, the nearest city to the Park is Knysna.
Which Animals Can Be Found In The Tsitsikamma National Park?
The Park is filled with a variety of species. Some of them include:
the African weasel,
Zulu golden mole,
African wild cat,
Brown rat,
Blainville's beaked whale,
Cape molerat,
Caracal,
Egyptian fruit bat and many more.
Entry fee for Tsitsikamma National Park
Before anyone can gain access to the Park, it is necessary to first pay a conservation fee, based on the category they fall into.
SADC Nationals: R140 (as an adult)
SADC Nationals: R70 (as a child) with valid passport.
International visitors: R280 (as an adult)
Child International visitors: R140 (as a child).
Note: These fees are valid for 24 hours after payment.
What is the nearby airport to Tsitsikamma Park?
The closest airport to Tsitsikamma National Park is Plettenberg Bay Airport. The distance between Tsitsikamma National Park and Plettenberg Bay Airport is around 75.2 km.
Requirements To Access the park
With your conservation fee and an identity card, you will be able to access the park. If you are driving into the region, you have to move along the Tsitsikamma Toll section of the N2 to enter, and you have to pay the necessary toll money.
What is the nearby accommodation?
These are some of the best nearest lodges close to the park:
The Plettenberg (16.5 miles from Garden Route)
Tsitsikamma Village Inn (13.8 miles from Garden Route)
Grand Africa Rooms & Rendezvous (16.7 miles from Garden Route)
Sky Villa Boutique Hotel (16.7 miles from Garden Route)
Tsala Treetop Lodge (22.2 miles from Garden Route)
Travel Advisory To The Tsitsikamma National Park
It is important to make use of qualified tour guides that are duly registered.
While security is not that bad at the Park, visitors must be security conscious and sensitive.
You should ensure you don't leave your handbags under tables or travel in isolation. In other words, moving with the right group as a foreign tourist will save you from lots of headaches.
Also, it is advisable to not carry your money and important documents together. Rather, you can keep your valuable items in a safe place while exploring the park.
If you are a foreign tourist, it is helpful to avoid carrying your passport everywhere, except only when and where necessary.
Conclusion
Like other tourist locations in SA e.g Sani Pass and Kruger Park, Tsitsikamma National Park is unique in its own way that keeps attracting numerous visitors from different places in the world each year.