Last updated on November 5th, 2022 at 12:36 pm
Kaduna State was the political and administrative hub of the northern region throughout the colonial and early post-colonial eras.
As a result, the state came to be known as "the Centre of Learning" due to its prominence as an economic, media, industrial, and trading hub as well as a hub for higher education.
With its expansion, the state became one of the economic hubs of Northern Nigeria in key sectors such as agriculture and technological innovations.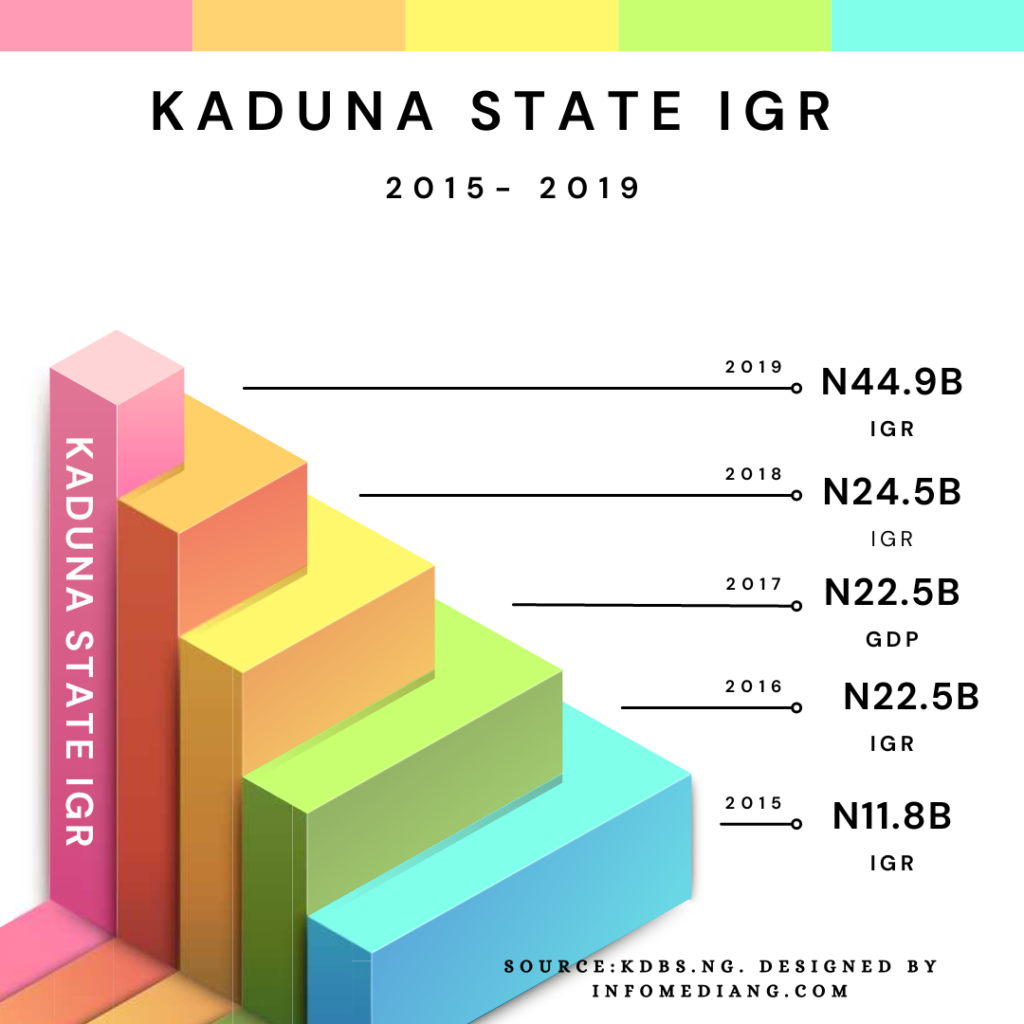 Quick Economy Overview of Kaduna State
From 2002 to 2008, Kaduna State accounted for 3.3% of Nigeria's Gross Domestic Product (GDP), placing it as the country's fifteenth-largest economy.
Whereas 30% of Kaduna's GDP comes from the agricultural sector. This state is involved in the commercial production of cotton and peanuts (groundnuts) for both export and domestic use like the production of peanut oil.
To better combine contemporary scientific knowledge with more time-honored techniques, the state maintains the National Institute of Leather and Technology which is one of the parastatals of the Federal Ministry of Science and Technology.
Kaduna State Population Distribution
With a projected 2.5% annual growth rate, the Kaduna State Bureau of Statistics (KDBS) predicted that the state's population has reached 8.9 million in 2020, compared with the 2016 National Population Commission estimates at 8,252,366
Over 60 different ethnic groups are residents in Kaduna, but the most numerous are Hausa/Fulani and Gbagyi.
Despite Islam's widespread influence, a sizeable Christian minority exists, especially in the state's southern part. 43% of Kaduna's population is under the age of 14, while only 3% are 65 and over.
According to NPC's 2016 estimates, there are 4,208,707 males, representing 51% and 4,043,659 females, representing 49% of the population in Kaduna.
| | | | |
| --- | --- | --- | --- |
| YEAR | MALE | FEMALE | TOTAL |
| 2006 | | | 6,113,503 |
| 2007 | 3,212,840 | 3,086,847 | 6,299,687 |
| 2008 | 3,310,686 | 3,180,855 | 6,491,541 |
| 2009 | 3,411,511 | 3,277,727 | 6,689,238 |
| 2010 | 3,515,407 | 3,377,548 | 6,892,955 |
| 2011 | 3,622,467 | 3,480,410 | 7,102,877 |
| 2012 | 3,732,788 | 3,586,404 | 7,319,192 |
| 2013 | 3,846,468 | 3,695,626 | 7,542,095 |
| 2014 | 3,963,611 | 3,808,175 | 7,771,785 |
| 2015 | 4,084,321 | 3,924,151 | 8,008,472 |
| 2016 | 4,208,707 | 4,043,659 | 8,252,366 |
Credit: Nigeria's National Population Commission (NPC)
If current growth rates keep going up, Kaduna might have more than 13 million residents by the year 2050, says Kaduna State Infrastructure Master Plan (KADIMP).
Kaduna IGR and Analysis
In January 2021, Kaduna State was expected to bring in NGN4,224,997,349.39 as Internally Generated Revenue (IGR), but performed below forecasted IGR rather only managed to bring in NGN2,013,813,320.82 which was just 47.66% of the budgeted amount.
As compared to the State's performance in December 2020 (NGN9,095,339,114.39), the performance of the State's IGR declined by 77.86% (7,081,525,793.57 in absolute figures).
IGR from 2015 to 2019
| | |
| --- | --- |
| Year | IGR growth |
| 2015 | NGN11.8 billion |
| 2016 | NGN22.5 billion |
| 2017 | NGN26.5 billion |
| 2018 | NGN24.5 billion |
| 2019 | NGN44.9 billion |
The revenue generated by the various MDAs in the month of January 2021 was as follows:
| | | |
| --- | --- | --- |
| MDAs | IGR | Per cent |
| Kaduna State Internal Revenue Service (KADIRS) | NGN1,400,324,312.55 | 69.54% |
| Kaduna Geographic Information Service (KADGIS) | NGN295,254,230.95 | 14.66% |
| Kaduna State Urban Planning Development Agency (KASUPDA) | NGN74,246,560.36 | 3.69% |
Kaduna State Internal Revenue Service (KADIRS) is the top revenue-generating Ministry, Department, or Agency in Kaduna State.
Revenue from Taxes:
The economy of Kaduna State also generates revenue from taxes. In December 2020, the state generated NGN5,686,306,435.79 from tax payments.
In January 2021, PAYE State's revenue was NGN207,903,917.74, down 2.17% from the NGN212,514,553.62 realized in December 2020. This was due to a decrease in payments made in December.
Revenue from Licenses:
There was a decline of 29.29% in monthly revenue from License General in January 2021, with total earnings of 40,665,612.92, compared to 57,514,184.24 in December 2020.
How Kaduna state grew its IGR
Creation of a tax code, updating and consolidating state tax legislation from 1914 to the present day, and hiring consultants to overhaul the state tax agency to raise internal revenue helped Kaduna State to rapidly grow its internally generated revenue.
Along with the creation of the Joint Tax Board between the state and its local governments, a new revenue-collecting agency was established to replace cash collections.
Agricultural contribution To Kaduna State Economy
Kaduna's agricultural sector is a major draw for investors. A total of 38% of the state's GDP can be attributed to the agriculture industry.
The government's strategic plan aligns with the Federal Government's strategy of diversifying the economy away from the mono-economy and toward an Agric-based economy.
Kaduna has a comparative advantage in the production of maize in Nigeria, with an annual output of almost 10 million tons, and a close second in the nation in terms of tomato production.
In 2019, agriculture accounted for 38% of the state's GDP, and the state has joined the national movement away from a reliance on a single, unsustainable economic sector in favor of one focused on agriculture.
The state also generates more than a million tons of ginger in 2021, making them the world's largest producer of this commodity.
Some of the agro raw materials grown in the state are sorghum, maize, millet, beans, cashew, kenaf, sugar cane, vegetables, yam, soyabeans, cowpea, and does a large plantation and exportation of ginger.
Kaduna is also among the sesame-producing states in Nigeria. Also known as benniseed, sesame is majorly planted in Kachia, Kaura, Kauru, Lere, and Zango Kataf local government areas of the state.
Kaduna Economic Outlook
The Long-Term Foreign and Local Currency Issuer Default Ratings (IDRs) for Nigeria's Kaduna State have both been reaffirmed by Fitch Ratings at 'B' with a Stable Outlook. Listed below is an exhaustive set of star evaluations.
Due to the city's 'Vulnerable' risk profile and 'b' category debt sustainability criteria, Fitch assigns Kaduna a 'b' for its Standalone Credit Profile (SCP).
Kaduna's ratings reflect the fact that despite rising locally generated revenue, the state is still dependent on transfers from the federal government, albeit to a lesser extent (IGR).
Ratings also take into account the state's increasing debt to pay for investments in essential public services and infrastructure. Kaduna's IDRs are the same as those of Nigeria as a whole, and no additional factors influence the scores.
Below is a summary of the Fitch rating factors:
Risk Profile: 'Vulnerable'
Kaduna has a 'Vulnerable' risk profile due to a mix of five 'Weak' key risk factors (revenue robustness and adjustability, spending sustainability, liability, and liquidity robustness and flexibility) and one 'Midrange' element (expenditure adjustability).
Fitch sees a very high risk, in comparison to worldwide peers, that Kaduna's operational balance may weaken unexpectedly over the forecast horizon, and hence has assigned the city a negative outlook (2022-2026).
This could be the result of a drop in income, a spike in costs, or a spike in liabilities, debt, or interest payments.
Revenue Robustness: 'Weaker'
The state's generally weak socioeconomic character and reliance on fluctuating transfers from the federal government affect Kaduna's revenue robustness.
According to Fitch, Kaduna will rely on monthly transfers of oil money from the Federal Accounts Allocation Committee to generate operating revenue of NGN132 billion by the end of 2021. (FAAC). This accounted for 37% of operating revenue in 2021, down from 50% in 2017.
In 2021, FAAC allocations increased to levels higher than those seen before the pandemic; in particular, VAT allocations from the federal government to the states through FAAC nearly doubled from the level seen in 2020.
The city of Kaduna has made great strides in IGR collection, with IGR rising 16% in 2021, surpassing levels seen before the pandemic. Fitch forecasts that Kaduna will maintain its positive trend of IGRs and sees tax revenue growth (including VAT) of roughly 10% on average in 2022-2026.
Due to fluctuating oil prices and potential shifts in the FAAC revenue pool, anticipate a 9% average decrease in federal transfers under this scenario.
Revenue Adjustability: 'Weaker'
Kaduna's ability to bring in more money hinges on the state's ability to increase its tax base and crack down on tax evasion and avoidance.
The majority of the budget comes from land levies and pay-as-you-earn taxes, neither of which Kaduna has any control over.
Having half of the population living below the poverty line puts a damper on expanding the pay-as-you-earn tax base.
Expenditure Sustainability: 'Weaker'
Kaduna has a lot of obligations and large financial requirements to prop up the faltering local economy. Responsibility for allocating funds falls across several sectors, including healthcare (15%), economic development (15%), energy and environment (8%), and education (25%).
In the recent decade, both operating revenue and spending grew at about the same rate, indicating that the state did a decent job of keeping costs in check.
In the rating situation of a protracted economic slump, however, Fitch anticipates that spending growth will outstrip revenue growth in the medium term.
Demand for public services from the poorest and sickest segments of the population is rising, which will keep the operating margin positive but cause it to fall to roughly 25% from the 35% average of the previous five years.
Kaduna relies heavily on capital expenditures (Capex) to advance the local economy to a more mature stage and expand the revenue base.
Expenditure Adjustability: 'Midrange'
In Nigeria, states must limit their deficits to no more than 3 per cent of GDP, while the federal government does not mandate a balanced budget.
Kaduna has a moderately flexible cost structure because about 45% of expenditure is capital investment, which is partially supported by the operating balance and can be deferred in the event of a financial crunch.
When compared to the 2019 pre-pandemic level of NGN80 billion, Kaduna's operational costs increased by 10% to NGN70 billion in 2021.
Fitch project that operational expenses, which make up 50% of total operating expenditures, would increase at a rate similar to inflation, which they estimate will average 13% from 2022 to 2026.
Given the room for expansion in healthcare services and infrastructure, Fitch expects reductions in spending to be minimal.
Government Notable Economic Policies
The government of Kaduna state has long made it a top priority to create laws that make it easier for businesses to operate within the state.
These laws include:
Public Procurement Law,
the Geographic Information Service Law,
the Civil Procedure Bill,
the Kaduna State Road Authority Bill, and
the Kaduna Metropolitan Transport Authority Bill.
Kaduna Geographic Information Service (KADGIS),
Kaduna State Urban Planning and Development Authority (KASUPDA),
Kaduna State Environmental Protection Authority (KEPA),
Kaduna State Internal Revenue Service (KITS),
Ministry of Business Innovation and Technology, and
Kaduna Investment Promotion Agency are just some of the organizations brought together by the "ease of doing business committee" established by the current administration (KADIPA).
Out of the 36 states in Nigeria, Kaduna state was acknowledged as one of the most improved states for ease of doing business as a result of their initiatives.
Kaduna state was applauded by the World Bank for its efforts to digitize its land registry and establish an electronic platform for company incorporation and the issuance of construction permits.
Not only did Kaduna state improve in several areas, but it also surpassed all other states in terms of property registration and contract enforcement.
By hiring new engineers and architects to work for the state, KASUPDA was able to drastically increase the speed and quality of its approval process, allowing it to reach its target of delivering building permits in under a month.
Kaduna State is now the 5th easiest State in Nigeria to launch a new business, moving up from its previous position of 19th in 2017.
In contrast to the 28 days, it took in 2010, business owners only needed 13 days to complete all the required administrative tasks in recent years.
In addition, KADIPA was established as a centralized investment platform, which simplified and streamlined the investment process.
Among KADIPA's many aims is the simplification of administrative processes and the promotion, facilitation, and coordination of investment through public and private partnerships, privatization, and commercialization.
More than fifty foreign and domestic firms have benefited directly from KADIPA's assistance with their investment since the organization's inception.
Major Companies In Kaduna State
Doing business in Kaduna has been streamlined to be seamless as well as easy to start. Apart from hundreds of small businesses in Kaduna State, some of the major ones are:
Arla Foods:
An agreement to invest in the DAMAU Milk Project was reached between the governments of Kaduna state and Nigeria's Central Bank and Arla, a Danish dairy company.
To achieve these goals, the initiative will provide training and a farm with roughly 400 crossbred milking cows, as well as five hectares of grassland for each livestock farmer, complete with a house, a cattle shed, and irrigation.
The government establishes milk collection apparatus for the long-term milking of animals, which helps to collect milk from the cows.
This project would help mitigate the security threat to farmers and herders by creating a long-term alternative to the nomadic cattle farming system.
Olam Feed Mill and Hatchery:
A major agribusiness, Olam International, has spent millions of US Dollars in the Chikun Local Government Area in Kaduna state on a feed mill, poultry farms, and a hatchery that produces day-old chicks.
Domesticating birds in Kaduna state and these birds are gotten with quality control assurance and with proximity are two of the benefits of OLAM in the state.
Another benefit is the reduction in the cost of transportation and handling of the birds, as all these processes are handled within the state.
Additionally, many young people have found work in the fields and the processing plants, contributing to the state of Kaduna's economic growth and development.
Tomato Jos:
Founded by an American lady, Mira Mehta, Tomato Jos Farming and Processing Limited, is an agro-processing facility with the capacity to turn out one carton of tomato paste sachets per minute.
Tomato Jos assists smallholder farmers in maximizing their crop output, decreasing their post-harvest losses, and maximizing their profit from retail sales.
Since its inception in 2014, the firm has helped more than 70 farmers boost their yields by more than 340 per cent, from 5 to 22 metric tons per hectare, while also increasing the farmers' direct annual revenue.
Moreover, in Kaduna, about 800,000 tons of tomatoes worth NGN7.2 billion nairas are grown by an estimated 73,500 male and 8500 female farmers, therefore, making the state the country's leading tomato grower.
Mahindra Tractors assembly plant:
The Mahindra tractors assembly plant was established as a partnership between Springfield Agro Limited and Ramindra Tractors Manufacturing Corporation of India to build 3,000 tractors a year.
Fertilizer Blending Plant:
OCP Africa Fertilizers Nigeria Limited, a company that produces phosphate-based fertilizers, was awarded a $1.4 million co-investment grant by the USAID-funded West Africa Trade & Investment Hub to install modern blending equipment within its fertilizer blending plant facility currently under construction in Kaduna state.
The goal of the initiative is to enhance yields by 50-85% per hectare for farmers growing rice, maize, soybeans, cassava, tomatoes, and other staple crops in Nigeria through the use of specialized fertilizer blends.
Key Economic challenges of Kaduna State
As you know the major source of revenue for Kaduna state is Agriculture after the Federal Allocation, following are the common problems faced by different business investors in the state:
Insecurity
Insecurity such as banditry, and kidnapping for ransom are some of the security challenges faced by Kaduna State and a major obstacle for local enterprises.
Cattle and herders in the area regularly destroy the crops that have been planted, thereby affecting the harvest of farmers.
Disputes between farmers and herders are extremely common in Kaduna state, and this has caused the deaths of numerous farm workers.
Inadequate road system
Additionally, difficulties with linkages, such as finding customers and distributors, were noted. One of the biggest problems is the inadequate road system that must be traversed to get products from fields to consumers.
Inadequate access to farming machinery
Farmers lack access to the necessary machinery, processing equipment, storage space, and irrigation systems to implement completely mechanized farming.
Because most young people move from rural to urban areas in quest of white-collar work, has been noted as a problem and termed rural-urban migration.
Discrimination against women
Another major issue is the widespread discrimination against women in the region, due to the cultural belief that women should remain at home which prevents them from receiving the same benefits as men in terms of government loans and other forms of empowerment.
Other are:
Inadequate resources; limited or no availability of finance.
Low harvests because farmers lack the resources to use modern farming techniques and cultivate higher-yielding crops.
Conclusion
Kaduna State's economy is growing, but it can only grow more if issues around security are resolved. The tourism potential of the state is yet to be fully harnessed because of insecurity.
For any state anywhere in the world to thrive and create a sustainable atmosphere for its citizens, the government of such a state must plan on how to enhance the state's economic productivity, business sustainability, and a conducive environment for new start-ups in the state.
References: