Last updated on November 5th, 2022 at 12:37 pm
Delta State is located in the southwestern part of Nigeria which was originally part of Bendel State. Warri is the economic hub of the state, while Asaba, in the northeast, is the state capital
When it comes to oil production, around 35% of Nigeria's crude oil and a sizeable proportion of natural gas come from the Big Heart of the Nation, the wonder the Delta gets the lion's share of derivation revenue accrued to oil-producing states in Nigeria.
Warri North and South, Burutu, Isoko North and South, Ughelli North and South, Okpe, Ethiope East and West, Sapele, and Ndokwa East and West are all LGAs that produce oil.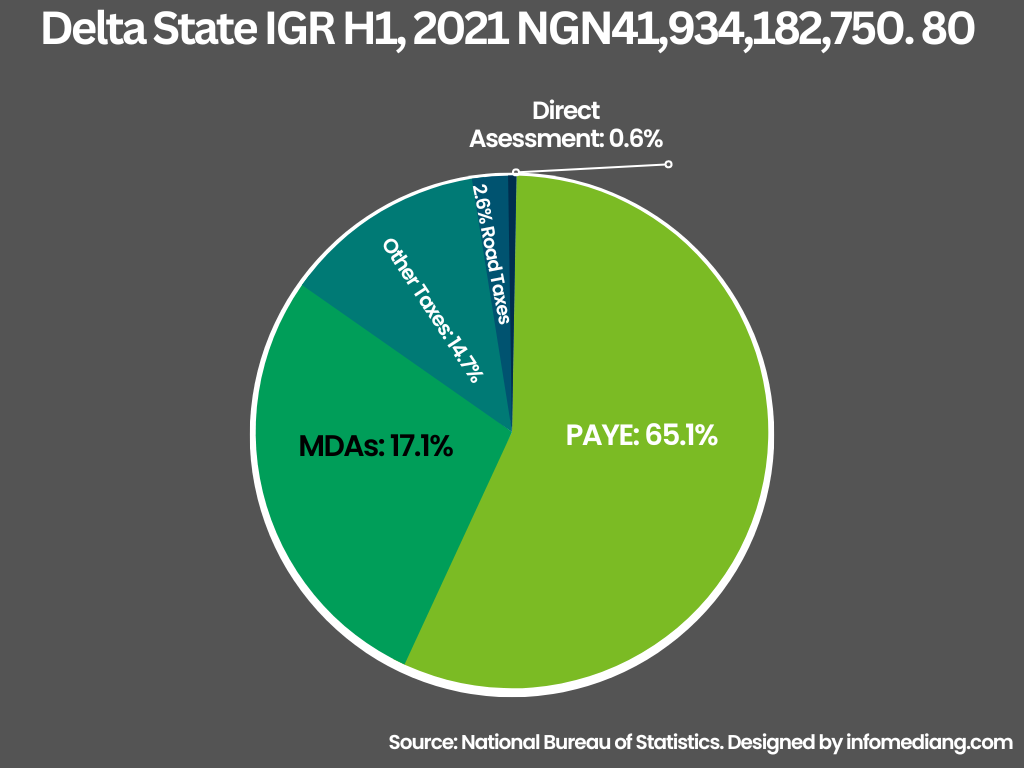 Warri has the country's second refinery and petrochemical complex which is one of the major sources of income for the state and the Federal government.
Quick Delta State Economy Overview
There was a 31.7% year-on-year increase in Delta State's IGR per population in H1 2021, from NGN4,791 to NGN6,309.
At the same time, its overall IGR for the period increased by 36% and 15.2%, reaching NGN41.93 billion from NGN30.84 billion and NGN36.39 billion in 2020 and 2019, respectively.
A quick examination of NBS numbers reveals that more than 75% of Delta State's annual revenue comes from federal allocation.
As one of the country's primary oil-producing states, Delta State's economy is heavily dependent on the extraction of petroleum and natural gas.
Significant oil palm, yam, and cassava crops, together with fishing, and heliciculture, make agriculture one of the state's most critical tertiary sectors.
Delta has the country's fourth highest Human Development Index owing in large part to its abundant oil income; nonetheless, tensions between oil firms and local communities, together with years of systematic corruption, have led to the lack of development in many state's rural areas.
Delta State Internally Generated Revenue (IGRs)
According to data published by the National Bureau of Statistics (NBS), the Total IGR of the oil-rich state was NGN41,934,182,750. 80 in the first quarter of 2021.
The breakdown is seen below:
| | |
| --- | --- |
| Source | Generated revenue |
| PAYE | NGN27,312,950,014.62 |
| Direct Assessment | NGN319,385,852.71 |
| Road tax | NGN947,474,279.16 |
| Other taxes | NGN6,179,389,546.86 |
| MDAs | NGN7,174,983,057.45 |
| TOTAL | NGN41,934,182,750. 80 |
Source: Nigeria's National Bureau of Statistics
What is Delta State Population?
Delta State has an estimated population of 5,663,362 as of 2016, according to the National Population Commission and National Bureau of Statistics
Note: The last head count occurred in Nigeria in 2006, since then, the population estimates have been what the government has been relying on for major planning.
Below is the real population of Delta State in 2006 and estimates of the years that follow till 2016, 10 years after the last population figure:
| | | | |
| --- | --- | --- | --- |
| Year | Male | Female | Total |
| 2006 | 2,069,309 | 2,043,136 | 4,112,445 |
| 2007 | 2,165,547 | 2,080,624 | 4,246,171 |
| 2008 | 2,235,966 | 2,148,281 | 4,384,246 |
| 2009 | 2,308,674 | 2,218,137 | 4,526,811 |
| 2010 | 2,383,746 | 2,290,266 | 4,674,012 |
| 2011 | 2,461,259 | 2,364,739 | 4,825,999 |
| 2012 | 2,541,293 | 2,441,635 | 4,982,928 |
| 2013 | 2,623,930 | 2,521,031 | 5,144,961 |
| 2014 | 2,709,254 | 2,603,008 | 5,312,262 |
| 2015 | 2,797,352 | 2,687,652 | 5,485,004 |
| 2016 | 2,888,315 | 2,775,047 | 5,663,362 |
Source: National Population Commission
Demographics of Delta
The major tribes in the Big Heart of Nigeria are:
Urhobo
Itsekiri
Isoko
Delta Igbo
Ijaw
Olukumi people and other minor groups
The dominant ethnic group in Delta is Urhobo-Isoko, constituting more than 45% or about 2.6 million of the population of the state and they can be found across 10 local government areas.
The Igbo people in Delta sometimes referred to as Anioma constitute 31.7% or 1.8 million of the population and they reside across 9 Local government areas.
Delta is a Christian-dominated state. A few of them are Muslims and African Traditional Religion (ATR).
What is Delta State land Area?
Delta ranks as Nigeria's 23rd largest state by land area with 17,698 square miles. Only a small fraction of the Niger Delta swamp forest is located in the extreme south of the state.
But geographically the state is split between the Central African mangroves in the coastal southwest and the Nigerian lowland forests in the rest of the state.
The River Niger and its distributary, the Forçados River, flow along Delta's eastern and southern boundaries.
In contrast, the Escravos River flows through Warri, and the coastal areas are riddled with dozens of smaller Niger distributaries, making up much of the western Niger Delta.
Much of the state's natural areas are inhabited by endangered species including the African leopard and the Nigeria-Cameroon chimpanzee, as well as threatened ones like the dwarf crocodile, Grey parrot, African fish eagle, mona monkey, and African manatee.
Lesser African threadfin, crabs, blue mussels, and cetaceans can all be found in the state's waters, adding to the state's overall rich marine biodiversity.
Major Sectors:
The GDP of Delta State has increased by 51% over the past four years, from NGN2.961 trillion in 2015 to NGN4.471 trillion in 2019, with the export of crude oil and natural gas playing a smaller role in this expansion.
The oil and gas sector's share of the state's GDP has decreased to 47.11 percent in 2019 from NGN1.221 trillion in 2015, when it accounted for 50.34 percent of the economy, even though the total GDP for the year climbed to NGN2.115 trillion.
The non-oil sector, which played a more significant role in driving economic growth in the state, also saw a commensurate uptick in fortunes during the era.
According to the most recent data from the Nigerian Bureau of Statistics (NBS) on Delta State's economy for the past four years, the non-oil sector's contribution to the state's GDP increased from NGN1.74 trillion in 2015 to NGN2.356 trillion in 2019.
Delta rose from 12th to second place in NBS's poverty rating of Nigeria's 36 states since 2010, due the state's impressive poverty ranking can be attributed to a combination of factors, including efficient public resource management, sound economic policies, effective sector interventions, and social and youth-targeted job and wealth creation programs.
Agriculture sector:
He reported that agriculture as a whole has risen by 13% annually on average. The economic output of the agricultural sector increased by 35%, from NGN432 billion in 2015 to NGN583 billion in 2019.
Agriculture, forestry, and fishing are significant economic drivers in the state. The state is a major producer of both food crops and industrial crops.
Food crops like
Rice
Yam
Cassava
Fruits (mangoes, pawpaw, pineapples, banana, pepper, and tomatoes).
Food crops except for the mangrove swamp and the coastal sand areas, all other ecological zones in the state are used to cultivate these plants.
The state's main export is rubber. There are 61,200 hectares of rubber plantations in Ethiope, Okpe, and Ughelli. Aniocha, which spans 8,400 acres, and Ndokwa also deserve mention (8,800 hectares).
The average annual yield of dried rubber per hectare ranges from about 180 kilos in peasant farms to about 370 kilograms in plantations.
The palm oil palm is the second most exported crop in the state. In the Ethiope, Isoko, Ughelli, Ndokwa, Burutu, and Bomadi Local Government Areas (LGAs), oil palm is the most prevalent crop.
Value chain expansion and young agricultural entrepreneurship programs by the government attribute to the increase in agricultural output.
Construction sector
Similarly, the Construction sector's contribution to GDP increased dramatically, from NGN38.98 billion in 2015 to NGN54.749 billion in 2019.
The state has spent over NGN400 billion on highways and civil infrastructure contracts. Over 1,500 kilometers of roads have been awarded, with completion rates of 60-70 percent.
According to a statement from the state, the trade sector's contribution to GDP increased dramatically between 2015 and 2019—from N165.265 billion to N281.302 billion.
Real estate sector
But the real estate industry's gross domestic product grew by 84% between 2016 and 2019, a rise the adviser puts down to "substantial infrastructural development and urban redevelopment schemes," a government says.
According to the data, the transportation sector's contribution to GDP has been rising steadily since 2013, with a 40% increase projected between 2015 and 2019.
Businesses in Delta State
Some of the state's major industries include those that work largely with raw resources like rubber and timber and they include:
Glass Factory at Ughelli
the African Timber and Plywood Factory
Sapele and Asaba Textile Mills
Delta Boatyard
The Delta Steel Company, Ovwian-Aladja
Note: There are other small businesses in the state.
Conclusion
For many years, Nigeria's federal, state, and local governments have used money from the federation account to pay for overhead and provide for basic infrastructure. Only a few States put in the extra work required to maximize IGR.
As it happens, the data we have suggests a link between increased government revenue allocation, IGR, and growth.
For example, states like Jigawa, Imo, Sokoto, etc. rely heavily on revenue from the federal government, while states like Lagos, Rivers, and Akwa Ibom generate the most revenue and have had the greatest impact on their residents' quality of life.
Federal, state, and local governments in Nigeria received a combined N7.14 trillion (USD 190 billion) in eleven-month FAAC (Federation Accounts Allocation Committee) revenues in 2020 (January to November).
This total was split as follows: N2.8 trillion went to the federal government; N1.96 trillion went to the states, and N1.47 trillion went to local governments.
The remaining NGN91 billion was distributed to oil-producing states as derivation allocation and Federal Government revenue-generating parastatals which include Delta State.
The figure allotted to Delta state is one of the major sources of revenue for the government. Only a few economic activities can be carried out in this area as the state terrains are the best suited for aquaculture, timber, crop farming, and crude oil extraction and processing.
Above all, the economy of Delta is buoyant. It is hoped that the state begins to use its revenue from oil to embark on radical infrastructural development and human capital development to expand its economy.
References:
National Bureau of Statistics (November 2021). "Internally Generated Revenue At State Level (Half Year 2021)". nigerianstat.gov.ng
Niger-Delta Budget Monitoring Group. "Overview of Delta State". nigerdeltabudget.org
Delta State Government (June 27, 2022). "Delta's Economy Grows By 51% In 6 years As Non-oil Sector Boosts GDP". deltastate.gov.ng