Advertisement
Deployment for the N-Power Batch C stream 1 has commenced and the over 500,000 beneficiaries are advised to login to their NASIM portal to know where they've been posted.
PPA Resumption Date: October 4, 2021 to October 8, 2021
Redeployment begins on October 4, 2021
Verification Opening Date: September 10, 2021
Physical Verification Closing Date: September 30, 2021
Quick tips

Physical verification exercise has been extended by a week, it's now September 30 instead of Sep 24
You can now check your Physical Verification Centre on your dashboard
You're expected to report at your PPA on October 4, 2021 and you will be assigned to a supervisor that will appraise you
If you've completed all the processes discussed on this page, you're advised to check our guide on how to change your PPA or redeploy to another state.
Physical Verification Documents
Physical verification exercise now comes before printing of PPA letter, the exercise has started in some states.
Advertisement
In an update received by InfomediaNG, all beneficiaries are advised to proceed to their designated verification centre.
Beneficiaries can now check their physical verification centre by following these steps
Step 1: Log into your NASIMS dashboard.
Step 2: Click "download PPA letter"
Step 3: Enter your BVN, Bank account number, and name of the bank
Step 4: Click download "deployment letter"  name and venue of your centre of verification will pop up.
Alternatively, you may dial the dedicated USSD code *45665#, select N-Power, enter your BVN and send.
Verification Documents
You are required to take the following document to the verification centre:
1) Education Credentials: You can present any of the following:
Bachelor's degree
OND
HND
NCE
Diploma, or
Certificate that corresponds with the qualification specified in your application
2) NYSC Document for degree holders. This could be any of the following:
NYSC certificate
NYSC exemption letter
3) Document that shows Date of Birth. It could be any of the following documents:
4) Means of Identification. This may include any of these:
National ID
Voter's card
International Passport
Driver's license
Here is a simple guide on how to download and print your N-Power deployment letter and get it signed and re-upload it back to the portal within three working days.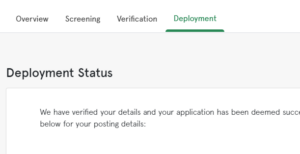 Login to your NASIMS dashboard. There are three menus on the landing page, they include: 1)

Overview, 2)

Screening, 3)

Verification, and 4)

Deployment

Click the "deployment" button. This would reveal your Place of Primary Assignment (PPA), remuneration which is N30,000
Click on "Download PPA Letter"
Print the PPA letter and take it to your PPA to have it signed by the PPA contact person

Requirments to download PPA letter
To gain full access to the PPA letter, you need to input the following details:
Your BVN
Account number
Name of Bank
"Please note that beneficiaries are to resuming with the first 3 days of posting. On resumption, they will be assigned to a supervisor that will appraise them"
How To Upload N-Power Acceptance Letter on NASIMS Portal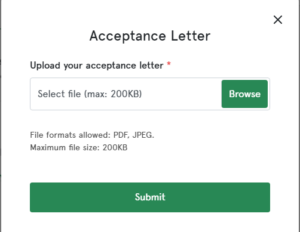 Advertisement
Scan the signed letter
Login back to your NASIMS portal
Scroll down to the page and upload the signed letter.
Attention:

Login to your dashboard to check if something is missing in what you uploaded. You may need to update your data again. You can edit every detail if you want as long as it allows you to.
Deployment, Acceptance, And Rejected Letters Explained
The deployment letter becomes an acceptance letter when it's downloaded and signed by an official of NSIP at your Place of Primary Assignment.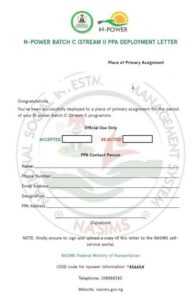 There are two options on the letter for officials to tick: 1) accepted and 2) rejected.
If the "ACCEPTED" option is ticked, it becomes an acceptance letter.
When the letter is marked "REJECTED" it becomes a rejection letter.
So, you don't need to draft another letter as an acceptance letter or rejected letter, the same downloaded letter serves the same purpose
How 2021 Deployment Is Different From 2016, 2017 Deployment Process
Unlike the previous batches of the youth empowerment programme when the power of deployment was in the hands of the state governments, the 2021 batch is completely different.
The Ministry of Humanitarian Affairs, Disaster Management, and Social Developments had before now liaised with states to collate the list of government institutions (schools, health care centre, and agriculture extension centres), so the deployment is done directly from Abuja.
The ministry knows where more hands are needed.
For instance, beneficiaries of the programme in 2016 besieged several state government institutions to know or make changes as par their original place of primary assignment.
Specifically, Osun State created a unique URL (npower.mistosun.info/printout.php) for applicants to print their letters. The URL is now now-defunct.
This time, you can print or request a deployment within your dashboard.
Congratulations to all the selected beneficiaries. Make sure to resume at your PPA on Monday, August 30, 2021.
Error in printing N-Power deployment letter:
At the time of this report, hundreds of the beneficiaries complained that they are unable to download their deployment letter.
Some of the errors they encounter on the portal include:
"Too many requests, try again later"
"Something went wrong, please refresh"
We thought logging out and back into the portal would work, but we're wrong. From our checks, the web developer behind the portal has to make some adjustments. This would enable beneficiaries who are expected to take their deployment letter to their PPA on Monday to have the letter signed, scanned and reupload it as their acceptance letter.
We hope the technical are working to resolve the issue.
Have you been able to download your deployment letter? Share your thoughts with thousands of beneficiaries who are reading this right now.
FG Activates N-Power Physical Verification Venue for Beneficiaries
While the majority of the successful beneficiaries for stream 1 are battling with the inability to download and print their deployment letter, the Federal Ministry of Humanitarian Affairs, Disaster Management, and Social Development has started activating verification venues across Nigeria.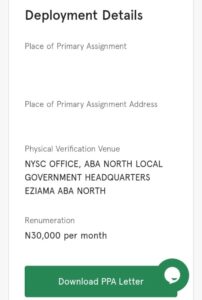 The discovery was made by one of the beneficiaries in InfomediaNG N-Power WhatsApp group on Monday, August 30, 2021
Another contributor to the discussion who confirmed the development wrote:
While waiting patiently to download your PPA LETTERS, it's now certain that there's physical verification in all 36 states.
We urge you to check their dashboard for the venue of your physical verification center
Final thought:
If you're unable to print your letter at this time, run a check on your profile once again, some documents are missing, re-upload them, and retry.
Advertisement