Last updated on March 29th, 2023 at 09:31 pm
The Serengeti National Park (SNP)is one of the most desired safari destinations in Africa located in Tanzania.
Table of Contents
A brief history of Serengeti national park
Previously, it used to be the abode of the Masaai people who co-habited with the wildlife in this vast ecosystem of east Africa now Serengeti national park.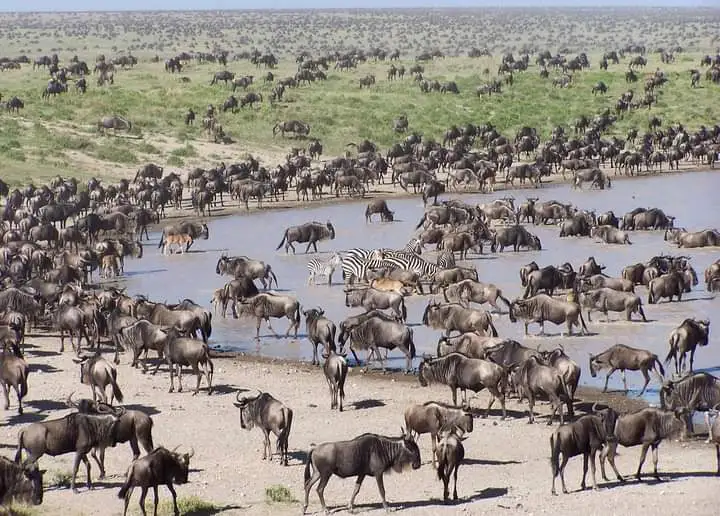 It measures about 12,000sq miles giving the reason for its name "endless plain". The park is located in northern Tanzania and also encloses several protected game reserves and conservation areas maintained by the government.
According to UNESCO, the Serengeti national park has altitudes ranging from 3,020ft to 6,070ft (920m to 1,850m).
The park is mostly warm and dry but there are two rainy seasons between March-May and October/November.
In 1951 when the Serengeti national park was gazetted, it included a conservation area known as the Ngorongoro Conservation Area (NCA).
However, the NCA was separated from the Serengeti national park in 1959 and it's boundaries stretched to the Kenyan border.
The reason for this separation was a result of a compromise reached due to the fear of the local Masai people who thought they would be sent out of their land- a place that has become a home for them and their cattle.
This, the Masai people were allowed to live in the Ngorongoro Conservation Area but not in the Serengeti national park.
The Serengeti National Park was proposed as a UNESCO World Heritage site at the Stockholm Conference in 1972. It was soon after gazetted as a UNESCO World Heritage site in 1981.
What Makes The Serengeti Park Famous?
The Serengeti National Park is one of the most famous wildlife locations in the world. It is also known for being the largest land migration worldwide.
There is a large number of wildebeests, over 500,000 zebras, and over 200,000 antelopes moving from the southern Serengeti to Kenya's Masai Mara plains then returning to the Southern Serengeti in a continuous circle.
Most herbivores migrate to this region in search of food and water and they fall prey to the large predators.
Researchers have also opined that the Serengeti is perhaps the last functioning savannah wilderness ecosystem in the world presently.
There are also unique rock formations called koges that are found all around the Serengeti National Park.
Where is Serengeti National Park Located?
The Serengeti National Park is located in the Serengeti district, a district in the Northern Arusha region of Mara region in Tanzania.
Animals Found in The Park
The Serengeti National Park is home to various wildlife species which makes it one of the most sought after destinations for game viewing safaris and birding safaris in Tanzania. Animals in the park includes:
Lions
Wildebeest
Leopards
Elephants
Buffalos
Rhinos
Cheetah
Hyena
Wild dogs
Cats
Mongoose
African golden wolves.
Otters
Zebras
Black and white colobus monkeys
Giraffes and lots more
There is also a variety of birdlife which includes:
Green-backed woodpecker
Grey-crested helmet shrike
Red-capped robin-chat
Rufous-tailed weaver
Silverbird
Southern ground hornbill
Usambiro barbet
Verreaux's eagle and more.
The Serengeti National Park is not only home to large mammals but smaller animals like agama lizards and rock hyraxes.
Entry fee to Serengeti National Park
Tourists all over the world visit the park throughout the year to see wildlife like lions, elephants, rhinos, buffalos and leopards.
Non-residents above 16 years old visiting the Serengeti national park is between $60-$82.6 depending on the season while children between ages 5-16years are charged $23.6.
The entrance fee for residents above 16 years is between $35-$30 (depending on the season) excluding a tax of 18% while children between 5-15 years visiting the park are charged $10 excluding tax. Children below 5 years are allowed into the park free of charge.
Camping fees:
There are low-budget tented camps and luxury lodges. Price ranges between $10-$50 per person per night for affordable accommodation depending on the season.
Luxury accommodation costs between $200-$1000. At peak seasons, prices are higher and at low seasons, prices drop.
Transportation cost:
Vehicles used during safaris at the park include the 4×4 safari land cruisers that have open roofs. During the dry season, the prices of tours or safaris are higher.
Activity fees:
These fees are paid to partake in each safari activity per day and they vary between adults and children. Walking safaris cost between $20-$25 per adult and between $10-$15 per child. Bush meal costs $5. Hot air balloons cost $600 per adult.
Filming and video shooting fees:
If the purpose of your visit is for filming or making videos, you will have to pay between $100-$300 per person per day.
Vehicle entry fee:
Each vehicle at the point of entry will pay entry fees and this fee is dependent on the status of the vehicle and its weight. Vehicles are charged between $40-$300.
How Far is The Park To The Capital?
There are different ways to get to the Serengeti National Park from the capital Dar es Salaam. The mode of transportation will determine the time of arrival. By flight, it will take 52 minutes. By road, it will take 13 hours 55 minutes.
Requirements For Entering The Park
To have access to the Serengeti National Park, visitors must meet the following requirements:
Posses a valid passport.
A valid visa either before arrival or upon arrival at the airport.
A parking permit can be gotten at the gate or in advance of the trip.
A yellow fever vaccination certificate and proof of a negative covid-19 test result within a specific timeframe prior to arrival.
Comply with park rules.
Security Measures Visitors to Serengeti Should Pay Attention To
1) The park is safe but visitors are advised to take precautions for personal safety.
2) Do not walk alone or leave your belongings unattended.
3) Keep a safe distance from the wild animals and follow the park's guidelines for wildlife viewing.
4) Do not feed the wild animals.
5) Secure your windows and doors at night before going to bed.
6) Take appropriate measures to prevent mosquito bites because the park is situated in a malarial-prone zone.
7) Respect the culture of the local people and dress modestly at all times.
8) Do not take photos of people without their consent.
Serengeti national park isn't the only tourist location in Tanzania, other notable places include Lake Manyara Park, Kilimanjaro and Zanzibar Island.