Last updated on December 1st, 2023 at 04:03 pm
The two biggest shopping days – Black Friday and Cyber Monday – have become a tradition in the lives of Americans and millions of shoppers around the world. Each year they spend billions of US dollars to purchase their favorite goods while enjoying amazing deals.
For instance, data show that American online shoppers spent at least $7.2 billion in 2019, showing an increase of 14% in online spending over 2018, most of which came through a smartphone, Salesforce shopping report.
Stores across the US are anticipating experiencing a boom during the two shopping days, no wonder some stores are recruiting temporary workers to help with the shopping bubble that characterized Black Friday.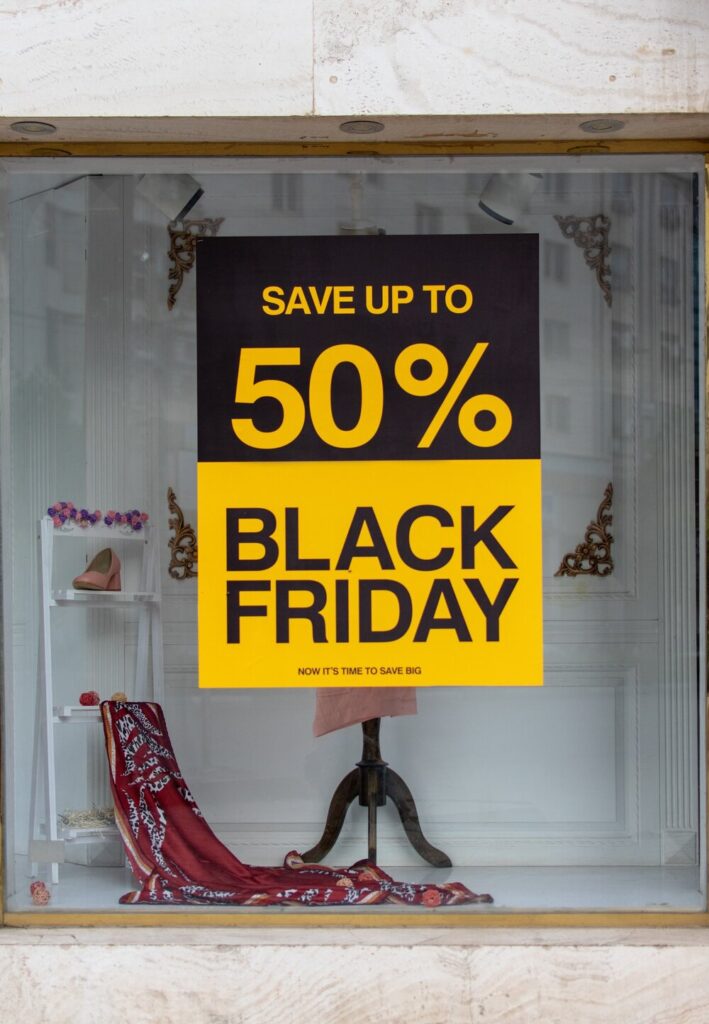 If you're already warming up to hit the grocery stores in your area, that's fine. But what strategies do you already have in place to get the best out of the 2022 Black Friday rush?
Tips for Shopping During Black Friday Rush
There are a few things you should keep in mind when deciding where to go and what to buy during the 2022 Black Friday rush. These tips will help you maximize your shopping experience and find the right items at the right price.
Have a budget
Even before the Black Friday deals, your finances could be at risk if you failed to have a budget for yourself and your family when shopping.
Budget is more important for deals because products seem to be cheaper than on ordinary days and the price might motivate you to even buy more than what you intended if you don't set a budget for yourself.
You will likely want to have every beautiful product you come across. This is why it is crucial to set a budget.
After setting a budget, list the items you want to buy in order of preference: the most important ones should come first in case your budget will be insufficient to cover everything you would like to buy.
Be organized
You have to be organized, especially if you plan on shopping online. That's the only way you'll be able to find what you need and get it on time.
You'll also be able to avoid paying too much on shipping costs by making sure your items are shipped together. You should know the right keyword to use to get the right products.
Don't buy what you don't need
This way it is very important to have a shopping list before D-day. And stick to your shopping list, and avoid impulsive purchases.
That's the only way you'll stay on budget, and you'll be thankful come Christmas and New Year. Don't forget that there are other responsibilities to meet before the end of the year.
Check prices before the D-day
Is it necessary to check the prices of items before Black Friday? Definitely not, but doing this is one strategy that will help in shaping your decision on the items you want to buy. This gives the privilege to be among the lucky shoppers to enjoy amazing deals.
Checking the prices will also enable you to check the number of available items, sometimes, the quantity of the item may be limited.
Avoid shopping in a hurry
We all know that shopping can be tiring, but that doesn't mean you should do it while you're in a hurry. You'll be less likely to make smart decisions, and you might end up buying things you don't need.
Read the returns policy
Every store has a return policy. The best practice is to check an item properly if you are buying in-store and do the same if it is home delivery (online).
Some stores clearly state in their policy that buyers have 14 days from the date of delivery to cancel an order or return the item as good as it was when it was delivered.
It is also important to check ahead of time if the store or the e-Commerce store allows a money-back or an exchange for another item.
Be wary of a cloned e-Commerce store
It isn't illegal to clone or have a replica of a website, "when performed for non-commercial and/or non-malicious purposes" (redpoints.com), however, the bad guys are exploring the process to trick paying for nonexistent items. Buyers may even lose their credit card details.
Before placing an order an eCommerce store, check the URL very well. The correct URL of Walmart is https://www.walmart.com and NOT https://www.wallmart.com
Because frenzy around Black Friday, you will mostly like to come across fake websites. Check the URL very well before you input your credit cards.
Don't compromise quality over price
There are popular brands that you may not necessarily worry about their quality. For instance, Nokia and Samsung are known for their smartphones and you will most likely see users' reviews on these brands online.
But Black Friday isn't exclusively designed for famous brands, it is also the time for the promising and upcoming brands to blow their trumpet to get a chunk of the market share.
But what happens when there is no review on a new brand? What about support after sales? These are some of the things to be worried about when buying completely new items from a new brand on shopping days.
The new brands might be one way for you to cut costs through their incredible discount, but you shouldn't compromise quality over price.
Bookmarking online store URL
If you're planning to shop on Black Friday 2022, you can save a lot of time by bookmarking the store's URL before D-day.
Because of the ticking of time that is associated with deals, searching might consume the time you should be used to place an order.
One of the methods of preventing this is to either bookmark the product page or the homepage of the store for faster shopping when shopping goes live.
Be flexible
Items that are in high demand sell out faster than expected on Black Friday, that's why you have to be flexible and have a list of items you want to buy.
It is good to have alternatives for the product on your list, something like a backup, that way you can avoid buying a random item you have little knowledge about.
Conclusion:
Some of the aforementioned points can help you save money on Black Friday, especially on some online stores if you shop on their app, that way you can save extra.
Don't forget to set up online accounts ahead of time. Find the store's app and download it before D-day, familiarize yourself with the app so that you don't have to waste time when the store rolls out its deals.
Finally, Black Friday is a shopping day to find the best deals and save more. And if you prefer in-store purchases, for instance, stores in the Cotton State, search for the locations ahead of time, use Google Maps and read reviews to be properly guarded.
Happy Black Friday shopping!