Last updated on December 31st, 2022 at 06:56 am
The disaster that rocked the FTX exchange caused damage to the trust the community have in cryptocurrency, though it may be a temporary one, it is a sad reminder of how Mt.Gox closed shop in a similar manner in 2014.
Table of Contents
In the next coming years, the trust in both founders Sam Bankman-Fried and Mark Karpeles can never be like before.
In this article, we compiled several qualities of both crypto exchange founders, obviously, they both share the ugliest crypto success story.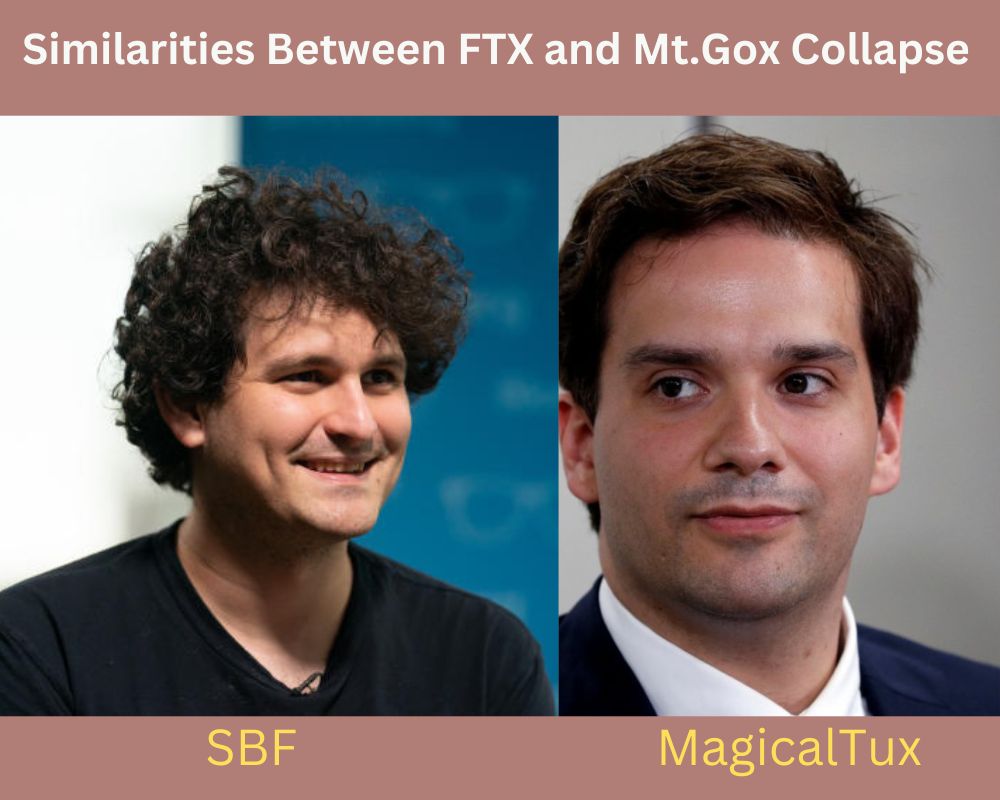 Mt.Gox, launched in 2010, was the largest cryptocurrency exchange, it handled more than 70 per cent of global bitcoin transactions during its reign.
Founded by a young sharp, Mt.Gox suspended its exchange service and closed its website on February 2014 after a theft that led to the loss of 850, 000 Bitcoin, the theft was spread.
After eight years and nine months, the crypto exchange went offline came FTX's calamitous earthquake in the crypto world, another one that was founded by another smart son of two Law Professors.
Similarities between Mt.Gox and FTX
While Mt.Gox was founded by Mark Karpeles popular by his moniker MagicalTux, FTX was a brainchild of MIT alumnus Sam Bankman-Fried popular known by his initial SBF.
While both founders of collapsed exchange bear different names, attended different institutions and were raised by different parents, below are some of the things MagicalTux and SBF have in common:
Tap into bitcoin's global popularity
Both seized the opportunity in cryptocurrency trading and investing, controlling millions of US dollars of customers' digital assets in their business empires.
Their exploit ended in calamity and sparked debates by financial regulatory authorities around the world and notable voices in the crypto community.
Crypto investment founders
MagicalTux and SBF were under 30 when they established their first companies. Karpeles founded his first business at 24, named Tibanne Co. Ltd, the firm was a Japan-based bitcoin-related technology provider.
On the hand, Bankman-Fried founded his first company at 25 – Alameda Research, a quantitative trading firm. He would establish FTX exchange at 27.
Global Business Empire
During its existence, Mt.Gox was the darling of every bitcoin enthusiast around the world, the same could be said of FTX exchange. It was the second-largest crypto exchange.
Headquarters of their first business in Asia
Both crypto exchange founders had the headquarters of their firms located in Asia – Mt.Gox was based in Shibuya, Tokyo, Japan while Alameda Research was based in Hong Kong Island, Hong Kong, a city and special administrative region of China.
Though FTX is headquartered in the Bahamas, a North American country, we've seen as the drama in FTX unfolds that there was no huge difference between Alameda Research and FTX in terms of financial management.
Sam Bankman-Fried wired funds from FTX to his quantitive trading firm in Asia.
Collapse of the crypto empires
Both young guys were below 35 years old when their crypto exchange collapsed. Karpeles was 29 when Mt.Gox's operation ended while SBF was 30 when FTX went down with customers' funds and FTT tokens.
Raised by educated parents
MagicalTux and SBF were raised by educated parents, one in France, and the other in the U.S.
Bankman-Fried was raised by two Professors of Law at Stanford University in the U.S – Joseph Bankman and Barbara Fried – while Karpeles was raised by a renowned geologist Anne Karpeles.
Both Platforms Claimed They Were Hacked
Crypto exchanges have always been the target of die-hard hackers because of the value placed on bitcoin, Ethereum, and other valuable cryptocurrencies.
At the time of publication, the community has witnessed more than 20 hacks on crypto exchange where Bitcoins worth millions of USD were stolen.
For Mt.Gox which lost 850,000 bitcoins to hackers, it was later discovered that there had been security holes in the exchange system far back as June 9, 2011.
FTX on the other hand is believed to have collapsed because SBF was alleged to have diverted FTX funds to his first company Alameda Research headed by his ex-girlfriend Caroline Ellison.
In a later interview, the 28-year-old Caroline would later brag that she only needed elementary school math to be a CEO.
But a few hours Bankman-Fired filed Chapter 11 bankruptcy, the new CEO and the Chief Restructuring Officer FTX John Ray confirmed that hackers were at work, transferring $600,000,000 from the exchange.
The hacking narrative by FTX is subject to investigation as some analysts said it was an insider job.
Whether that is true or not, security is a great factor to consider when choosing a crypto exchange.
Both Owners filed for Bankruptcy on Friday
Companies and individuals file for bankruptcy when they know they are unable to fulfil their financial obligation any longer.
"Bankruptcy helps people who can no longer pay their debts get a fresh start by liquidating assets to pay their debts or by creating a repayment plan."

U.S Courts
While the founder of Mt.Gox filed for bankruptcy in Japan on Friday, February 28, 2014, according to Reuters report, the owner of FTX filed chapter 11 bankruptcy on Friday, November 11, 2022, in the U.S
They caused pistanthrophobia in the crypto community
Pistanthrophobia is the fear of trusting others as a result of experiencing serious disappointment in a prior relationship, says Dana McNeil in an article by Healthline.
And who is going to ever trust someone who intentionally or unintentionally mismanaged their clients' funds worth billions of dollars?
The calamity brought into the crypto industry by SBF and Karpeles will forever hunt them and any other future blockchain project they might want to launch.
For instance, there was an outrage in the community sometime in 2017 when the founder of the defunct Mt.Gox was planning to raise $245 million in ICO to revive Mt.Gox.
As of today, the stolen 850,000 bitcoins that were stolen from the company's wallet between 2011 to 2013 amount to a staggering $14.1 billion USD (at $16,590.30/BTC November 16, 2022).
Will FTX catastrophe affect bitcoin growth?
The collapse could have put a lot of crypto exchanges in financial trouble. One of the cardinal measures put in place by most of them was to halt withdrawal temporarily.
But FTX catastrophe will not affect bitcoin growth despite its fall, says a popular crypto and investment commentator Stockmoney Lizards.
BTC and the crypto community shrugged off a similar disaster caused by Mt.Gox in 2014.
It is obvious that the community is going to recover, but it also means that traders and investors will have to take personal measures like using a self-custody method or using the non-custodial wallet to store their digital assets as advocated by Binance CEO in a recent statement.
Final thought:
While the man who superintended over the loss of 850, 000 bitcoins is now a free man after getting a suspended sentence, according to the New York Times report in March 2019, Bankman-Fried's whereabouts is unknown, though the Bahamas was reported to be his host.
The attributes Sam Bankman-Fried of FTX and Mark Karpeles of defunct Mt.Gox shared in common and the outcome of their business empire has put financial regulators in the US and Japan on their toes.
The debate over cryptocurrency regulations will be heightened around the world.
References: