Last updated on September 17th, 2023 at 09:28 pm
History was made on May 29, 2023, when Bola Ahmed Tinubu was sworn in as Nigeria's president after the disputed February 2023 general elections. This post tracks the foreign trips by President Tinubu from May 29, 2023, till date.
Table of Contents
Just like Muhammadu Buhari who embarked on more than 100 foreign trips from 2015 to May 2023, a lot of Nigerians predict that Tinubu may toe the path of his predecessor in terms of foreign trips.
Foreign Trips By Tinubu After Winning Election
The former federal lawmaker, ex-governor of Lagos, and a political kingmaker, now a "king" had embarked on some foreign trips some days after he was declared the winner of the February elections.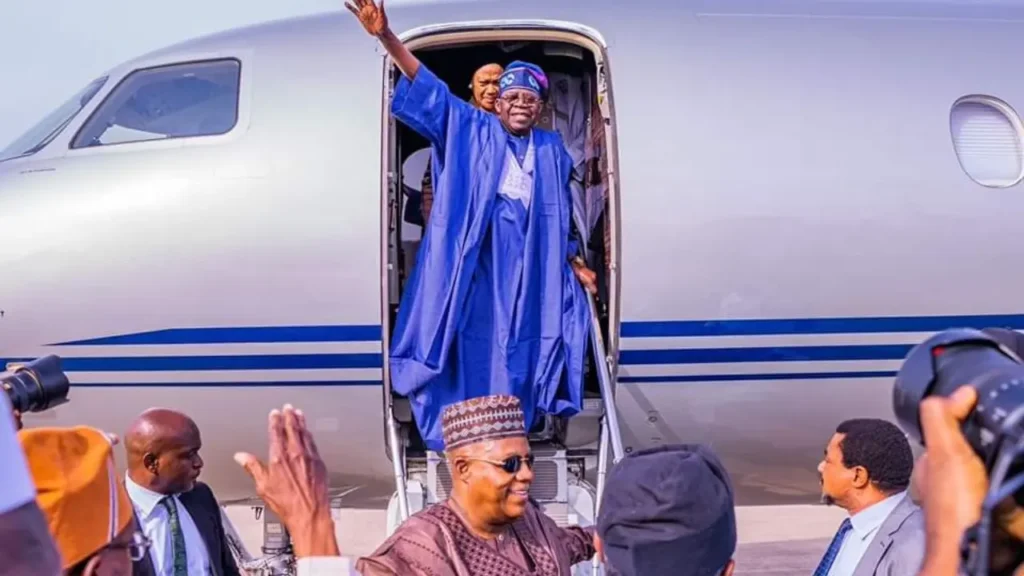 According to statements by his media aide, his foreign trips were designed to woo foreign investors into the new government that would be headed by him.
He had been to London, Saudi Arabia, Paris, and Europe before his swearing-in. His pre-swearing-in trips were not under Nigeria's bill.
Apart from his anticipated foreign trips, Tinubu seems to have aroused the interest of Nigerians and opposition going by the programmes and economic policies he plans to implement.
Some of them include improving power generation, reintroduction of commodity boards, unification of the exchange rate, and reduction in interest rates etc
As millions of Nigerians and the rest of the world wait in anticipation for the administration of Tinubu to renew Nigeria's hope and change some of the unfavorable economic policies of his predecessor, we shall track the foreign presidential trips of Bola Tinubu.
Foreign trips by President Tinubu in 2023
June 20:
Tinubu's first official presidential foreign trip was to Paris, France on Tuesday, June 20, 2023, for a 2-day summit.
Purpose: For the Paris Summit for the New Global Financial Pact.
Host: President Emmanuel Macron of France, will be held at Palais Brongniart, from June 22-23, 2023.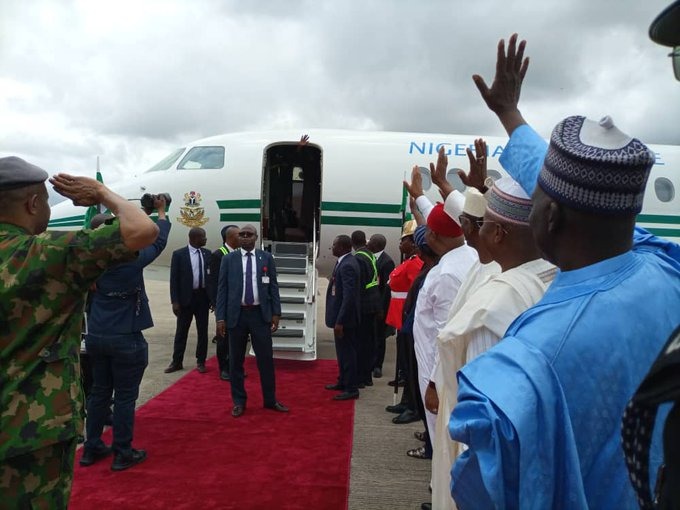 The Special Adviser, Special Duties, Communication and Strategy, Dele Alake, said Nigeria's president would "participate, review, and sign a New Global Financial Pact that places vulnerable countries on the priority list for support and investment, following the devastating impact of climate change, energy crisis, and after effect of the COVID-19 pandemic".
June 24:
Purpose: On Saturday, June 24, 2023, Tinubu was in London for a private. The Nigerian leader was initially scheduled to fly from Paris, France, to Nigeria "but proceed to London, United Kingdom, for a short private visit," his Special Adviser on Special Duties, Communication and Strategy, Dele Alake, said.
And on Tuesday, June 27, Tinubu returned to Lagos, Nigeria, for the Eid-el-Kabir festivities. His supporters were at the presidential wing of the Murtala Muhammed International Airport, Lagos to welcome him back 'home'.
July 8:
Purpose: Tinubu was in Bissau, the capital of the Republic of Guinea-Bissau, for the 63rd Ordinary Session of the Authority of Heads of State and Government of the Economic Community of West African States (ECOWAS). He also visited the Nigerian contingent stationed in the country under the ECOWAS Stabilisation Force.
July 15:
Purpose: The President travelled to Kenya (Nairobi) on July 15, 2023, where he participated in the Fifth Mid-Year Coordination Meeting (5thMYCM) of the African Union (AU), the Regional Economic Communities (RECs), the Regional Mechanisms (RMs), and the African Union Member States.
August 1:
The 5th foreign trip embarked upon by Tinubu as Nigeria's president was to the Republic of Benin (Cotonou) for the 63rd independence anniversary of the Republic of Benin.
September 4:
Tinubu proceeded to New Delhi, India on September 4, 2023, to attend the G-20 Leaders Summit on the special invitation of Indian Prime Minister, Narendra Modi.
September 10:
Nigeria's president travelled from India to Abu Dhabi, United Arab Emirates, to resolve the issue of a visa ban on Nigeria. He also discussed bilateral relations with President Mohamed bin Zayed Al Nahyan of UAE.
September 17:
On Sunday, September 17, 2023, President Tinubu travelled again, this time to New York, United States of America, to attend the 78th United Nations General Assembly.
Recap:
From May 29, 2023, to the time of updating this article, President Tinubu has embarked on eight international trips.
This post will be updated when Tinubu travels again.