There are 69 Local Government Areas, Local Council Development Areas and Area Offices in Osun State, Southwest geopolitical zone, Nigeria.
Table of Contents
Are LCDAs recognised by the federal government?
Out of the 69 council areas in the state, only 30 LGAs are recognised under the 1999 Constitution of the Federal Republic of Nigeria.
30 LGAs are federal creations while 39 LCDAs and Area Offices are state creations under the administration of Rauf Aregbesola on March 8, 2016, as the governor of the state of the living spring.
That's why during general elections, the LCDAs and areas offices indirectly dissolve into their original fold. We saw this happen during the February 25 Presidential Election. The electoral umpire only recognised 30 local government areas.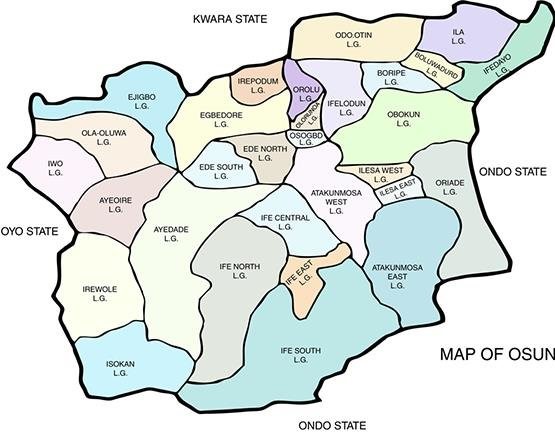 Why were LCDAs created in Osun State?
The creation of Local Council Development Areas and Area Offices in Osun State was basically for the purpose of revenue mobilisation and revenue generation.
Osun State Government was the second state in Nigeria since 1999 to independently create LCDAs after Lagos State Government.
While the ones created by the administration of Bola Ahmed Tinubu as the governor of Lagos State (1999 – 2007) generated furore between the Lagos and the Olusegun Obasanjo-led Federal Government, the ones created by Rauf didn't trigger any legal tussle between Osun and the FG.
Here is the list of LGAs in Osun State (by the FG) and LCDAs and Area Offices as created by Aregbesola in March 8, 2016, and their headquarters popularly called secretariats:
Federal Creation
Atakunmosa East: Iperindo
Atakunmosa West: Osu
Ayedaade: Gbongan
Ayedire: Ile Ogbo
Boluwaduro: Otan Ayegbaju
Boripe: Iragbiji
Ede North: Ede
Ede South: Oke Iresi Ede
Egbedore: Awo
Ejigbo: Ejigbo
Ife Central: Ile Ife
Ife East: Oke Ogbo
Ife North: Ipetumodu
Ife South: Ifetedo
Ifedayo: Oke Ila
Ifelodun: Ikirun
Irewole: Ikire
Ila: Ila Orangun
Ilesa East: Ilesa
Ilesa West: Ilesa
Irepodun: Ilobu
Isokan: Apomu
Iwo: Iwo
Obokun: Ibokun
Odo Otin: Okuku
Ola Oluwa: Bode Osi
Olorunda: Osogbo
Oriade: Ijebu-Jesa
Orolu: Ifon
Osogbo: Osogbo
State Creation
Atakunmosa East Central LCDA: Iwara
Ayedaade South LCDA: Orile-Owu
Ayedire South LCDA
Boluwaduro East LCDA: AJODA IGBAJO
Boripe North LCDA: Iree
Ede East LCDA
Egbedore South LCDA
Ejigbo South LCDA
Ejigbo West LCDA
Ife Central West LCDA: Ile-Ife
Ife North Central LCDA: Modakeke
Ife North West LCDA
Ife Ooye LCDA
Ifelodun North LCDA: Eweta Ikirun
Ila Central LCDA
Ilesa North East LCDA: Ilesa
Ilesa West Central LCDA
Irepodun South LCDA: Erin Osun
Irewole North East LCDA: Wasimi Ikire
Isokan South LCDA: Ikoyi
Iwo East LCDA: Iwo
Iwo West LCDA
Obokun East LCDA: Ilare-Ijesa
Odo Otin North LCDA: Oyan
Olorunda Area Council: Ilie
Ola Oluwa South East LCDA: Ilemowu
Ifedayo Area Council
Odo Otin South LCDA: Inisa
Olorunda North LCDA: Ota Efun, Osogbo
Oriade South LCDA: Ipetu-Ijesa
Ede North Area Council: Owode Ede
Osogbo South LCDA: Isale Osun, Osogbo
Osogbo West LCDA: Oke Arungbo, Osogbo
Ife North Area Council
Ifelodun North Area Council
Egbedore Area Council: Okinn
Orolu Area Council
Ife South West
Atakunmosa West Central
Are local government elections held in Osun State?
Just like every other state in Nigeria, local government elections rarely hold, and when they are held, victory reflects the political party of the state governor.
Sometimes, the state governor unilaterally elects caretaker chairpersons to manage the affairs of the LGAs and the LCDAs.
This practice cuts across the 36 states of the federation. Local government administration has been pocketed by the state governors.
The important thing is that the LGAs in Osun State make administration easier for the state governor.