Last updated on August 5th, 2023 at 10:01 pm
With more Nigerians sliding into poverty every day, Nigeria's President Muhammadu Buhari says his 10-year master plan to lift 100 million Nigerians out of poverty would do the magic. Most farmers in the North have abandoned their farmlands due to disastrous attacks from Boko Haram terrorists,
How he plans to achieve the feat remained questionable as his government since his assumption of office in May 2015 has pushed more Nigerians into poverty and joblessness, data don't lie.
His N-Power programme is a brilliant idea, but the number of unemployed youth on the streets is overwhelming, more details about the SIP can be found at: https://infomediang.com/latest-n-power-news-nigeria
2015 vs 2021 Data
When the largest population is either unemployed or underemployed plus aggravated insecurity and wanton killings of citizens, which displaced millions, there will definitely be 'hyper' poverty. Security is key.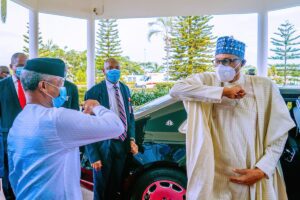 According to 2015 data from the National Bureau of Statistics (NBS), the unemployment rate in Nigeria rose to 9.9% in July-September from 8.2% in the second quarter, according to The Economist.
What makes this alarming is the fact that job creation in the third quarter of 2015 shows that Nigeria's formal economy is failing to create many new work opportunities, instead some local firms who could not cope with insecurity closed shops or relocated to other African countries like Ghana and South Africa among others.
Although the NBS's report shows that more jobs were created in the informal sector. It rose from 475,180 in July-September to 349,343 in the third quarter of 2014, 428,690. These were basically in agricultural production, but insecurity has made it worst.
Up from 23.1% in Q3 2018, Nigeria's unemployment rate climbed to 27.1%, it has climbed to 32.5 percent at the time of publication (July 2021).
The figure is projected to increase further in 2022 as chronological data show that the unemployment rate in Nigeria has been rising constantly since 2015, says statista.com
Has The Social Intervention Programme Achieved Its Aims?
The first programme the APC-led government rolled out a few months after the assumption of office in 2015 was Social Intervention Programme (SIP) among which is N-Power Programme.
It was a temporary job opportunity for young Nigerian graduates. 200, 000 beneficiaries were shortlisted in 2016 and posted to various sectors, each of N-Power beneficiaries earned N30, 000 as a monthly stipend.
By 2017, another 300,000 beneficiaries were onboarded to reduce the level of unemployment among youth.
While it's a brilliant initiative, it remains a drop of water in the ocean as Nigeria's higher institutions continue to graduate thousands of Nigerians into the labour market every six months.
Is Nigeria's Unemployment The Worst?
Nigeria's employment predicament isn't the worst, but the predominance of low-paying jobs found mostly in the formal and informal sector where workers also get few benefits such as pension and sickness cover compounded the problem.
The problem makes it impossible for workers to have savings. This means there is a need for the government to implement reforms that can spur the growth of higher-productivity enterprises that can generate more decent work opportunities in Nigeria.
However, we do not expect any rapid turnaround; overall economic growth will remain weak into 2016 with nonoil growth still constrained by barriers such as poor infrastructure and limited access to finance, another report by The Economist says
Inflation Growing More Than Development
From all indications, poverty is growing faster than development, though rail development by the Buhari's regime is epic, although such has been built by plundering the Nigerian economy into a generational debt.
For instance, the latest price of foodstuffs and other consumables are a clear indication that inflation will plunge more Nigerians into disastrous poverty
| | |
| --- | --- |
| Price of consumables in 2019 | Price of consumables in 2021 |
| Macaroni: N120 | Macaroni: N300 |
| An egg: N30 | An egg: N60 |
|  Can of garri: N500 | Can of garri: N1500 |
| 5 litres: N1400 | 5 litres of groundnut: N5000 |
The price above shows that Nigeria is currently battling with hyper-inflation, more than 200% inflation rate on the prices of goods and services is an indication that Nigeria is on the path of Greece.
Where Is CBN Intervention Fund?
With several billions of naira pumped into the economy to support agribusiness, the effort of the Central Bank of Nigeria has yielded no significant result, no thanks to the activities of Boko Haram parading themselves as bandits and killer herdsmen in the farming northern parts of Nigeria.
For instance, the Anchor Borrowers' Scheme, which was launched during the early months of Buhari's government in power in 2015 has not delivered its goals.
Prices of local produce continue to rise, making the disbursement of billions of naira CBN claimed poses more questions than answers.
According to the CBN governor, Godwin Emefiele, the apex bank as of May 2021 claimed to have disbursed N300 billion to more than 3.1 million farmers in Southern Nigeria alone.
While the apex bank is gradually finding it difficult to effectively suppress the ravaging inflation, it continues to dabble into macroeconomic issues.
Official dollar to naira exchange on CBN's official website remains a mirage as the real value of naira can be felt on the street.
How Will Buhari Lift 100 Million Nigerians Out of Poverty?
While the desperation on the faces of average Nigerians continues to grow, Buhari says he's committed to lifting 100 million Nigerians out of poverty.
Through more synergy between the government and the people, it is achievable, his spokesman, Garba Shehu stated.
One of the actionable steps taken by the APC-led government was the launch of a national poverty reduction with a growth strategy (NPRGS) steering committee to begin the move to make 100 million Nigerians live comfortably well.
According to him, diversifying the economy with agriculture as the backbone instead of crude oil will make the dream come to reality.
How the regime has been able to manage its proceeds from crude oil remains a source of concern.
According to the Debt Management Office (DMO), Nigeria's Public Debt Stock is N33. 107 trillion (about 87.239 billion dollars), as of March 31, 2021 (https://guardian.ng/news/nigerias-total-public-debt-reaches-n33-107trn-dmo)
But Garba Shehu who spoke on behalf of Buhari says:
"the country is robustly blessed with good weather conditions, good soil, human and material capacity, and resilience to make a difference by all the hardworking youths."
The indexes do not show that Muhammadu Buhari and his APC-led government have the capacity to lift 1,000,000 Nigerians out of poverty in the next two years, 100 million is the 'most' exaggerated figure any government has ever pushed out.
The National Economic Empowerment and Development Strategy (NEEDS), which was a roadmap of Nigeria's economic recovery is an example of the failure of continuity of policies in Nigeria.
NEEDS was the brainchild of the Olusegun Obasanjo-led government, but his successors junked the document.
In a country where there are no sustainable policies, Buhari's successor is most likely to go another direction by the time his tenure comes to an end in May 2023.