Last updated on August 5th, 2023 at 08:33 pm
If you reside in the "Salt of the nation", there are many business ideas that will put food on your table, they include starting a travel guide, mining investment, business consultancy, food packaging business, sales of agro-allied chemicals etc.
Are you ready?
Below are some of the business opportunities in Abakaliki and specific local government areas where you can focus your investment in the state.
Table of Contents
Food Packaging Business
Until recently, no one ever thought logistic business could be so lucrative, today people make thousands of naira weekly by running errands for others. If you're in Ebonyi where rice, garri, and other food products are produced in large quantities, you can use the logistic business model to start your food packaging business.
You don't have the farmer. All you need to start a food packaging business is a take-off capital to register your business and start to buy processed food products from farmers directly. When you repackage it, you add more value to it.
Not only would you be adding value, but executive workers in the city like Abakaliki and other cities would also order from you. Make it neat, listing your business on Google My Business comes with a lot of benefits, and work out a plan with a logistic company.
Ebonyi is primarily an agricultural region, that's a business opportunity for those who want to explore opportunities around them.
To buy your products you can focus on towns and villages that have a comparative advantage in specific agric produce. For instance, rice is predominantly cultivated in Ikwo while yam is peculiar to farmers in Izzi.
With NGN100K or less you can start a lucrative food packaging business in Ebonyi state and make impressive income from this business idea.
Travel Guide Business
The travel guide is one of the lucrative business ideas in Cross River, the same is applicable to Ebonyi. Because of its incredible tourist locations such as the famous Uburu Salt Lake, Abakaliki Green Lake, Unwana, and Ikwo Beaches.
One of the ways to be successful as a travel guide is, to be honest, show sincerity, and ability to use the wide range of digital tools around you most especially Google My Business.
To take a step ahead, you may also buy a domain name that has vital keywords of your business and offers security and travel guide advisory on your social medial handles.
You also have to be visible, shoot videos at the locations you want to tourists to come to. Extensively use YouTube because is the largest video platform today.
Salt Factory
Establishing a factory is a big man's business. With large deposits of salt in Ikwo, Uburu, and Okposi in Ohaozara, Amasiri, and Abakaliki area of Ebonyi state, it'd be cost-effective to site salt manufacturing factory near a major source of raw materials.
Note: A lot of Ebonyi women in the areas we just mentioned have been making a living from the sales of salt in their areas. They do the processing using the local process. Local production of salts have has been a major source of income to thousands of women in the areas for decades.
Rice Processing Factory
One of the major agricultural products Ebonyi is known for is rice. Unfortunately, with this business opportunity in the state, millions of foreign bags of rice and still being illegally imported into Nigeria: 1) because of insufficient local production, 2) because local production contain shafts, stones, and is not well packaged.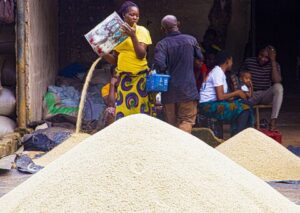 The fact is challenges or problems create another path of investment opportunity and one of such is by establishing rice processing factory in Ebonyi. Be closer to the rice farmers, buy from them, and process and package using the global best practices.
Although there are a few rice factories in Ebonyi, they are not enough to meet the national consumption needs of Nigeria.
Rice Supplier and Distributor
While the rice processing factory is for the millionaire, small business owners can generate lots of revenue from signing up with a major rice factory in Ebonyi.
Although this can also gulp millions, you can start small by supplying major retailers within your state at much cheaper prices than they get from the market. This way, you can have more customers.
Haulage Business
Similar to the bike hailing business is haulage because of the demand by wholesalers, manufacturers to get finished products to the retailers across Nigeria.
This business is particularly lucrative in Abakaliki and other towns in Ebonyi state where factories are located. Though capital intensive, you can start with a truck and buy more as you continue to expand and more people request your services. Haulage business is another business opportunity in Ebonyi to deliver rice and food items to other parts of the country.
Garri Production
In Ebonyi, particularly where cassava is produced on a large scale, you can start a garri production factory. Do packaging, and shoot video of your factory for prospective buyers to see you comply with hygienic best practices are some of the ways to do things differently from what others have been doing.
Mining Investment
Again, this is capital intensive and requires a lot of registrations with government agencies and the state government. At the time of this guide, the deposit of gold in Ebonyi was yet to be explored by investors.
Not just that, lead can also be found in Ebonyi. Lead is used for the manufacturing of car batteries and cable sheathing among others.
Real Estate Brokerage
With NGN0 you can start a real estate brokerage business. The only thing you need is a data-enabled smartphone to post property flyers on social media. If it's land, you could make as much as 10 percent in commission from your sale.
If it's a completed apartment, you make as much as 5 percent from your sale. Thankfully, some real estate companies are coming to sell lands in their estates in Abakaliki and its environs. Sign up with one of them and start selling and get paid for your effort.
Business Consultancy
Do you have brilliant ideas that can help business owners achieve their goals? Setting a business consultancy in Ebonyi is one of the lucrative business opportunities in the state, write a business plan for SMEs and get paid for your services.
Is Ebonyi a good state to invest in?
There are parameters to use before one can adequately judge whether Ebonyi is good for business or not. In the last ease of doing business report by the Presidential Enabling Business Environment Council (PEBEC), Ebonyi occupies the 23rd position.
Major indicators that were used by the committee were electricity, transportation, security, investment promotion, and state information structures.
In terms of security, investors are advised to be careful on traveling alone and to avoid night travel. It's one of the states where activities of Indigenous People of Biafra (IPOB) are known to cripple business activities in the entire southeast region.