Last updated on December 14th, 2022 at 10:12 am
Did you receive a link to apply for Canada Visa Lottery? Let's set the record straight: The government doesn't have or run a visa lottery programme for visas.
Only a scam message or email will direct you to apply for Canada Visa Lottery. The best way is to steer clear of such links or delete such emails.
We've heard people asking if Canada has a lottery programme. In this post, we'll provide insight into how to be careful so that you don't become a victim of online fraud.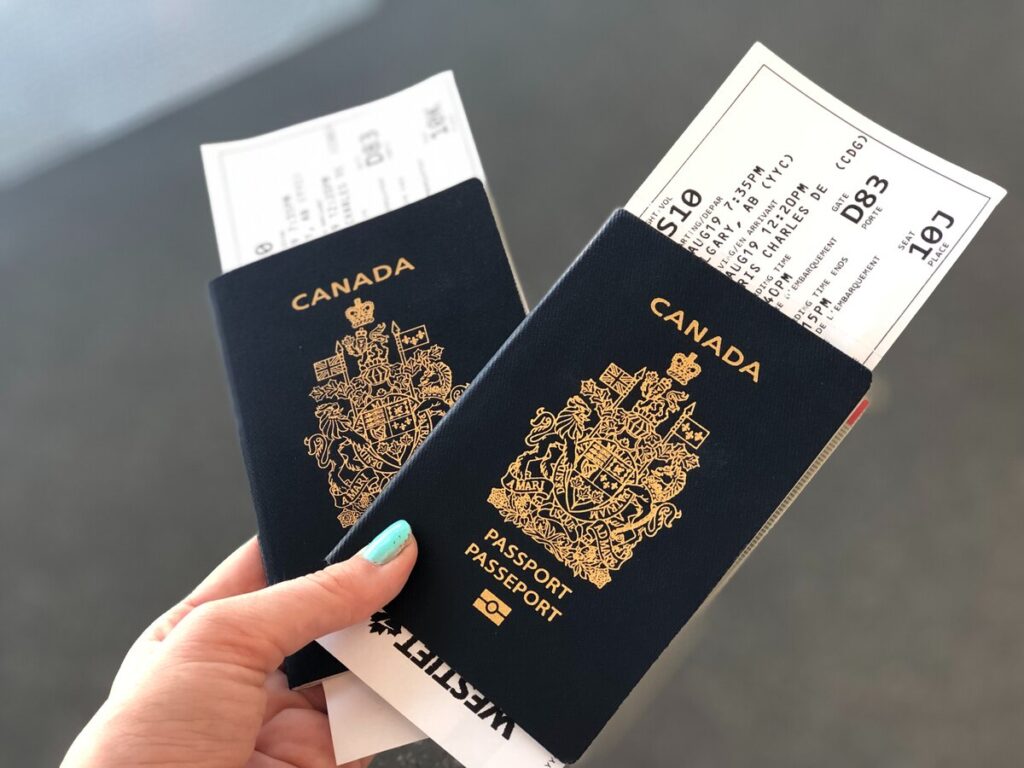 The target is always nationals of African countries who are desperately looking for a greener pasture overseas.
The crooks behind the scam visa lottery to Canada are those who got your details on social media. Below are some of the patterns of their operation.
How scammers behind Canadian visa lottery works
We have stumbled upon several Canadian visa lottery gimmicks on the internet, but the most recent and widely spread one in Nigeria at the moment is on WhatsApp, the most used messaging app in the country.
"Since the beginning of 2018, more than 30 of my friends have sent a WhatsApp message to me about 2018 Immigration Lottery to Canada. I knew that the message must have emanated from an unscrupulous dubious person," one of the recipients of the message told us.
You're asked to indicate your age range, if you've got children or not, if you have visited Canada before and subsequently directed to fill your full name, country, city, and phone number.
When that's done, you're congratulated that you've been successfully registered, but that's not all. This is where I suspect foul play and hidden motives behind the originator's fraudulent message.
Don't waste your time on the platform applying for a non-existent Canadian visa lottery.
Does the Canadian government have a visa lottery programme?
NO, Canadian Immigration Office doesn't have or run visa lottery programme.
To clear your doubt, the Canadian government has never operated any kind of lottery since it started giving immigration privileges to nationals across the world. The only legal means of entering Canada is through its immigration programme.
Canada doesn't have a lottery similar to the United States government. Through the USA lottery programme, thousands of Nigerians and other nationals across the world have immigrated to the USA.
Sometimes in 2017 Canadian deputy High Commissioner, Mr. Lajos Arendas, warned Nigerians against falling for Canadian Visa Lottery scam.
"This is false information. In fact, the U.S used to have, and perhaps still do, but Canada does not have a visa lottery programme.

"As far as I know, it has never existed in Canada. At least, certainly not in my 24-year career. It looks like some people are spreading rumours, and these could be linked to a possible scam," naij (now legit) quoted him as saying.
How can I travel to Canada?
Gaining entry into Canada is purely on FREE application on the website whether through the Express Entry or other immigration options available.
You can also visit the website of Immigration, Refugees, and Citizenship Canada (IRCC)
What are the options to travel to Canada?
There are more than 10 ways to immigrate to Canada if you meet the requirements. Immigrate to Canada options are:
Express Entry
Provincial nominees
Family Sponsorship
Atlantic Immigration Program
Start-up Visa
Rural and Northern Immigration Pilot
Temporary resident to permanent resident pathway
Economic Mobility Pathways Pilot
Refugees
Permanent residence pathways for Hong Kong residents
Agri-Food Pilot
Self-employed
Caregivers
Quebec-selected skilled workers
What can I do if I've submitted my details on a scam visa lottery website?
If you have submitted your personal information on such website, there are chances that the person behind the questionable lottery campaign uses it to send you unsolicited messages in the future.
You are likely to be directed to make payment into an account for your visa to be processed, please don't pay into any account, it's a SCAM! And ignore there messages or block them.
How can I spot a Canadian Immigration fraud?
Immigration scam has always been on for years, 419ners only change the mode of operation, and this is how to know if a visa is a scam or not:
Phishing email
Phone call
Fake immigration website
Immigration lawyer and consultant
Job offer
Phishing email:
This way, websites, where you dropped your contact details in desperation to migrate, may begin to send you email claiming to be from a certain immigration office (in response to your application).
At the long run, you're directed to make certain payment for your documents to be processed and sent (within a stipulated period). Please don't make such a payment.
Phone call:
Another way fraudsters use is by calling you. In fact, some of them are located within your country, but they route their number to show Canadian prefix phone number, making you to believe that such call is from the Canadian immigration office in Ontario.
Note: You'll never be called by the Canadian government to make the payment, and you will never be called to confirm certain information you earlier provided. WATCH OUT!
Job offer:
In certain cases, scammers will send employment letters to you in advance, stating some irresistible juicy bonuses and condition of service.
Sometimes you're promised in such dubious employment letter that you'll be paid $25 per hour (working for a maximum of 8 hours a day).
If you calculate that you find out that you're on your way to financial freedom in the shortest possible time you arrive Canada. But it's one of the tricky ways of making you pay blindly.
Conclusion:
The best way to apply for a visa to Canada is to visit the website of Immigration, Refugees, and Citizenship Canada (IRCC) at: https://www.canada.ca/en/immigration-refugees-citizenship/ and follow the instructions there.
The website contains everything you need to know about immigrating to Canada (fraud-free).
If you are interested in immigrating and working in Canada, please check the official website of Canada to check the best immigration option for you.
You can apply for the Canadian Immigration programme by yourself, but first, you need to check if you're qualified or not because the Canadian visa is for everyone.