Last updated on April 26th, 2023 at 03:41 pm
Mail delivery is one of the services provided by the Nigerian Postal Service (NIPOST) across Nigeria and in this guide, we'll show you how to apply and to obtain a post office box address for your business or for personal use in Nigeria.
A post office box popularly known as P.O. Box is a unique and identifiable address code allocated to renters with their keys to access their box for mail delivery.
Contrary to some misconceptions online that there is no door-to-door mail delivery in Africa. This is not true, door-to-door delivery is still available in some African countries. This service largely depends on the service you subscribed for.
Table of Contents
In Nigeria, for instance, those who subscribe for door-to-door delivery, still receive mail at home which is usually is renewable annually.
Do people still use postal office box address?
Millions of Nigerians just like me believe that email, phone calls, text messages, and messaging apps have overtaken the effectiveness of NIPOST, but I was wrong until it became imperative for my business to have a business post office box address.
Sometimes in October 2021, NIPOST boasted that it had increased the domestic postage by 400 percent, the response to the headline was expected as one of the readers says:
"If you like, increase it to 10k. Who is writing a letter nowadays?"

Vanguard online news October 9, 2021
The commenter may be correct, however, if you face instances whereby you or your business is a partner with foreign companies that send verification code like Adsense Publisher's programme or Google My Business verification code, then you may see the importance of having a P.O. Box address for your business.
Benefits of Having a Mail Delivery
Mail delivery comes in different forms, they include:
PO Box,
Private Mail Bag (PMB) specifically designed for corporate firms, educational institutions and banks
Special Delivery service (SDS) to deliver mail to door steps of private mail bag renters
Street delivery
Post restante
For the purpose of this guide, we'll cover Business Post Office Box (P.O Box) and the benefits include:
It guarantees the confidentiality of the subscribers' mail
It enables the subscriber (renter) to clear mail at their convenience
Access to your box key gives you access to clear your mail making it easier to sort than the street delivery.
Methods of Application
There are two methods of application to get allocation for P.O. Box, they are:
Manual registration
Online registration
Required documents for post office box address
Completed application form for business letterbox
NIPOST application for post office identity card
4 passport photographs
One reference
Photocopy page of means of identity of your reference
Photocopy of business or company registration (for business box)
Photocopy of your means of identity e.g Voter's card, national ID, NIN, or International passport (for private Post office box)
Fees:
Private letter box is less than NGN5,000 (VAT inclusive)
Business letter box is less than NGN7,000 (VAT inclusive)
PMB is less than NGN70,000 (VAT inclusive)
Manual registration for Business P.O. Box Address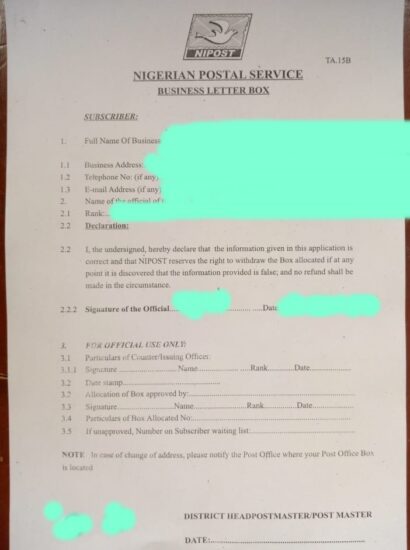 Go to the nearest NIPOST branch office in your state
Obtain and fill application form for NIPOST I.D card which contains reference letter
Business letter box application form
Attach photocopy of your reference to the application form and your photos
Attach photocopy of incorporation of business
When you fill the above forms, proceed to counter to make payment
After the payment, a post code directory will be given to you
Head back to the registration desk with your original receipt where P.O. Box number will be allotted to you immediately
The receipts are:
Service and VAT
Key deposit
Post code directory
Ask the NIPOST official when the key to your box will be ready
That's all
Online Registration
If you like to take the online route, you can head straight to the NIPOST portal to begin the application process.
The downside of the online method: The fees online are not the same as the manual method. We've also received complaints that the online method doesn't receive attention.
After filling out the online form, you will still be forced to make payment at the NIPOST.
Another challenge you are likely to face is when printing out the online acknowledgement letter, officials at the NIPOST might give an excuse for the inability to confirm your application.
As such, NIPOST needs to upgrade their registration offices across Nigeria, most of the offices are archaic and with poor infrastructure.
If you still want to go the online route, follow the process below
1) Visit NIPOST PO Box application page at: ipms.nipost.gov.ng/nipost/PLB/PLBHomePage.aspx?c=2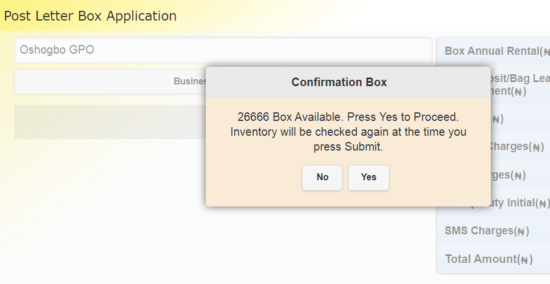 2) Click "Apply for Post Letter Box " from Post Letter Box and access the page at: http://ipms.nipost.gov.ng/nipost/PLB/RootPages/PLBApplicationV2.aspx
3) On the search box start typing to get a list of Post Offices and choose from the list
Tips: Search by state capital or town, works better
4) From the Box Type, select from the available ones: business letterbox, private letterbox or private mailbag
5) Check the right side for the price
Note: Personal Locator Beacon (PLB) service may not be available in the selected town.
6) The available PO Box will be displayed on your screen if the PLB service is available. For instance, our search pop up, "26666 Box Available. Press Yes to Proceed. Inventory will be checked again at the time you press Submit."
7) So press "YES" to continue
8) Check the service charge
9) Enter Details (Only 18 years person can apply for PLB/PMB).
10) Submit the Details.
11) Print Your Acknowledgement Slip.
12) A reference number will be sent to you that you can use to track the status of your application.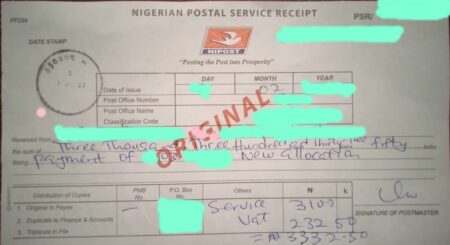 13) An SMS will be sent to you if your application is approved and a transaction reference number will be sent to you
14) Use the transaction number to make payment at the nearest post office
15) Verify Payment Information.
16) Track Payment Status.
17) Wait for your P.O. box key and ID (take along your slip)
That's all, you are just about to have your personal post office box for your business.
NOTE: The manual registration process is the best.
Recap:
Getting a post office box in Nigeria either for your business or for personal use is a great way to receive mail from your partners abroad.
For instance, there is a way you can use a P.O.Box address to receive Adsense PIN, Google My Business verification PIN right in your box, this way you can avoid the problem associated with lost mail when you use only a postal code.
NIPOST box address is more effective than the postal code.
References:
Vanguard Newspaper (October 9, 2021). "NIPOST increases domestic postage rate by 400%". vanguardngr.com. Retrieved February 8, 2022
NIPOST. "Post Letter Process". nipost.gov.ng. Retrieved February 8, 2022