Last updated on May 15th, 2023 at 02:45 pm
Crypto wallets provide a safe means of storing and managing crypto assets, and you shouldn't compromise when it comes to choosing the best wallets for digital assets.
Numerous crypto wallets are available in the United States, each with unique features and advantages.
Table of Contents
What are Crypto wallets?
Crypto or digital wallets store users' public and private keys to access and manage cryptocurrencies.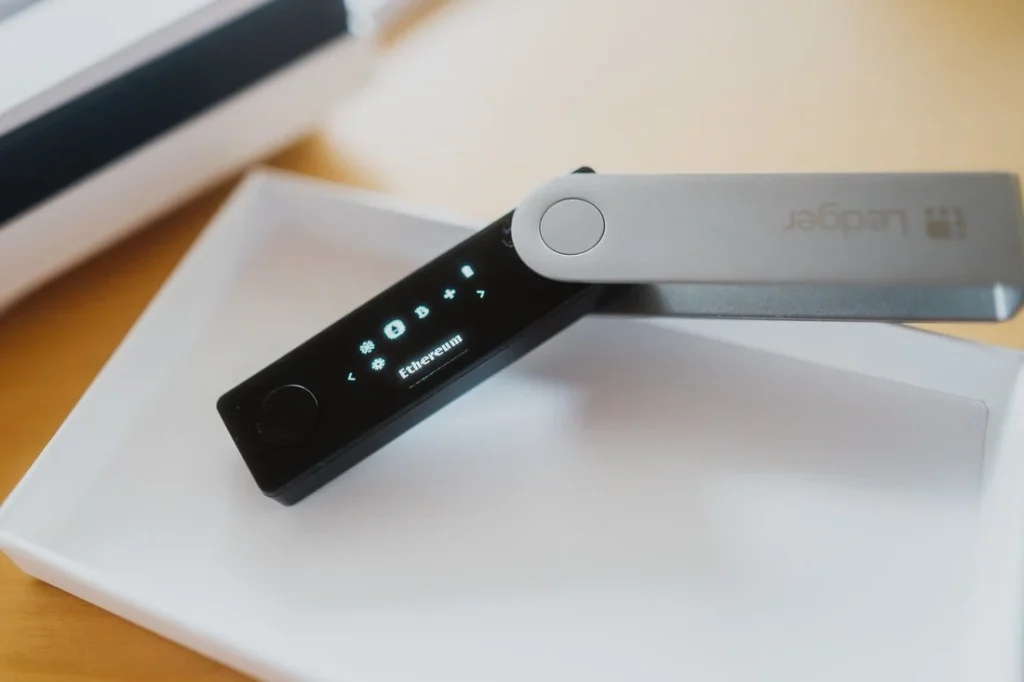 Most cryptocurrencies, like Bitcoin and Ethereum, are decentralized, which means they are not controlled by any central authority but rely on blockchain technology.
Private keys in crypto wallets
So, to access and manage cryptocurrencies, users need a private key, a long string of random characters that serves as a digital signature to prove ownership of the coins.
Despite what many people think, crypto wallets do not store cryptocurrencies but private keys that allow users to send and receive cryptocurrencies.
The two main types of crypto wallets are cold and hot wallets, and Crypto wallets can also be classified as custodial or non-custodial.
Cold and hot wallets explained
Cold Wallets are cryptocurrency wallets that store private keys offline, making them safer than hot wallets that hold keys online.
Examples are Hardware wallets and Paper wallets.
Hot Wallets are digital wallets connected to the internet and are made for regular use; that is, they help transfer cryptocurrencies quickly. Examples include Desktop Wallets, Mobile Wallets and Web Wallets.
Custodial wallets let a third party, like an exchange, hold wallet keys for users, which is suitable for beginners with small crypto assets.
Non-custodial wallets allow users to control keys but require more security responsibility—examples: Coinbase (custodial) and Ledger (non-custodial).
Best Crypto Wallets in the U.S
Certain factors must be considered when choosing a cryptocurrency wallet, such as security, easy usage, and compatibility with multiple cryptocurrencies.
For bitcoin traders in the United States, below is a list f trusted cryptocurrency wallets to store your digital assets for future use
Coinbase Wallet
It is a mobile wallet developed by the most significant U.S based crypto exchange Coinbase.
A non-custodial hot wallet provides users with a secure way to store and manage over 100,000 crypto assets.
It allows them to access decentralized applications (dApps) and manage their Ethereum and Polygon-based NFTs.
It has desktop and mobile versions and is one of the best wallets for beginners, as it is easy to navigate.
A key benefit of Coinbase Wallet is its connection with Coinbase exchange, which allows users to easily link their account to their wallet to transfer funds between the two seamlessly.
The wallet offers users complete control over their private keys and provides insurance in cases where funds are mishandled.
Coinbase Wallet also offers built-in support for decentralized applications (dApps) for staking, yield farming, and non-fungible tokens, allowing users to easily access and interact with a range of blockchain-based services directly from their mobile devices.
The Ledger crypto wallet
It is a popular hardware wallet widely considered one of the most secure options for storing and managing cryptocurrency.
The Ledger wallet has two hardware wallets: the Ledger Nano S and the Ledger Nano X.
The Ledger Nano S does not have a Bluetooth connection, allows users to store three to twenty applications, and costs $59.
In contrast, the Ledger Nano X has a Bluetooth connection and enables keeping more than one hundred applications, costing $149.
The Ledger wallet supports over 1,500 cryptocurrencies and allows users to manage their assets using a companion app installed on their computer or mobile device.
The app provides users with an easy-to-use interface for sending and receiving cryptocurrencies, and the hardware wallet offers an added layer of security by storing private keys offline.
Trezor
Trezor is a hardware wallet that offers high levels of security for managing private keys for Bitcoin and other cryptocurrencies. Trezor, a product of SatoshiLabs, was introduced in 2013 and has its main office in Prague, Czech Republic.
The Trezor wallet comes in two models, the Trezor One and the Trezor Model T. The Trezor One is the more affordable model, costing $59, while the Trezor Model T costs $169.
Both models are non-custodial and support a wide range of cryptocurrencies.
It offers users complete control over their private keys and allows them to store them offline, providing added security against hackers and other online threats.
Trezor has emerged as the most reputable cryptocurrency hardware wallet thanks to its advanced security features, which have drawn in cryptocurrency exchanges, traders, and regular bitcoin users.
Exodus
With a built-in, decentralized cryptocurrency exchange and the option to connect to a centralized one, Exodus is a cryptocurrency wallet.
For storage and peer-to-peer cryptocurrency swaps, it offers more than 235 cryptocurrencies, and assets and private keys are entirely under the user's authority.
Exodus features a straightforward user interface that even those with little experience may use to transfer funds to a crypto wallet.
Exodus offers features including staking, swapping, and purchases. Moreover, it provides NFT, or non-fungible token, storage.
It has browser-based, desktop, and mobile applications. Exodus offers features to assist you in evaluating the performance of your cryptocurrency portfolio in addition to valuable educational information.
ZenGo
It is the most secure and user-friendly cryptocurrency wallet, with over 700,000 users. It offers guaranteed account recovery, a built-in Web3 firewall, and 24/7 customer support.
ZenGo uses encrypted secret key sharing and does not require a seed phrase, making it an excellent option for beginners.
It supports over 70 coins and tokens and partners with leading Web3 DApps and top consumer brands for a delightful Web3 experience.
Electrum
The Electrum Bitcoin Wallet is a non-custodial digital wallet that uses hot storage and can be used with a hardware wallet that employs cold storage for increased protection.
One of the first Bitcoin wallets, Electrum, was created in 2011.
Electrum allows users to configure their wallets with multiple-signature security, two-factor authentication, or conventional security for watch-only wallets.
These choices allow you more freedom regarding where to store your bitcoin.
Transferring or receiving bitcoins using the Electrum wallet is simple: invoice customers, encrypt messages, view transaction history, and perform other in-app tasks.
If this is your first experience with Bitcoin, Electrum is the best option due to its user-friendly interface.
Metamask
As long as a compatible blockchain is used, the MetaMask wallet app enables users to transfer or receive currencies using any other wallet or smart contract.
Through providers on the network like MoonPay, Wyre, and Transak, users also have the option of purchasing coins.
Regarding Web3 and NFT aficionados who want to create decentralized applications on the Ethereum blockchain, MetaMask is a central centre thanks to its extensive capabilities and Web3 applications. A mobile app and a web browser extension for the wallet is available.
The wallet is suited for intermediate and experienced cryptocurrency investors due to its predominance of technical features.
With over 30 million active users each month, MetaMask is currently the most extensively used non-custodial cryptocurrency wallet in the world.
It is also the most popular blockchain wallet. For blockchain newbies, developers, and cryptocurrency players, the MetaMask browser plugin is an essential tool.
Almost a million downloads and a robust community support the project, which has many resources.
Trust wallet
Users can fully control digital assets like cryptocurrencies and non-fungible tokens with the decentralized, non-custodial Trust Wallet program (NFT).
The official cryptocurrency wallet of Binance, Trust Wallet, offers access to more than 4.5 million cryptocurrencies and support for 65 blockchains.
Litecoin, Ethereum, Bitcoin, TRON, Zelcash, VeChain, Thunder Token, Dash, Callisto, Cosmos, Wanchain, Digitbyte, Harmony, Aeternity, Dai, Algorand, Paxos, Nebulas, and other stablecoins are examples of this.
Unlike most centralized wallets, Trust Wallet gives users secure access to decentralized applications (DApps), enabling them to communicate with DApps on any supported blockchain.
By allowing users to buy, transmit, receive, stake, trade, and store bitcoins, Trust Wallet intends to increase the accessibility of cryptocurrencies for all users.
The Trust Wallet's DApp browser, which enables users to engage with decentralized applications like UniSwap, Compound, Aave, and many more, is one of its primary features.
This browser can also be used to observe, gather, and trade NFTs to visit NFT marketplaces like OpenSea.
Conclusion:
The rise of cryptocurrencies has led to the development of various digital wallets to help users store, manage and trade their assets securely.
When choosing a cryptocurrency wallet, it is essential to consider factors such as security, ease of use, and compatibility with multiple cryptocurrencies.