Last updated on May 20th, 2022 at 03:47 pm
An investor has shared the story of how he turned 25,000 US dollars into $170, 000 less than a year of trading stocks, but lost $120, 000. He attempted to take his own life.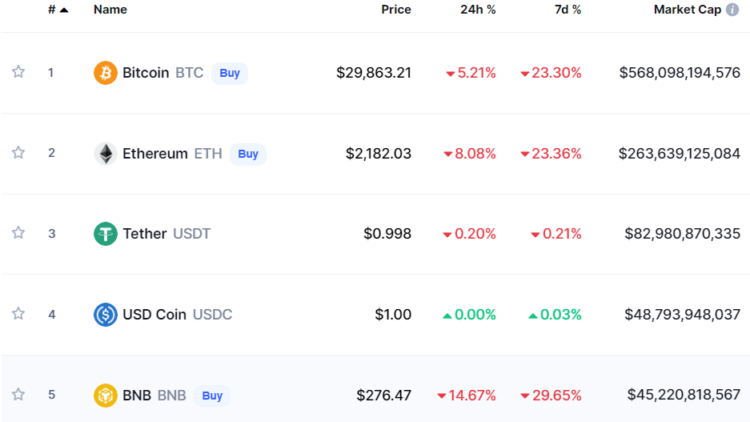 In nearly 1,500 words on a subreddit, RyzenRazer says his story is to motivate bitcoin investors who may have lost more than 50% of their investment since the crypto massive crash turned the entire crypto market red.
But first…
How did bitcoin crash start?
May 9, 2022 (depending on your location) wasn't a good day for Bitcoin investors around the world as the most valuable cryptocurrency crashed below $31,000 after weeks of hovering between $36 and $42k.
Some global financial analysts opined that the increased market volatility could have been triggered by the rising inflation, geopolitical crises, and concern over tighter monetary policy by the U.S. Federal Reserves.
The Fed is battling to put in control the rising inflation which had risen to 8.5% in March, according to available data.
Though the campaign was to buy the dip, thousands of investors globally lost more than what they bargained for, thereby triggering massive selloffs. It was a time El Salvador added 500BTC to its portfolio.
At the time of publication Wednesday, May 11, 2022 (19:18), the price of Bitcoin fell to $29,853.76, according to data on CoinMarketCap while LUNA which recorded the most baffling fall pushed the Terra team to push for recovery plans.
Other cryptocurrencies like Ethereum, Solana, and Bitcoin Cash have all lost at least 8% in the last 24 hours.
While President Nayib Bukele of the North American country may be using state resources to buy more BTC for El Salvador, there are possibilities that some crypto investors may be thinking of suicide, which spurred RyzenRazer to share the story of how he bounced back after he had thought all was lost as stocks trader some years back.
He said:
A few years ago, I hit hot-streak trading stocks. I had initially started with $25k ($12k I took out as a loan from a family member, and $13k of my savings.)

After a few months of consistent daily gains, I decided to go big. I took a few big risks, and they paid off big time.

So much so, that I had turned the $25k into over $170k in the span of a couple of months. While this felt amazing, it also drained me of most of my energy and happiness.

The amount of stress I put myself through to reach this point had pushed me to the brink of a few mental breakdowns.
The Redditor said the amount of money he made in such a short time was more than he had ever imagined.
It was enough to travel the world, put a down payment on real estate, open a new business, or even take out my $120k of profits and still have double my initial investment.
According to him, he failed to do any of such, rather he aimed at pumping in his profits that would catapult him to make at least $1,000,000 in a few months.
He wasn't contented that he had made more than most people made trading stocks in a short time "with almost no physical labor."
Invested $170k again and the crash came
Alas! His plans failed this time as he recorded his first big loss, "$20k was my first big loss", though he made some recoup it wasn't enough to satisfy his investment dream. Before he knew it he lost another $40k.
"This cycle continued, until my $170k had turned into $7k l, believe it or not. This amount was less than the amount of debt I had racked up buying new things I didn't need because I felt 'rich' at the time my account was big and green."
While he was making gains from his stock trading, he abandoned his primary source of income and alienated himself from family and friends.
He Attempted Suicide
As the days went by, he saw no reason to live again. The solution? He wrote a note, "I'm sorry" and placed it on the nightstand beside his bed.
He thought of the safest ways to take his life and counted 18 pills of Xanax and swallowed it with water, thinking that would be the end of his life. But something happened after three days…
What's Xanax Used For?
Xanax (Alprazolam) according to Webmd.com, is used to treat anxiety and panic disorders. A dose of Xanax can last between 31 hours to 134.5 hours (5.6 days) in the body, medlineplus says
So, instead of sleeping and never waking up, RyzenRazer surprisingly woke up three days later in that same bed.
It took him some time to realise the day of the week it was, "How close I was to never waking up, or going into a coma".
The Redditor who stated that he felt stupid to have even thought of committing suicide, revealed that it took him a good 2 days "for me to stop slurring my words and for the drugs to fully wear off."
What next after suicide failed?
The stocks trader said he visited family and friends to tell them what he had been passing through and decided never to think of taking his own life.
He got back to his primary source of income, made some monies, and found another investment. This time, he invested $15,000 in cryptocurrency which turned into $40k.
"I re-invested it two more times and it turned into $340k. This all happened within 6 months of me losing the $170k.

"This is when I realized that $170k was not wasted or lost. It was an investment in the most valuable lesson I've ever learned. It's not over until I decide it's over."

RyzenRazer
He concluded by saying, nothing would ever push him to end his life regardless of the challenges.
Get Help on Suicide Hotlines
In the United States, 1-800-273-8255 is the National Suicide Prevention Helpline which is available 24/7.
In Canada, the suicide hotline is 1 (833) 456 4566; in Nigeria, the suicide hotline is 234 8092106493; it is 131114 in Australia; call 800 46342 if you are in the United Arab Emirates; 0800 689 5652 is the suicide hotline in the United Kingdom while those in South Africa can call 0514445691 for help and counselling.
The rest of the right number for the suicide hotline is available on Open Counseling official website.
Message To Crypto Investors Who Lost Money
He admonished crypto investors who may have lost thousands or millions of dollars during the recent bitcoin crash to reconsider their feelings
"Whatever it is you're going through, like everything else in life that ever was, shall pass. A brighter day will come, and you will be surprised how life will open its doors back up for you when you allow it to," he concluded.
The Reddit thread has generated close to 200 mixed reactions at the time of this publication, we hope that crypto investors who are passing through a trying moment as a result of their losses in cryptocurrency investment tap some inspirations from the above story, "suicide is not the solution, you will bounce back".
Sources:
Featured image by nairametrics
Reddit: r/terraluna/