Are you busy consistently producing actionable and high-quality content for your blog, website, or social media channels? Do you need engaging articles that captivate your audience and drive the desired result? We are here to creatively fill that gap while you focus on other important things.
We have a team of seasoned content writers with at least 5-year experience in delivering captivating content to meet your needs. With a deep understanding of effective communication strategies, we're dedicated to helping you upgrade your online presence to achieve your goals.
Table of Contents
Why choose Infomediang?
Engaging writing style:
At Infomediang, we combine creativity with a focus on clear and concise communication to keep your audience glued to your page from start to finish. We take our time to optimize content for readability.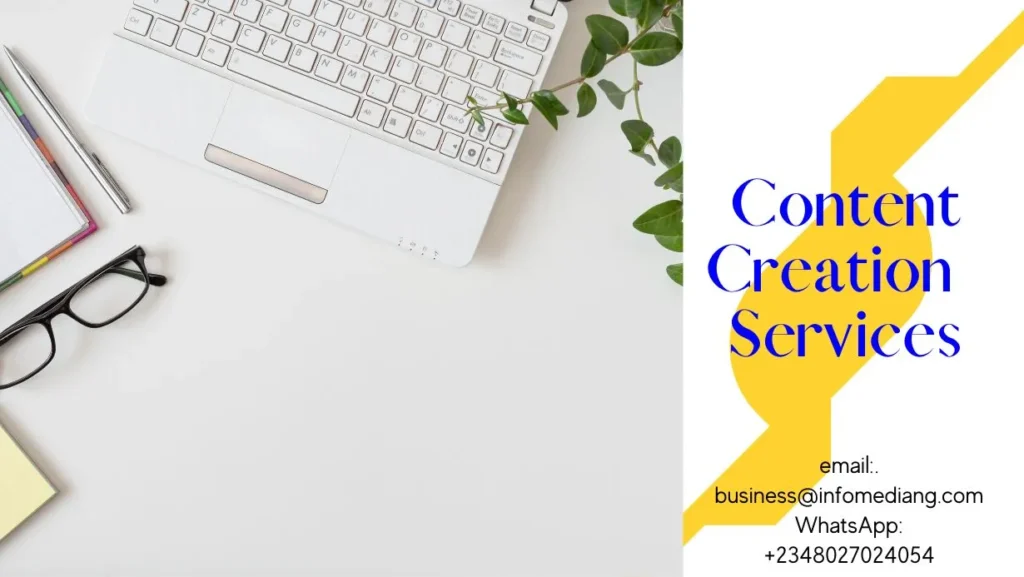 Tailored content:
We take the time to understand your brand, specific requirements, and mostly your target audience. Combining these enables us to create content that aligns with your audience and delivers your key messages in the most effective way.
SEO-conscious:
Our team has a solid understanding of Search Engine Optimization principles. We will deploy our knowledge in SEO to use relevant keywords, structure content, and optimizing meta tags to improve your website's visibility to help you achieve your traffic goals.
Well-researched content:
Our content writing services are designed to meet your needs. By this, we provide accurate and well-researched content. You can trust that we'll deliver reliable content that adds value and credibility to your brand.
Timely delivery:
We don't joke with time because we perfectly understand the importance of meeting deadlines. You can rely on Infomediang Content Creation Services to deliver quality content within the agreed timeframe.
Our content creation services cover:
Blog posts and articles
Website copy
Social media content
Product descriptions that highlight the unique selling points of your products
Contact us today to discuss your content creation needs. Let's work with you to bring your brand's story to life through captivating content!