Last updated on October 11th, 2022 at 02:56 pm
The management of the youth empowerment programme has released an update for the Batch C Stream 2 beneficiaries to complete the process of deployment.
They made this known on their social media handles on Monday, October 3, 2022. If you are one of the lucky beneficiaries of the N-Power C2, follow the process below for your deployment:
6 Steps for Batch C2 Beneficiaries to Complete Deployment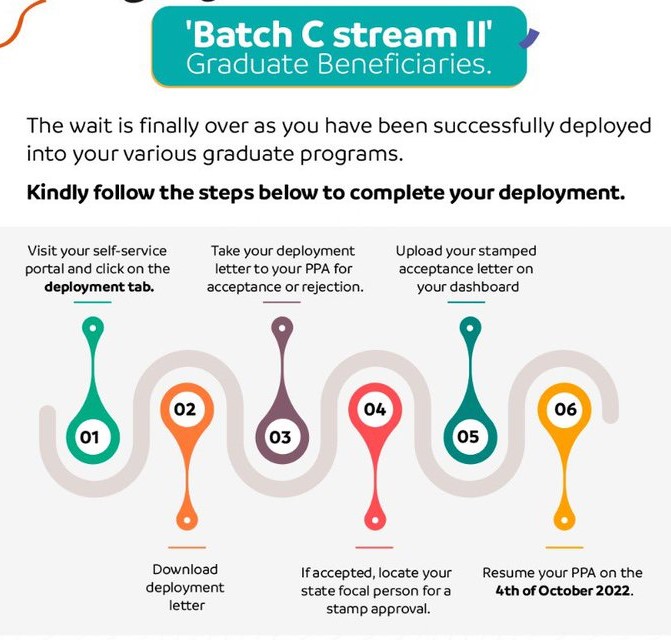 1) Visit your self-service portal at: nasims.gov.ng/login nasims.gov.ng
2) Click on the Deployment tab
3) Download the deployment letter
4) Take your deployment letter to your PPA for acceptance
5) If accepted, locate your state focal person for a stamp approval
6) Upload your stamped acceptance letter on your dashboard
Resume your PPA on October 4, 2022
My downloaded PPA letter is blank, what should I do?
You can go ahead and screenshot your PPA letter on a laptop or desktop, and print it out. There are several screenshot tools you can use, scrnli tool is one of the best and it's free to use.
I have not been deployed, what could be the problem?
Deployment is done in batches; we urge you to login into your NASIMS portal regularly to check.
My NPower deployment is showing training tract details, how can I correct it?
Kindly contact n-power for assistance.
What about beneficiaries that have not been posted, especially beneficiaries from Rivers State?
As earlier stated, deployment is in batches, it will definitely get to you.
I saw 'applicant' on my dashboard, but was not deployed, what could be the problem?
You were only shortlisted but not selected, be on the lookout for more opportunities that might interest you.
Batch C 2 Verification Exercise
N-Power Batch C Stream 2 physical verification which commenced on Tuesday, June 14 and was initially expected to end on Saturday, June 25 has been extended by three days (beginning from Monday, June 27).
The new closing date for the verification of the shortlisted candidates is Wednesday, June 29, 2022, the Federal Ministry of Humanitarian Affairs, Disaster Management and Social Development has said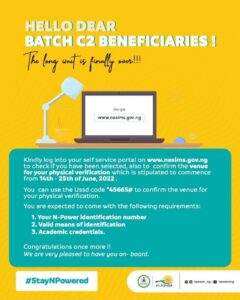 The ministry which coordinates the activities of the youth empowerment programme through N-Power social media handles directed all the shortlisted individuals for the N-Power Batch C Stream 2 to log in to the dashboard to confirm the venue of their physical verification centre.
The message which coincides with the 2022 Democracy Day celebration (June 12) reads:
"Kindly log into your self-service portal on www.nasims.gov.ng to check if you have been selected, also to confirm the venue for your physical verification which is stipulated to commence from 14th – 25th of June, 2022."

@npower_ng (Twitter)
Shortlisted applicants who have earlier undergone the biometrics exercise for stream 2 can also use the NSIP USSD code *45665# to confirm the venue for their physical verification.
Requirements for Physical verification for Batch C Stream 2
The venue of the physical verification is yet to be made public, but @npower_ng says shortlisted candidates are required to come to the venue of the verification with the following:
N-Power identification number
Valid means of identification
Academic credentials
The initial plan of the verification exercise was scheduled to commence on June 13 before the latest shift and announcement.
How To Check Your Physical Verification Centre
1) Login to nasims dashboard
2) On the menus, click the verification button
3) Centre of your verification will be displayed.
If you use a smartphone, your verification centre will be displayed upon login. If it doesn't click the verification button.
Note: If you can't see the centre of verification, refresh the page, or log out, then login to check
Batch C Stream 1 Who Missed verification
Meanwhile, batch C stream 1 applicant who missed the physical verification have been directed to join the Batch C2 for screening. The message reads:
"This is to inform the batch C1 beneficiaries that were unable to do physical verification last year due to some challenges to kindly join the batch C2 beneficiaries for their physical verification slated to commence from 14th-25th June, 2022." (which is now closes on June 29)
The N-Power programme continues to receive criticisms considering the implementation process of the program after the exit of the first batch that commenced in 2016.
We urge shortlisted applicants for NPower Batch C Stream 2 to get set for the physical verification exercise that will begin on June 14, 2022, across the 36 states including the Federal Capital Territory, Abuja, by login into their nasims dashboard for an update.
Solution to physical verification for N-Agro
From our survey, we discovered that most of the applicants for N-Power Agro are yet to see centre for their physical verification on their portal.
Don't worry, there is a solution…
If you've passed the biometric stage and your status has changed from APPLICANT to BENEFICIARY but yet to see the venue of your physical verification, it's advisable to proceed to your local government of residence for your verification.
After your verification and authentication by the npower team, your deployment letter will appear in your dashboard, it may not be on the same day. Just keep checking.
Earlier Report on Biometrics for N-Power Batch C Stream 2
We told you earlier that the shortlisting process for the N-Power batch C stream 2 has commenced. However, applicants have passed this stage earlier in the year.
In an update on N-Power social media platforms titled, "Biometrics for shortlisted beneficiaries", the management of the largest youth empowerment instructed applicants to check their status and the venue of their physical verification exercise which begins on June 14, 2022.
The update was met with hundreds of backlashes from the batch C stream applicants who are being owed four months' salaries.
In case you are yet to check your application status, there are available methods to check if you made the stream 2 list.
Via USSD code
Via NASIMS portal
How to check via USSD code
Dial *45665# on the phone number linked to your npower application
Follow the prompt message
How To Check Your Name on NASIM Portal
1) To check the list of the successful shortlisted candidate, use nasims.gov.ng/login to access the dedicated portal by using the email address and password you used during registration
2) On the five available tabs on the portal: 1) Overview, 2) Screening, 3) Verification, 4) Deployment, and 5) Payroll, click the third option, "verification"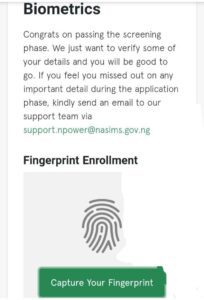 If you made the list, you'll see a message thus:
Congrats on passing the screening phase. We just want to verify some of your details and you will be good to go.
3) Proceed with biometrics. This can be done at a nearby cafe because it requires a data-capturing device. You can't do this on your phone. It's advisable NOT to click on this option until you get to the cafe.
4) Click the finger to begin the enrolment process and use your right thumb, right index left thumb and left index fingers
5) Hit the "Submit" button to save the biometric enrollment
Note: To check if your biometric is successfully captured, click the verification tab again as you can see in the screenshot below:

If you're not on the list, you'd know by a message upon clicking on the verification button
"You have not yet been shortlisted for the verification stage, please check back later."
Npower batch c stream 2 biometric
Be reminded that fingerprint enrollment is a must for all the shortlisted batch C applicants who received the congratulatory message for passing through the Npower screening phase.
When is biometrics for npower batch c, stream 2 going to start?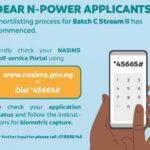 Biometrics for the shortlisted beneficiaries began in January 2022. Although the ministry posted the update on May 14, 2022.
Can I still update my application?
Yes, it's possible to update your application if you feel you missed out on any important detail during the application process by sending an email to support.npower@nasims.gov.ng
How many applicants would be shortlisted for batch C, Stream 2?
490,000 applicants will be shortlisted for stream 2. Recalled 510,000 people were shortlisted for stream 1, according to Hajia Sadiya Umar Farouq, the Minister of The Federal Ministry of Humanitarian Affairs, Disaster Management and Social Development.
What's the salary structure of N-Power Batch C, stream 2?
Beneficiaries under the graduate programme will be paid NGN30,000 as a monthly salary. The salary structure of NPower graduates is the same as earlier pointed out in one of our articles.
When will n-power batch c stream B start thumb printing?
If you're shortlisted, you're advised to proceed with thumb printing immediately as outlined in this guide. The instruction is there, you don't any official statement from the ministry.
What's the npower thumbprint deadline?
There is no deadline for the thumbprint. However, you're expected to complete the biometric immediately you confirm that you made the final list
How do I check my npower list?