The latest youth unemployment rate in South Africa is 60.7% – the highest in the world -, followed by another African country Nigeria.
Table of Contents
Unfortunately, South Africa and Nigeria pride themselves as the economic giants of the African continent. They both have alarming unemployment among their youths.
Nigeria has the second highest youth unemployment rate with 53.4% of its youth not employed while the 26.8% of unemployed youth in Spain makes the country occupy the third position.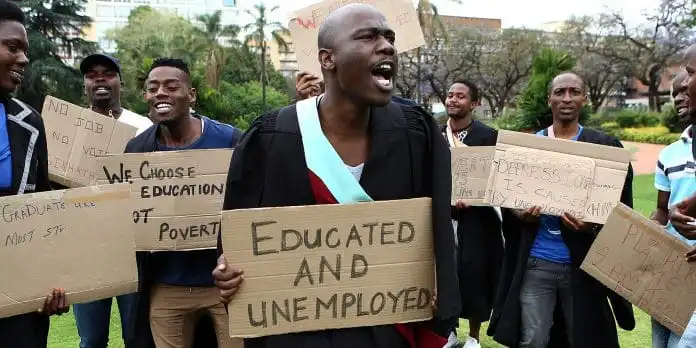 Serbia and Sri Lanka occupy the fourth and fifth positions with 24.7% and 23.8% youth unemployment respectively, according to the latest data obtained by InfomediaNG from the World of Statistics.
Takeaways:
South Africa, Nigeria, Spain, Serbia, Sri Lanka, Estonia, Greece, Albania, Romania, and Sweden have the highest unemployment among the youth.
Switzerland has the lowest youth unemployment rate (2.2%), followed by Kazakhstan (3.6%), Japan (3.6%), South Korea (4.5%), and Germany (5.7%).
Who Are The Unemployed Youth?
The unemployed youths are among individuals who either just graduated or are looking for jobs, and fall between the ages of 15 to 24.
Every country that plans for its future must monitor the rate of unemployment among its young population.
Youth unemployment is recorded, used for planning, and monitored to gauge the job market situation in a country and around the world.
To be registered as unemployed, a person must be able to work, unemployed, and looking for a job.
Usually unemployment rate is higher among the youth because they just graduated and most employers ask for experiences to fit into a vacancy or the government have fewer provisions for them.
Countries With Highest Youth Unemployment Rate in 2023
Putting the above factors together, here is the list of countries with the highest youth unemployment rate as of October 09, 2023:
South Africa: 60.7%
Nigeria: 53.4%
Spain: 26.8%
Serbia: 24.7%
Sri Lanka: 23.8%
Estonia: 23.5%
Greece: 22.25%
Albania: 22.3%
Romania: 22.3%
Sweden: 22.1%
Italy: 21.97%
Iran: 21.6%
China: 21.3%
Portugal: 20.3%
Croatia: 20%
Slovakia: 19.8%
Luxembourg: 19.2%
Turkey: 18%
Jamaica: 16.7%
Cyprus: 16.3%
France: 16%
Belgium: 14.2%
Hungary: 12.8%
United Kingdom: 12.7%
Taiwan: 12.47%
Finland: 12.1%
Ireland: 11.9%
Norway: 11.8%
Denmark: 11.6%
Austria: 11.4%
Poland: 11.1%
Canada: 10.5%
Slovenia: 10.4%
New Zealand: 10.3%
Latvia: 9%
Netherlands: 8.7%
Lithuania: 8.6%
United States: 8.6%
Czechia: 8.5%
Australia: 8.31%
Vietnam: 7.41%
Thailand: 6.5%
Hong Kong: 6.3%
Germany: 5.7%
South Korea: 4.5%
Japan: 3.6%
Kazakhstan: 3.6%
Switzerland: 2.2%
Analyzing Countries With The Highest Youth Unemployment Rate
Let's take a look at their overall population viz-a-viz their youth unemployment and the efforts the governments are taking to curb the menace.
South Africa
Population: Approximately 60.6 million (as of 2022)
Youth unemployment: 60.7%
Actions: The South African government has initiated several programs such as the Youth Employment Service (YES). The aim of SA YES is to provide work experiences to the youth.
Challenges: Structural issues and socioeconomic disparities still pose challenges for the government to reduce unemployment among the South African young populace.
Nigeria
Population: Estimated at about 216.7 million (as of 2022)
Youth unemployment: 53.4%
As for Nigeria, its National Bureau of Statistics in August 2023 reviewed its methodology and revealed that the unemployment rate in the country dropped to 4.1%, the new data generated uproar among economists and analysts.
Most of the critics berated the government for systemically using new methodology to paint the picture that all was well with Nigeria.
So the old 53.4% unemployment stats is more reliable and is still in force in Nigeria than the questionable 4.1% rate
Actions: The Nigerian government has emphasized vocational training and launched youth empowerment initiatives like the N-Power Programme in 2016 by ex-President Muhammadu Buhari to equip the youth with skills for jobs.
Challenges: The programme is marred with irregularities like corruption and embezzlement of funds meant for the beneficiaries of the N-Power Programme.
To address these concerns, the administration of President Bola Tinubu announced the suspension of youth empowerment recently to give room for investigation and how funds were utilised.
Spain
Population: Approximately 47.5 million (as of 2022)
Youth unemployment: 26.8%
Actions: Spain has been working on various schemes, including apprenticeships and job guarantee schemes for young people.
Serbia
Population: Around 7.2 million (as of 2022)
Youth unemployment: 24.7%
Actions: Serbia has been pushing for economic reforms and foreign investments to open up job opportunities for its youth.
Sri Lanka
Population: Around 21.8 million, according to macrotrends.net (as of 2022)
Youth unemployment: 23.8%
Actions: Sri Lanka has been focusing on education reforms and vocational training to bridge the skill gap.
Estonia
Population: About 1.3 million, according to the United Nations (as of 2022)
Unemployment rate: 23.5%
Actions: Estonia has emphasized digital education and e-governance, creating opportunities in the tech sector for the youth.
Greece:
Population: Around 10.6 million, according to tradingeconomics (as of 2022)
Youth unemployment: 22.25%
Actions: Post-economic crisis, Greece has been working on reviving its economy with EU-backed programs targeting youth unemployment.
Albania:
Population: Approximately 2.9 million, according to the Government of Albania Instat Institute of Statistics (as of 2022)
Youth unemployment: 22.3%
Actions: Albania has been investing in education and skills development, along with promoting entrepreneurship among the youth.
Romania:
Population: About 19.6 million (as of 2022)
Youth unemployment: 22.3%
Actions: Romania has been focusing on enhancing its IT sector and promoting startups, thus offering new avenues for employment.
Sweden:
Population: Around 10.5 million (as of 2022)
Youth unemployment: 22.1%
Actions: Sweden has a well-established welfare system and offers various programs to support the youth, such as job-coaching and training schemes.
Conclusion
While youth unemployment in countries around the world remains a significant challenge, many countries are taking innovative measures to combat the issue.
It's essential to focus on sustainable solutions that equip the younger generation with the right skills, knowledge, and opportunities to ensure a prosperous future for all.