Last updated on July 14th, 2023 at 02:03 pm
Did you know that with the new digital certificate platform by the West African Examination Council, you can retrieve your damaged or lost WAEC certificate? The platform allows you to recover your candidate number and share your certificate with a third party like an institution.
"@waecnigeria I wrote my waec 2005 and now the certificate is lost need to get the attestation of result. What's the procedure and how long does it take?" a former candidate of the WAEC asked on Twitter a few days ago.
This guide explores everything you can do on WAEC digital certificate platform including funding WAEC wallet and gaining access to the reprint of a lost WAEC certificate among others.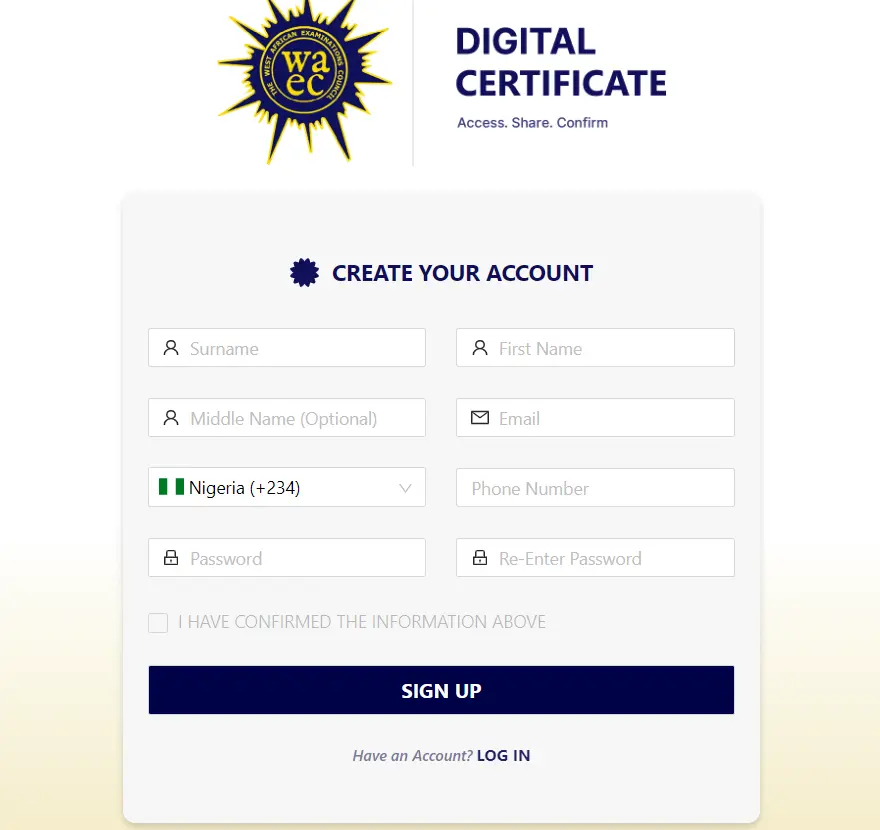 Before the launching of the digital certificate digital platform, the process of retrieving a lost, stolen, or damaged WAEC certificate was manual. Affected persons had to submit a letter of application with an administrative fee. The examination body has upgraded the process. You can still opt for the one that is most convenient for you.
The 2 methods of recovering a lost WAEC certificate
Through WAEC digital platform
Manual application
Retrieving your lost WAEC certificate on the digital platform is the most convenient for most people that want to get their original certificate irrespective of location or circumstances surrounding the loss of their original certificate.
On Thursday, October 20, 2022, the West African Examinations Council (WAEC), Nigeria branch, launched a digital certificate platform designed for candidates to generate and retrieve lost, burnt, or damaged certificates online. It was the first since its establishment in 1952.
Here are the things to know about using the digital platform:
1) At the time of updating this comprehensive guide, only candidates who wrote WAEC between 1999 to 2022 are eligible for such recovery.
2) Digital access is available on mobile and web-based applications
3) It will cost a total of NGN16,000 to retrieve, confirm, and share a certificate with an institution. The breakdown is as follows:
NGN7,500 for new and old candidates to assess the platform
NGN3,500 to share the certificate
NGN5,000 for certificate confirmation to prevent fraud
4) The platform can be accessed from any part of the work.
5) Those who wrote WAEC from 1970 to 1998 will be able to access their digital WAEC result at a later date
6) The certificate digital platform by the examination body can also be used to recover candidates' forgotten or lost examination numbers.
6 things you can do on WAEC digital certificate platform
Access to your certificate regardless of location.
Fund WAEC wallet to access other products.
Confirm your digital certificate.
Recover your WAEC examination number.
Ability to share your WAEC certificate online with a third party e.g organization.
The ability of organizations and institutions to make bulk certificate verification confirmations.
Benefits of WAEC digital certificate platform
1) It gives certificate holders the power to prevent unauthorized users from accessing their data.
2) It ensures that the data of candidates are protected securely
3) The digital certificate of the candidate cannot be accessed by third parties unless the consent of certificate owners is sought.
4) It enables individuals to share their digital certificates from a WAEC source on the go regardless of location.
5) It eliminates institutional administration delays and the backlog of requests.
6) It allows for bulk confirmation of certificates at once.
7) Candidates who want to have a physical copy can print their digital certificates in high quality.
On why Nigeria is the first country to enjoy the digital printing of their certificates, WAEC's Head of National Office for Nigeria Patrick Areghan said:
"Nigeria presents over 1.6 million candidates every year, closely followed by Ghana with about 400,000 candidates. So when we are talking about innovation, then Nigeria should lead the way."
How to Access WAEC Digital Certificate Platform
So, how can you use the digital platform to print or retrieve your lost certificate? Here is the step-by-step process of eight tasks you can carry out on the platform:
How to print a lost certificate on WAEC digital platform
To access every product on the platform, including reprinting your lost certificate, creating an account is the first you must do. Here is how to create an account:
Step 1: Click on the Create Account on waec.org
Step 2: From the two options – certificate access (for candidate) and candidate confirmation (for an institution) – choose "certificate access" since your aim is to retrieve your damaged or lost WAEC certificate
Step 3: Fill in the required info and tick the confirmation box and click sign up
Step 4: Check your inbox for the verification code that is sent to your email and click submit
Step 5: It's time to access your account, so login to your account using your registered email address and password
Step 6: To access your certificate, enter your personal information, especially your name as it appears on your WAEC certificate
Step 7: Verify the provided information and agree to the terms of use
Click on the access Certificate button below. This is where you will be charged for a successful access and click YES to proceed
Step 8: Choose a preferred payment option: direct by debit card or wallet
Note: to use the wallet option, ensure it is funded before using this option. Access Now is NGN7,500
Step 9: Now, your certificate will be displayed to you and you can download it after making the payment
That's it, you just retrieved your damaged WAEC certificate online. But that isn't all, you can also share your certificate with another body or an institution.
How to fund your WAEC wallet
On WAEC digital Certificate platform, there is a wallet tool where you can deposit some money in to access some of the products offered by the examination body.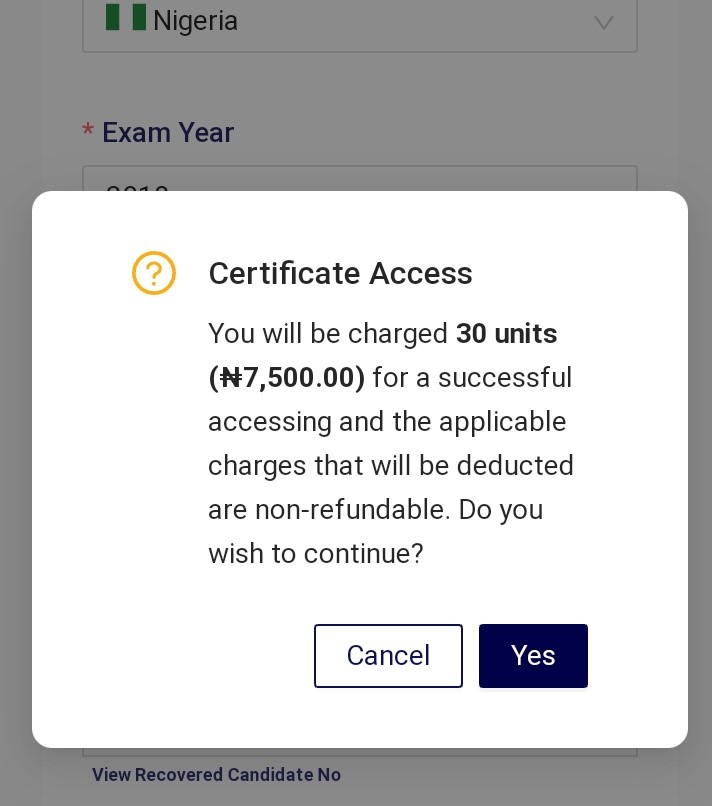 The money in your WAEC wallet can be used to retrieve a damaged or lost WAEC certificate, find your examination number, share your certificate with a third party.
Note: The balance in your WAEC wallet on the platform can be used to perform other future tasks on the platform.
Follow these steps to fund your WAEC wallet:
Step 1: On login in, click on the wallet tab.
Step 2: On the wallet page, click on the phone wallet
Step 3: Enter the number of units you want to purchase. This depends on the service you wish to explore
Step 4: Click on the Pay Button where you will be directed to make payments.
Step 5: You wallets will be successfully funded
How to find your WAEC examination number
There is also provision for those who forgot their examination number on the WAEC digital platform, if you are one of them, here is how to recover it:
Step 1: Click on the Recover candidates number button on the access certificates page. Create an account if you are not an existing user.
Step 2: Provide answer and tick the T&C box to proceed.
Step 3: On the next page, enter the required details
Step 4: Verify the information provided and tick the agreement box and then retrieve the exam number
Step 5: Click Yes to continue
Step 6: Choose your preferred payment option
Step 7: Enter your personal information and click Next for the phone verification code
Step 8: Enter the code and click Complete
Step 9: Select means of identification and enter number by ensuring that your first name and last name correspond with your means of identification
Step 10: Your exam number will be successfully recovered.
After recovering your examination number, you can then proceed to access your certificate by clicking the access Certificate button.
How to confirm your digital certificate on WAEC platform
Again, you no longer need to write long letters to confirm your certificate from the examination body. Confirmation is now digitized, here is the step-by-step guide to confirm your WAEC digital certificate.
Step 1: If you already have an account, log in to the WAEC digital certificates account
Step 2: Enter the required details and verify the information provided, on the Confirm a certificate page. And agree to the terms of use and confirm the certificate
Step 3: Click Yes to affirm the consent to confirm the candidate's certificate.
Step 4: Click Yes to continue
Step 5: A verification code will be sent to the phone number associated with your account, input the code to proceed to the payment page
Step 6: There are two payment options, choose your preferred one.
Note: This WAEC certificate confirmation is NGN5,000 at the time of updating this guide.
How to make bulk confirmation of WAEC certificate online
This option is reserved for an organization or an institution that constantly want to confirm the authenticity of their candidates' WAEC certificate. They no longer need to travel several miles away to make bulk confirmations. It has been digitized, here is the process:
Step 1: Login and click on the bulk confirmation button
Step 2: Continue to click on the confirm WAEC certificate in bulk and proceed to download the bulk file
Step 3: Enter the candidates' information and delete the first row to remove headings.
NOTE: The bulk file should only contain candidate examination years and numbers
Step 4: Save and upload the file and proceed to confirm that you've verified the information
Step 5: Agree to the terms and proceed to confirm bulk certificates
NOTE: Confirmation fee apply to each confirmation request
Step 6: Click yes to continue to the next page and affirm the consent to confirm the candidates' certificates.
How to share your WAEC digital certificate online
Step 1: To access the certificate sharing tab, you need to click on the Share tab
Select the certificate you would like to share and click continue
Step 2: Pay NGN3,500 using any of the two payment options to SHARE and enter the receiver's email address and share the certificate
Step 3: If you're sharing your certificate with an organization or an institution, you have to click on "Request for Confirmation" button and select the certificate you would like to share.
Step 4: Fill in organization's details and click on share certificate
Manual Method of Retrieving a Lost WAEC Certificate
Some time ago, the examination said that the administrative fee to collect WAEC attestation of the result for those who lost their certificate was no longer N20,000.
This is designed for victims of stolen, lost, and burnt WAEC Original Certificates. You will need the original certificate during the screening exercise when you're offered admission in any higher institution.
Requirements For Collection of WAEC Attestation Result
To apply for attestation of result, visit any of the branch offices of WAEC closer to you and take along the following:
Letter of Application which should be addressed to be the registrar
Police report on the lost or damaged certificate
Photocopy of the lost of damaged certificate
Two passports
Sworn affidavit for the collection of attestation of result
An administrative fee of N50, 000 in cash or draft payable to WAEC account
Note: A few months ago, the administrative fee to retrieve WAEC result was N20, 000, but the examination body unofficially announced on its Twitter page that it's now N50,000
What to include:
Your address
Address of the registrar through the WAEC branch office
Salutation
Title, "Application for Collection of WAEC Attestation Result"
Your full name
The school where you sat for the exam
Year of exam
Certificate number (if the certificate is partially damaged) not necessary if it's a case of a complete burn
Reason for your application
Sign with your full name and date
Can the date of birth be corrected on WAEC digital certificate platform?
WAEC no longer entertain requests for amendment of date of birth on certificates.
How many units do I need to add to my WAEC wallet to reprint my certificate online?
Accessing the WAEC digital certificate costs 30 units which is equivalent to NGN7500.
What's the difference between the paper WAEC certificate and the digital WAEC certificate?
There is no difference between the two. The digital certificate is the same as the paper certificate. It is simply the digital version. They both carry the same value
Can I use WAEC digital certificate at the embassy?
Yes, the digital certificate can be used anywhere around the world. It carries the same value as the paper certificate
What's the right site to access WAEC digital certificate?
The original site is waec.org
Is the digital certificate accepted at the Ministry of Education?
Yes, kindly share your certificate on the digital platform with the institution
What can I do if I can't access my certificate after making the payment?
Send a complaint on the page by raising a ticket, a support staff will attend to you.
How can I download my WEAC digital certificate?
First, click "preview" on the accessed certificate so you can see a download option.
Can WAEC digital certificate be printed out?
Yes, it can be downloaded. Click on preview, and below it click the download button to download your certificate
Here is a video guide:
Conclusion:
WAEC digital certificate platform is better than using the manual method to retrieve a lost WAEC certificate. The new platform makes it easy and faster to get access to your certificate.
Certificate Confirmation accounts can only be created by institutions and Organizations.
WAEC digital certificate is the same as the paper certificate. It is simply the digital version and it carries the same value.