Last updated on October 29th, 2022 at 09:19 pm
NYSC Senate-approved list will show you whether you have been mobilized by your institution or not, and what you can possibly do to make the subsequent list.
This guide is for Nigerian graduates who are awaiting NYSC mobilization. It will show Prospective Corps Members how to check and verify the senate list on the official portal of the National Youths Service Corps.
Before PCMs could go for the one-year compulsory service, their institutions are expected to send the verified list of graduates to the NYSC headquarters after the school's Senate certification.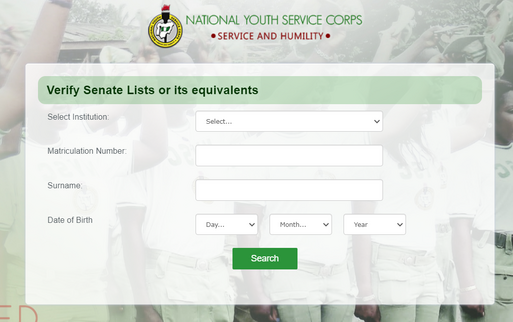 Whether you are in Batch A, B, or C, the guide is the same at the time of compiling this report.
With a data subscription on your device, you can check your name FREE on the portal NYSC verify Senate List
How To Check NYSC Senate List.
1) Go to NYSC portal for senate list at: https://portal.nysc.org.ng/nysc1/VerifySenateLists.aspx  
2) Select your institution from the list. All approved and Corps Producing Institutions are already uploaded, select the one applicable to you.
3) Input your undergraduate Matriculation Number
4) Type your surname
5) Select day, month, and year of birth
6) Click on SEARCH
I can't find any results.
If it is showing no result at this time, be patient, it means NYSC headquarters is still working on it.
Keep checking back.
Do you have a complaint about the NYSC Senate List?
You can forward your complaints or observation regarding your name to NYSC on ict@nysc.gov.ng